So in my world there has been SO MUCH talk about age. Is it good to say your age….is it important, necessary? Why is it such an issue? Are we making it an issue or are others? I say, "WHAT DIFFERENCE DOES IT MAKE???" Sometimes the topic drives me crazy, because honestly…..why does anyone care?
HAPPY BIRTHDAY TO ME…..yep 58 years YOUNG!
I am 58 years old today, and so proud to say my age! I LOVE being in my fifties! I have more confidence, more wisdom, more experience, more love for myself, more compassion for others, smarter, tougher, and could really go on and on! For ME personally (and I have  to insert that I don't care how others feel, to each his/her own) I think it's important to say my age. Women, girls, men, boys need to know what 58 looks like! I remember when my mom was in her forties and I thought, "Wow, that's really old!" So funny! In many ways I still feel like I'm 16, 20, 25, 30, 40! We still are who we are when we were younger. We still have feelings, we can still be hurt, feel like no one cares, feel lonely, feel scared and afraid, and everything in-between! But as we age, we develop more self-love and acceptance and confidence in ourselves, which then makes it easier to combat the negative!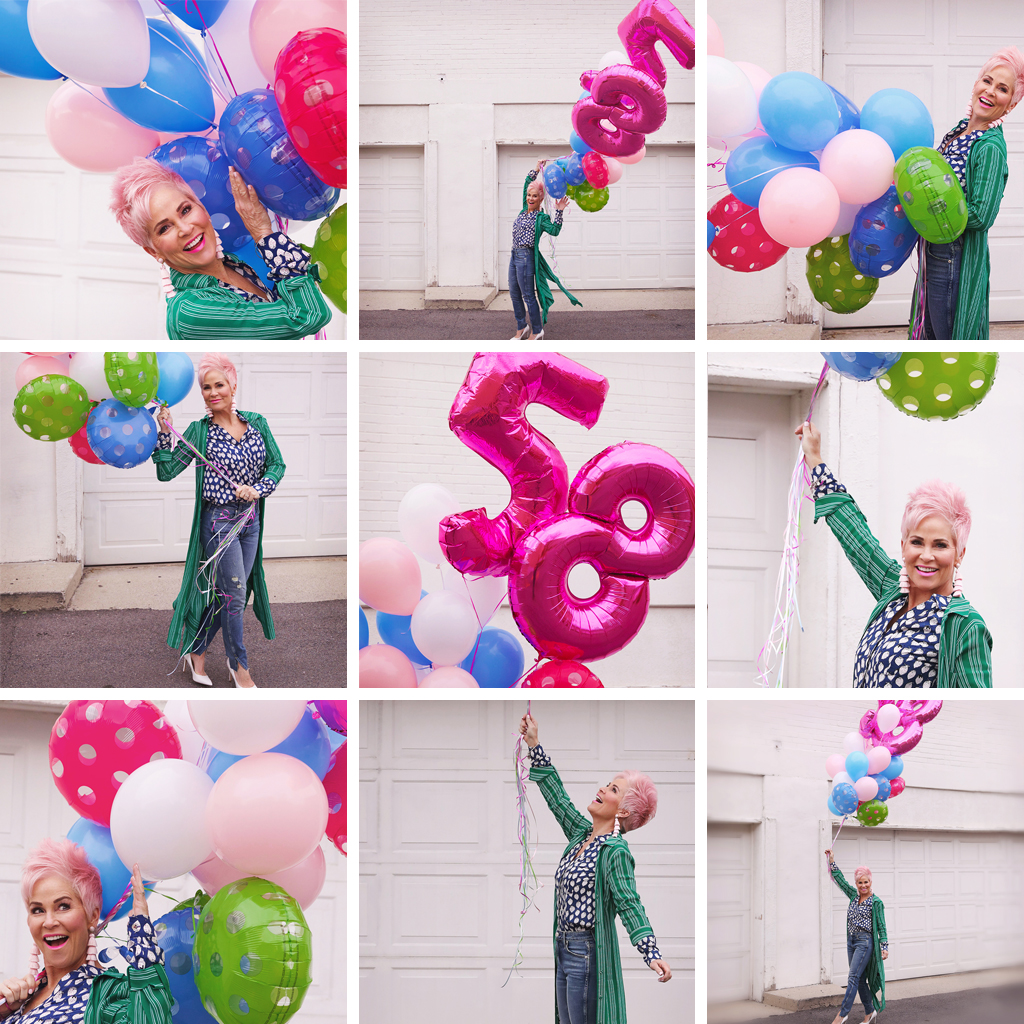 I have LOVED writing this blog, and having CHIC OVER 50 as my platform to share with other women! I get such amazing and inspiring emails daily from women everywhere, that are so touching and empowering. I appreciate all of you for your strength! The other day a woman messaged me about having just found out she has cancer and is a single mom. She felt inspired to hurry and dye her hair PINK before she lost it all. As I read it, and even now as I write this, I cried. Big deal about the pink hair, right? WRONG!!!! If her pink hair can bring her some JOY for a bit, then you go girl……..you go and get your hair in the most BEAUTIFUL pink shade ever!!! And then you rock it and have FUN with it. Let it make you smile! Let it fill your heart full of everything you need to get you through your journey!!!
So you see why I feel like my blog is a GIFT! If it's a way for me, at 58 today, to share and help others….then I'm blessed!!! If you'd like to follow along with my friend, her Instagram is @dbeth1977
I'm going to continue to ROCK my fifties, because that's who I am. People may not like it, and believe me as I go along with this, there really are people who express to me that they don't like me…too short, don't like pink hair, think I'm too much "out there", but I say that that doesn't matter to me. If I feel confident in whatever I'm wearing or doing, then that's good enough for me! When I put this outfit on to do my pictures, my little one told me, "Grandma, that doesn't match!" But then she turned right around and told me she loved my lipstick! So see, you can't please EVERYONE with your fashion sense.
One of the most important things I've heard so far this year is….YOU DO YOU! I've let that be my motto! You do You, and I'll do ME!
THANK YOU to ALL of YOU sweet friends, for letting me in to your world! I've loved it all, and hope that you will live your life in JOY! Now……I'm going to go make my wish,  blow out my candle, and have my double chocolate cupcake with frosting!
Shauna…..XO