For so long it has been all about the skinny jeans. I remember how afraid I was of this style. I was always told to buy them VERY tight, because they would stretch out, and you didn't want them at all stretched out. The more fitted, the better! For anyone who was maybe overweight a bit, this could have taken some getting used to. But as the style evolved I could see most definitely, you wanted them very fitted. Anything else seemed too slouchy. But the wide-legged style is making a grand comeback, and more than ever right now. Some would say that a petite person shouldn't wear this look, but I have always loved it. When I was in my teenage years I had a pair of white wide legged jeans with sailor buttons on the front. I LOVED them and always felt good in them. The high-rise is a great way to define your waist and give you shape. This pair with the snaps up the side are so cute! Wear them snapped or unsnapped! I wore them here in NYC. They certainly are an INSTANT wardrobe update!!!
And what about this blue necklace?!! This is from Vintage Meet Modern. It was a gift to me a couple of years ago from Veronica, the owner. She has absolutely STUNNING jewelry! It makes such a statement! Whenever I wear something like this, I want it to be the focal point, and so I always wear it with something simple to show it off.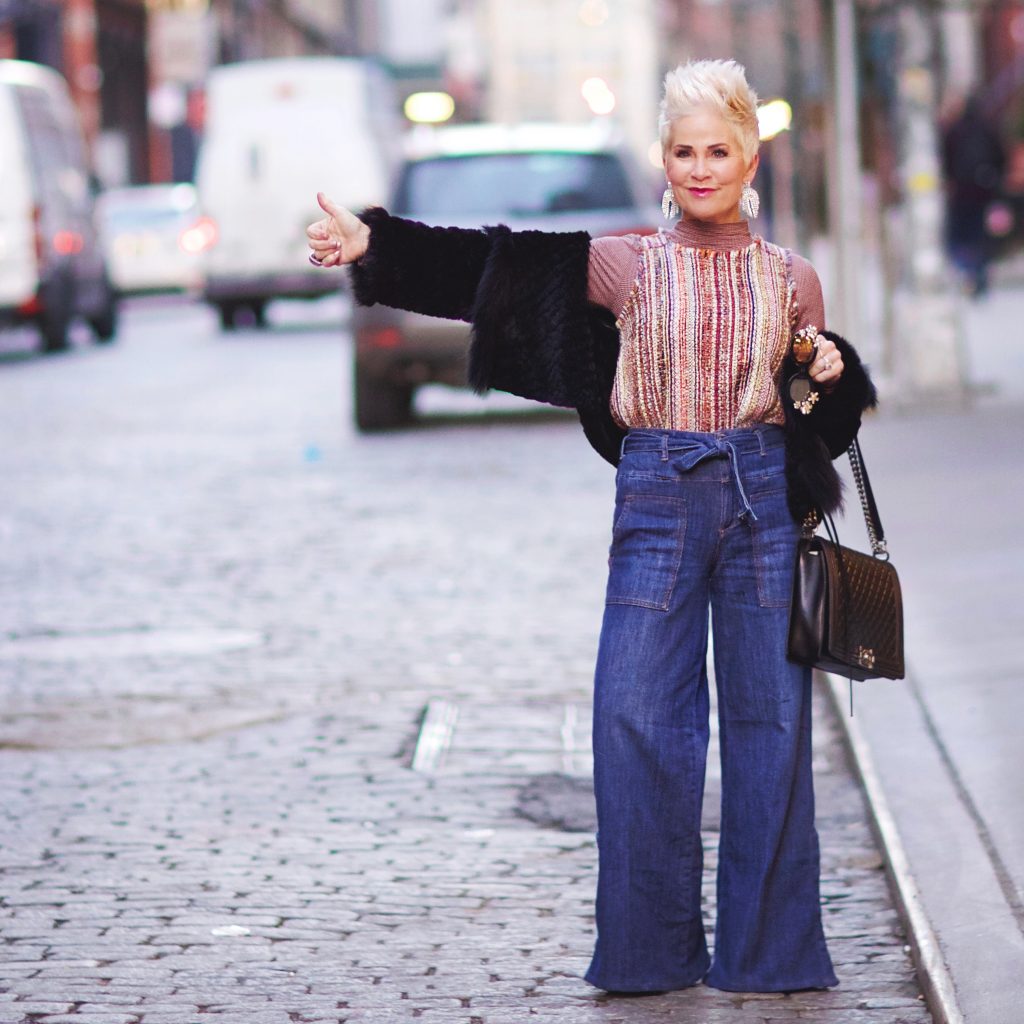 Here are some of my favorites wide legs right now…..all different price points!
I think this style is very reflective of the 70's, when a lot of us were school kids! Maybe that's why I like this silhouette so much?! Remember when you're wearing this look, it's probably best to wear a very fitted shirt and tucked in. You'll lose the whole vibe of the jeans if you wear something untucked, covering the waistline.
Below is the rest of this look….the lipgloss is OH SO FABULOUS! Such a beautiful color! I'm wearing it in the second photo! A pinkish-purplish sort of color!
http://

Just a sidetone…many have asked "Where did your pink hair go?" I still have it, these pics were taken before I went PINK! Enjoy the rest of your week….almost halfway through!
Shauna XO