Hey friends! I want to tell you why I LOVE this self tanning product. TANacious has been a part of my routine for just a week now. I have been using self tanners for several years. I LOVE being able to have a little bit of a glow, without the damage of the suns rays. This one, TANacious, is A WINNER! I love the way it goes on, I love the way it looks RIGHT AWAY, and I love that it doesn't smell!
My teenage years were spent in the 70's. Back then it was so cool to have a TAN! I remember laying out in my backyard for an hour or more at a time. I did have a fantastic tan! I loved being tan and I loved seeing how dark I could get! I've been lucky so far (knock on wood) that I haven't had any super serious issues with those days in the sun!
I STILL love having a tan, especially here where I live in the desert. But as we all know, the sun can be so damaging to the skin. This brand was actually started by a woman who was super fair skinned. She wanted a golden tan like everyone else. Gloria started TANacious "out of the desire to offer a tanning experience that is second to none!" And part of her proceeds go to SINGLE MOMS…… amazzzing!
TANacious is all Vegan, Paraben Free, Formaldehyde Free, Phthalate Free and SD-Alcohol Free. They are ALSO sulfate free! With this brand you can feel good knowing that you are using an all natural blend of ingredients to get your TAN on!
I have struggled with what to do with my face, all the years I've been using self tanners? They are usually made for just the body, and from time to time I would put some on my face, but never was completely satisfied. It just didn't seem to work on my face the same way it worked on my legs!
This face serum IS MAGIC! I have LOVED IT! At first I used it every morning and night underneath my moisturizer, until I got the color I wanted. Now I'm using it every night. It gives me the prettiest golden natural color! I'm SO PLEASED with it!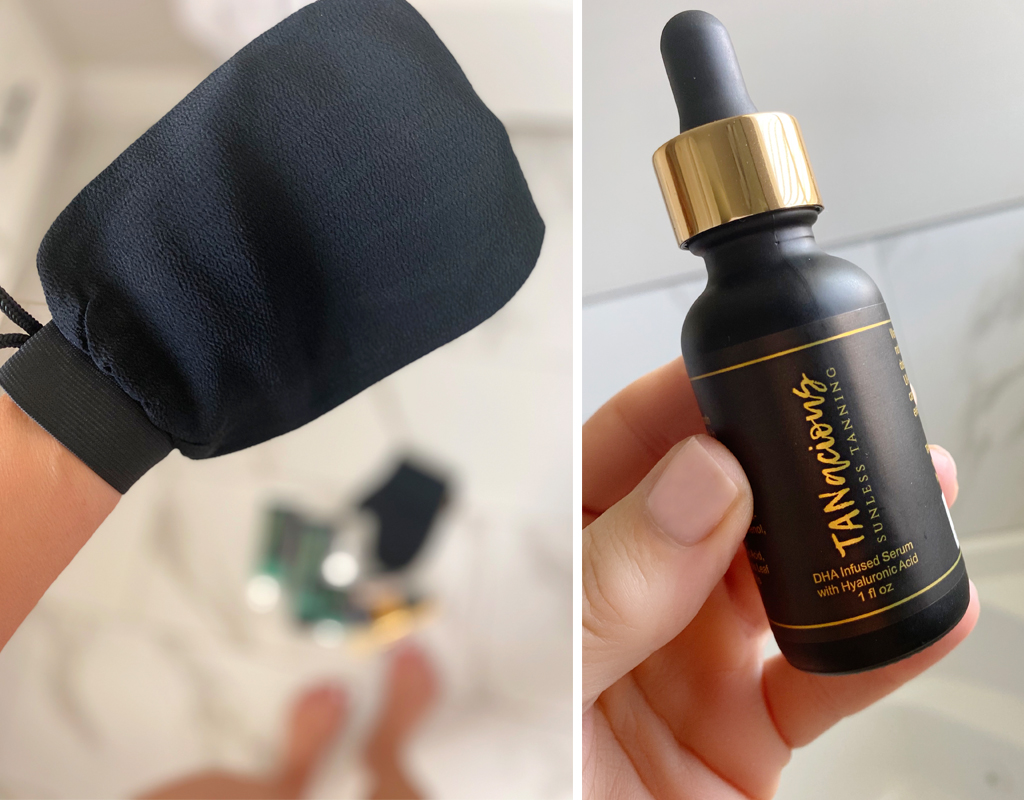 The tanning mousse is super EASY to use. First you exfoliate with their mitt in the shower. Then with the APPLICATION mitt, you apply the mousse to it and rub it in. THIS mitt is a dream to use. The mousse literally glides across your legs and arms with such ease! And…. you won't get the staining on your hands!
There's a special body wash you can use to maintain your tan, as well as the TANacious Shimmer Tan Extender. You use this as your daily moisturizer. It has a very gradual tanner built in that too, that will extend the life of your tan. All their products are HERE. The SHIMMER DRYING POWDER is dusted on with the brush to take away any sticky feeling. I haven't felt ANY! You can also use it as a setting powder after you apply your makeup.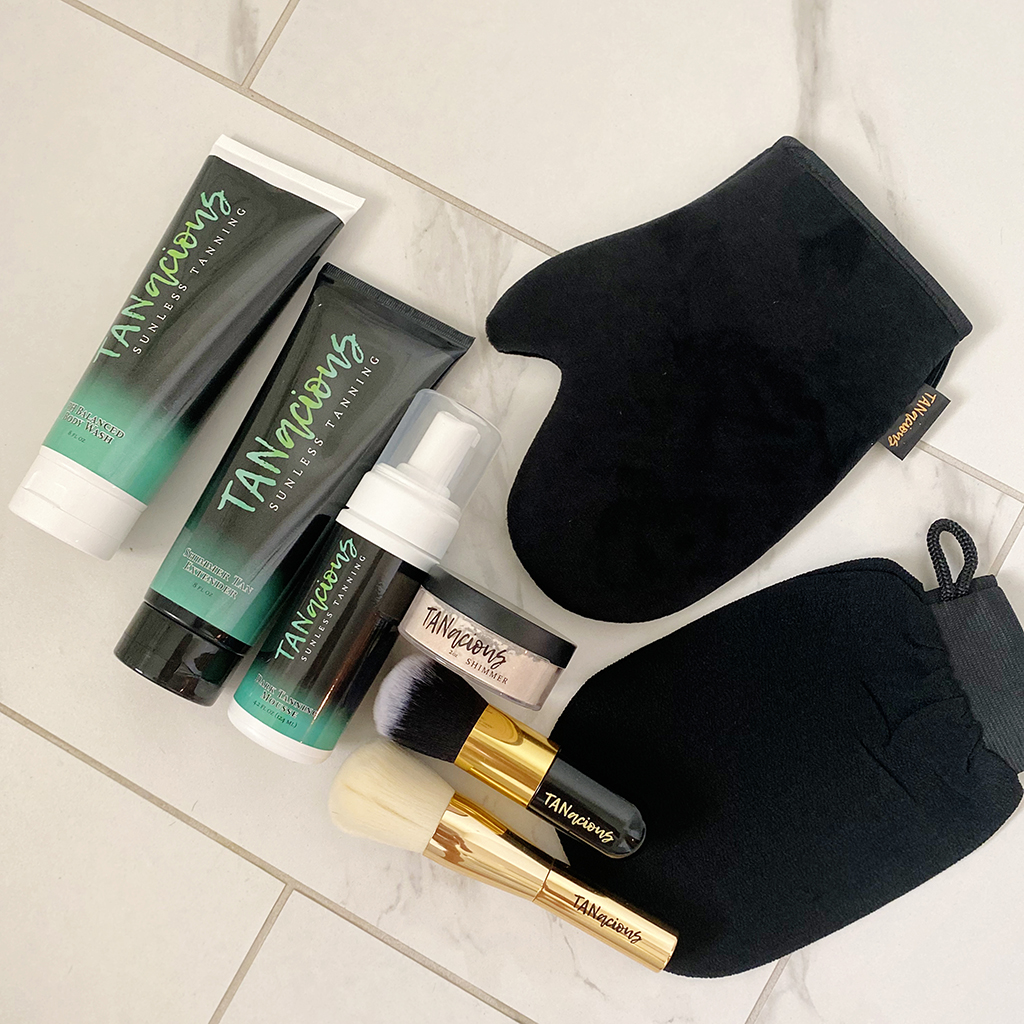 I am just beyond EXCITED to FINALLY find a GREAT SELF-TANNING routine for ME! Why I LOVE this self tanning product…. is because IT WORKS! Hope you'll give it a try….. that is, IF YOU LIKE A TAN TOO!
Use code chicover50 for $5 off an order of $40 or more!
Shauna XO