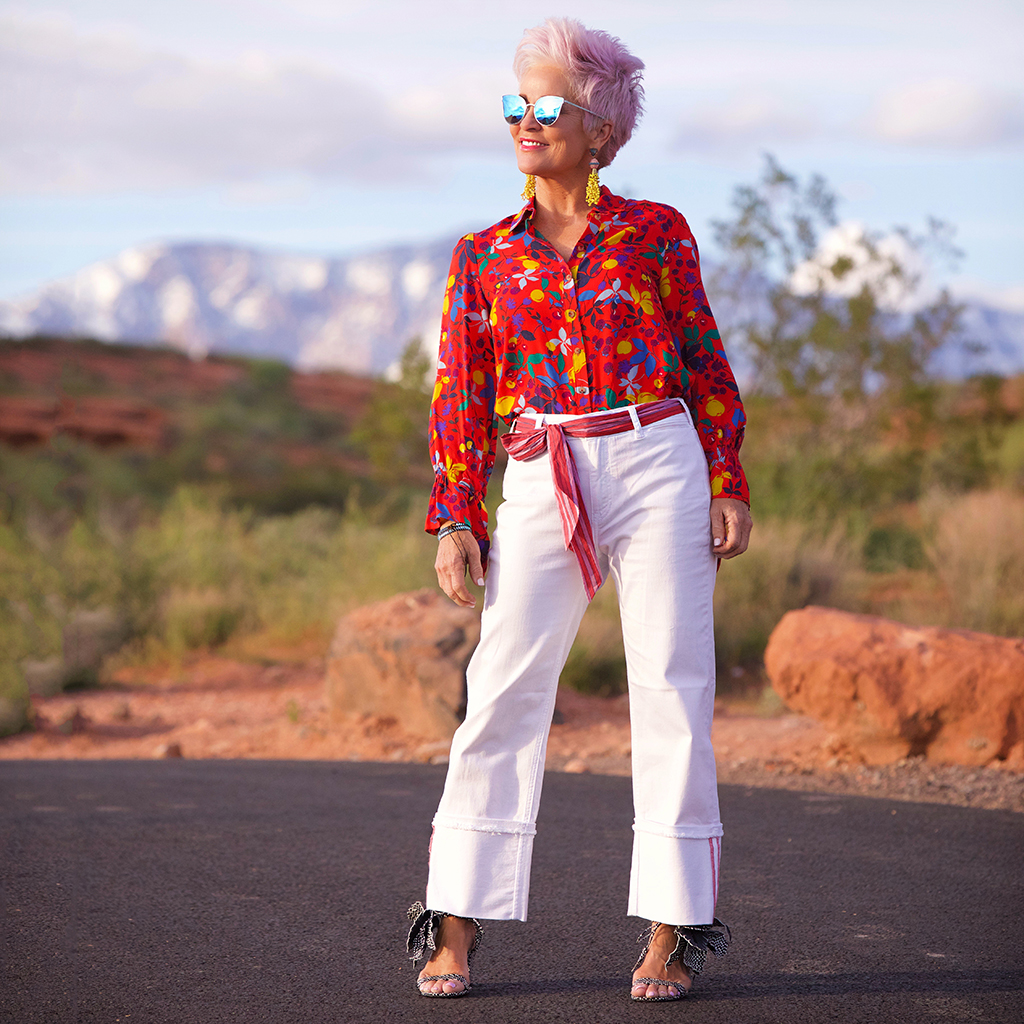 It seems every spring I will find a new pair of WHITE JEANS. And white jeans just call for a punchy floral top! White jeans and florals make the most sense to me! There isn't anything better you could wear to take you in to your warmer season! And both of these pieces will definitely be on repeat clear until next fall!
These white jeans are SO DANG CUTE and SO COMFORTABLE too! They fit easy and relaxed through the hips and legs, and then the big wide cuff at the bottom with the red stitching is adorable! They come with this darling striped tie belt, which I actually wore with my red pants in my post from yesterday! The pants are probably more cropped on most….remember my miniature height?!!
Can you guess why I was drawn to this colorful floral top? Perhaps the color, the pattern, or the girly details on the sleeves? OR….all of this? It is just so cute! Wear it with a skirt, with jeans, with maybe a yellow linen pair of pants?
When you buy an outfit……don't ONLY WEAR IT TOGETHER forever! Break it up and style each one at least THREE ways! Don't get stuck! This is how I would wear these white jeans and florals each styled separately and multiple ways.
A LITTLE BIT TOM-BOYISH!

A JUXTAPOSITION SORT OF WAY!

VERY DRESSED UP!

And now for this fabulous top! Here are my three ways to style it differently!
TO THE OFFICE!

WITH SOME EDGE!

FOR THE WEEKEND!

If you happen to live in Utah, tune in today (Wednesday) to channel 4 to Good Things Utah. I'll be on between 9-10 am. I would love to have you join me as I talk about ATHLEISURE STYLE!