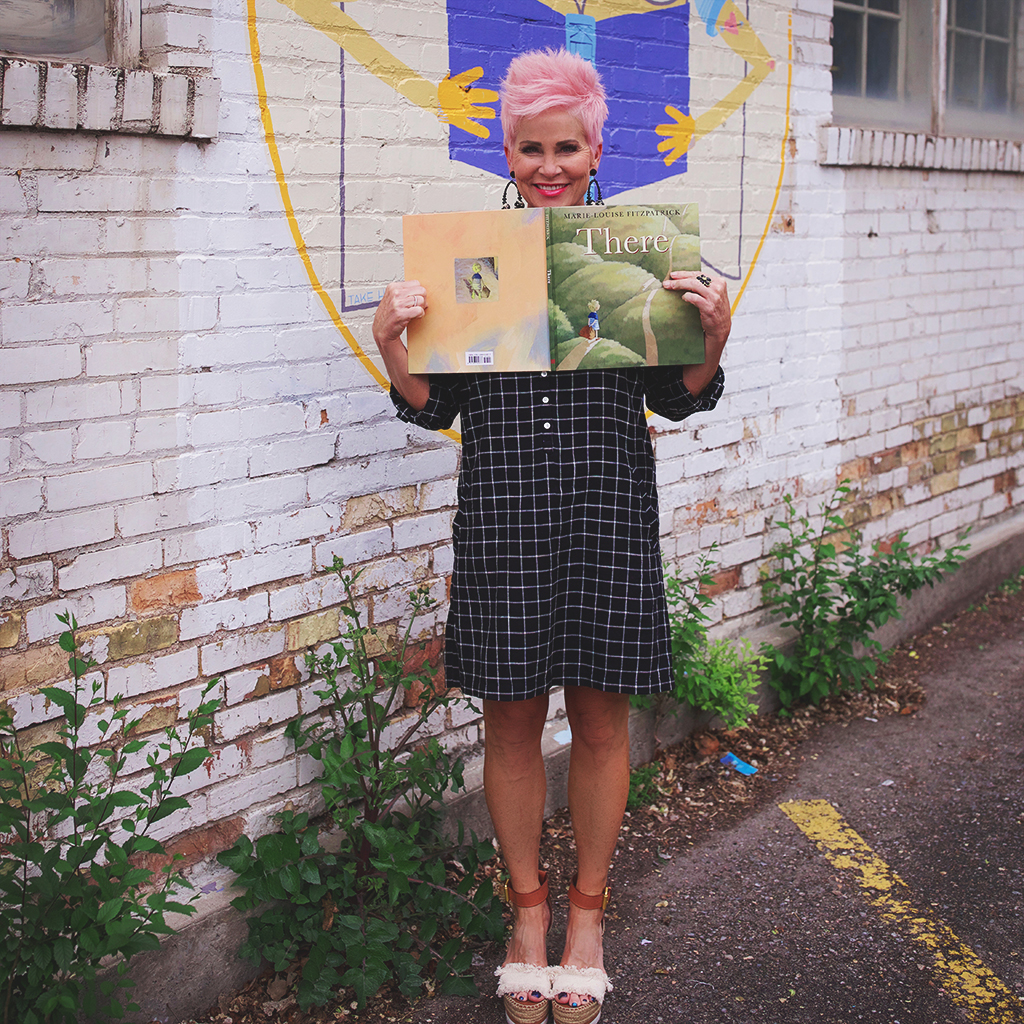 Hello friends! I'm just hanging out over here at my local book store, in my plaid shirtdress that I'll get to in a minute! Warm weather and bare legs is just how I like it!!!
I wanted to ask you first though….Where is Your THERE??? This book THERE, is such a cute little story for your kids, grandkids, or YOU. It's about a little girl who wonders where "THERE" is. On her search she never finds it, and decides it's not that important. To me this story is about enjoying the NOW and not worrying about tomorrow, or what could perhaps be better than today. I'm horrible at enjoying the moment. I'm constantly thinking about tomorrow or next week. It's hard to quiet my head that way at times. I'll never forget many years ago, someone actually told me, "You've got to stop and smell the roses!!" How about you? Just lately I've felt like such a scatter-brain, with so much going on in my life, which then causes stress and a feeling I need to hurry and get my stuff done, which then makes me completely miss the moments I'm in. I picked up this book a week or so ago to read to my little granddaughter who LOVES books! It's simple message really struck me. The little girl finally realizes that THERE is HERE, it's NOW. Enjoying the journey, to me, was the main message! And there's nothing more that makes me STOP and enjoy these times than my little people! As we approach our summer, I hope you'll be able to not worry so much about THERE, but more about RIGHT NOW!
Now back to this plaid dress. Do you wear plaid in the spring and summer? The key is in the fabric. Make sure it's lightweight like this one. It's cool and comfy and looks so cute with my Chole platform espadrilles, from last spring. These give me SO MUCH HEIGHT and EASY to walk in! I've linked some REALLY CUTE ones for you below! Those YELLOW ones…..OH, OH, OH!!!!! Adorable! The dress though is the perfect little number for warmer days! I love the plaid with a lightweight sweater tied around the waist! It gives it such a fun preppy laidback look….paired with your favorite sneakers! I added my statement earrings, which by the way I'm liking so much more than a statement necklace! All this together gives you such a classy look, and appropriate for any age! Young and more mature, it works for either, and pretty much any body-type. Remember, if you feel like some of these plaids are too short for you….wear them with skinny jeans and the same shoes!
http://

So friends…go and enjoy YOUR journey, and be in the NOW! And don't miss this darling summer read!!!!!!
Shauna…..XO