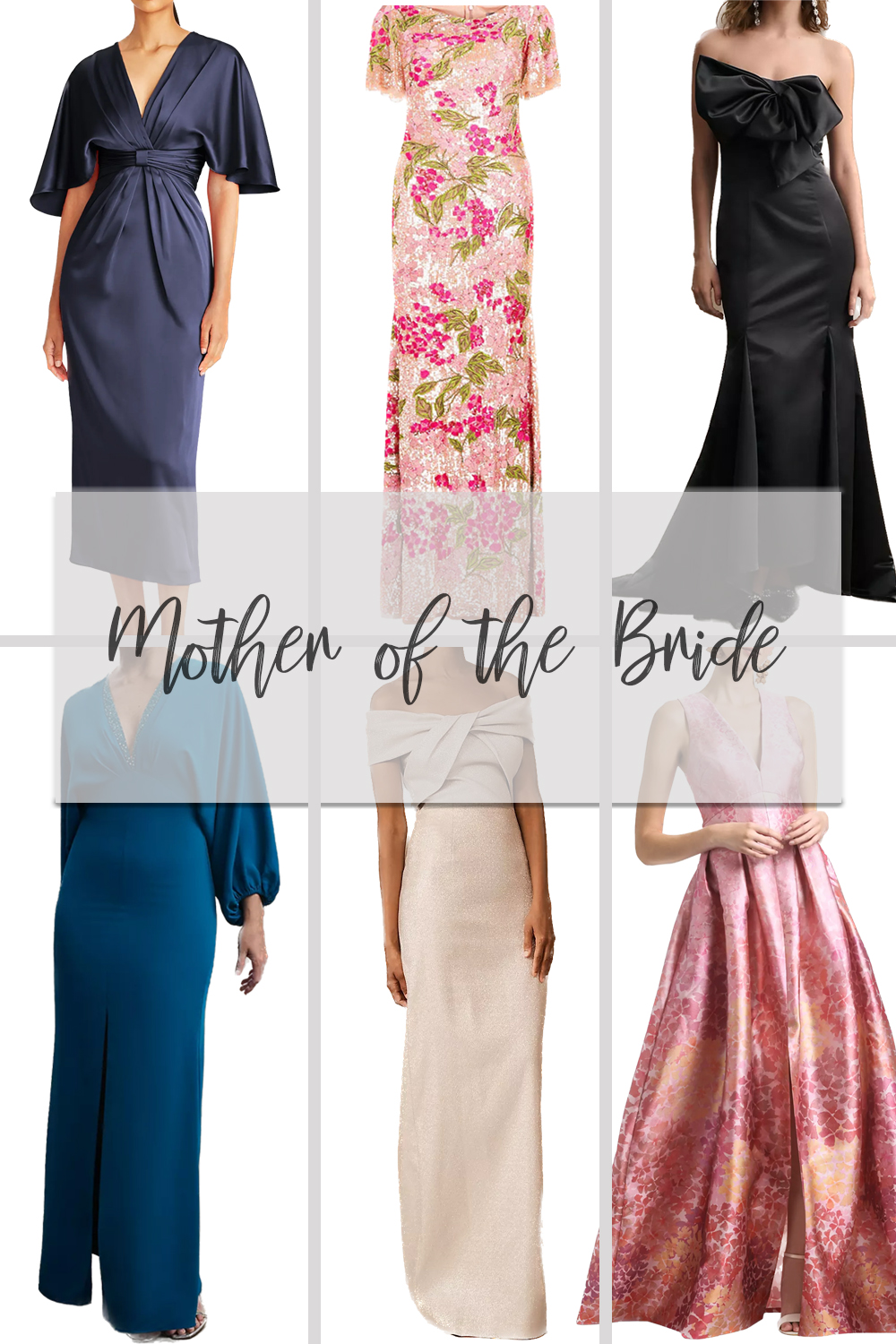 Tis wedding season so time to talk WEDDING FASHION TIPS for midlife women. As middle-aged women, we're naturally blessed with a timeless elegance, confidence and grace. And when it comes to attending weddings as mothers-of-the-bride or guests, our fashion choices should reflect that. I've got some fabulous fashion ideas that cater specifically to midlife women, ensuring you will look and feel your best on this special day.
DRESSING AS MOTHER-OF-THE-BRIDE
If you are the mother-of-the-bride, you play a significant role in the wedding celebration. You should go for a sophisticated and timeless look that complements the bridal party's color scheme. Consider an elegant A-line dress with a flattering neckline, tailored to your body shape. You can't go wrong! Incorporate pretty details such as lace, embroidery, or subtle sequins for a touch of glamour and personality. Complete the look with tasteful accessories, like a statement necklace or a chic clutch. Remember, confidence is key, so choose an outfit that makes you feel just that. You don't want to be the focus of the celebration, but you still want to standout as the mother!

CHIC GUEST ATTIRE
When attending a wedding as a guest, aim for a balance between fashion-forward and APPROPRIATE. Choose a classy cocktail dress in colors that compliment you, with keeping in mind the season as well as the wedding theme. Embrace modern trends with sophisticated jumpsuits or tailored pantsuits paired with a stylish blouse. Add your personal flair with your accessories such as jewelry, belts, and bags. Choose comfortable but stylish footwear to dance the night away. Above all, you must respect the dress code! It's definitely possible to express your own style and still look wedding appropriate.

LET'S TALK ACCESSORIES
When it comes to accessorizing for any kind of a wedding event, don't overdue it. Wearing too much will again, take away from the bride. Wearing your most beautiful pieces is fine, just don't wear them all at the same time! Pair your ensemble with comfortable yet stylish shoes. Chances are you'll be on your feet a lot, so comfy shoes are key! A small bag or clutch is best for this kind of event. The fastest way to look frumpy is to take your everyday bag! The right accessories will make all the difference!

In conclusion, finding the perfect wedding outfit for either the mother-of-the-bride or a guest, it doesn't have to be a daunting task. By following these wedding fashion tips, you can feel confident and elegant on your special day. Remember to choose outfits that reflect your personal style, and pay attention to fabric choices that offer comfort as well as sophistication. Don't be afraid to experiment with colors, textures, and accessories to create a unique and memorable look. Cheers to embracing style and romance at any age!