TOP JEAN STYLES FOR MIDLIFE WOMEN
I went on an amazing trip to Las Vegas this week to a big fashion event called MAGIC. Unquestionably it was a bit overwhelming learning all about how the fashion industry works from a seller's standpoint. I was able to see some really amazing things…… JEANS being one of them! More on that later! 😉
I am a jeans girl. I wear them most of the time when I'm out. Why? Because you can do anything with jeans. It's even acceptable in a lot of offices to wear them, as well as nearly anywhere else you can think of. Indeed you could say, I collect jeans! Ha, I should count them someday and see how many!

This outfit here from CHICOS is all about the denim. JEANIUS was the name of this campaign, because they do after all, have great denim. These cropped and cuffed pair are a basic for anytime of the year. I love the darker wash for fall, and the fit is very nice, with a mid-rise.
MY TOP FAVORITES~
Let's go over some of the trending styles. First, I'm going to talk about the HIGH-WAIST BOOT CUT because I think that's one of the hottest trends right now. Remember the days of the low-rise? I loved them, but if you want a more flattering look, one that will accentuate your waist and make your legs appear longer, the high-rise style is the best! Sometimes a looser pair of this style could be called "dad jeans".
SCROLL THROUGH TO SEE and shop THIS STYLE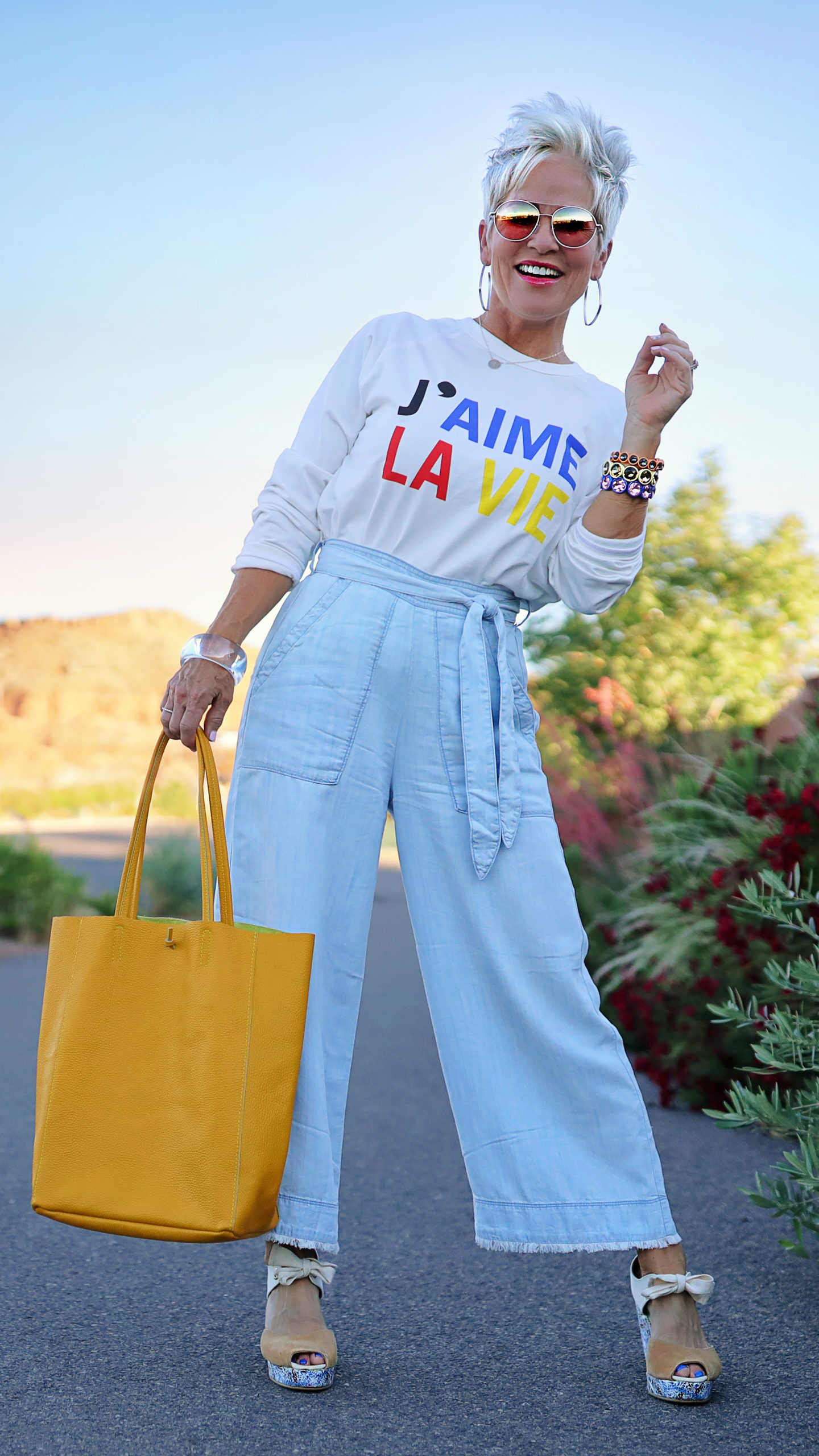 The CROPPED WIDE-LEG is one that is so comfy, but they can  make you look wide and short. I personally think that anyone can wear them if they style them the right way. Wear a more fitted top and pair them with heels. If you don't want heels, just wear them with a tucked in shirt and it can change the whole appearance.
SCROLL THROUGH TO SEE and shop THIS STYLE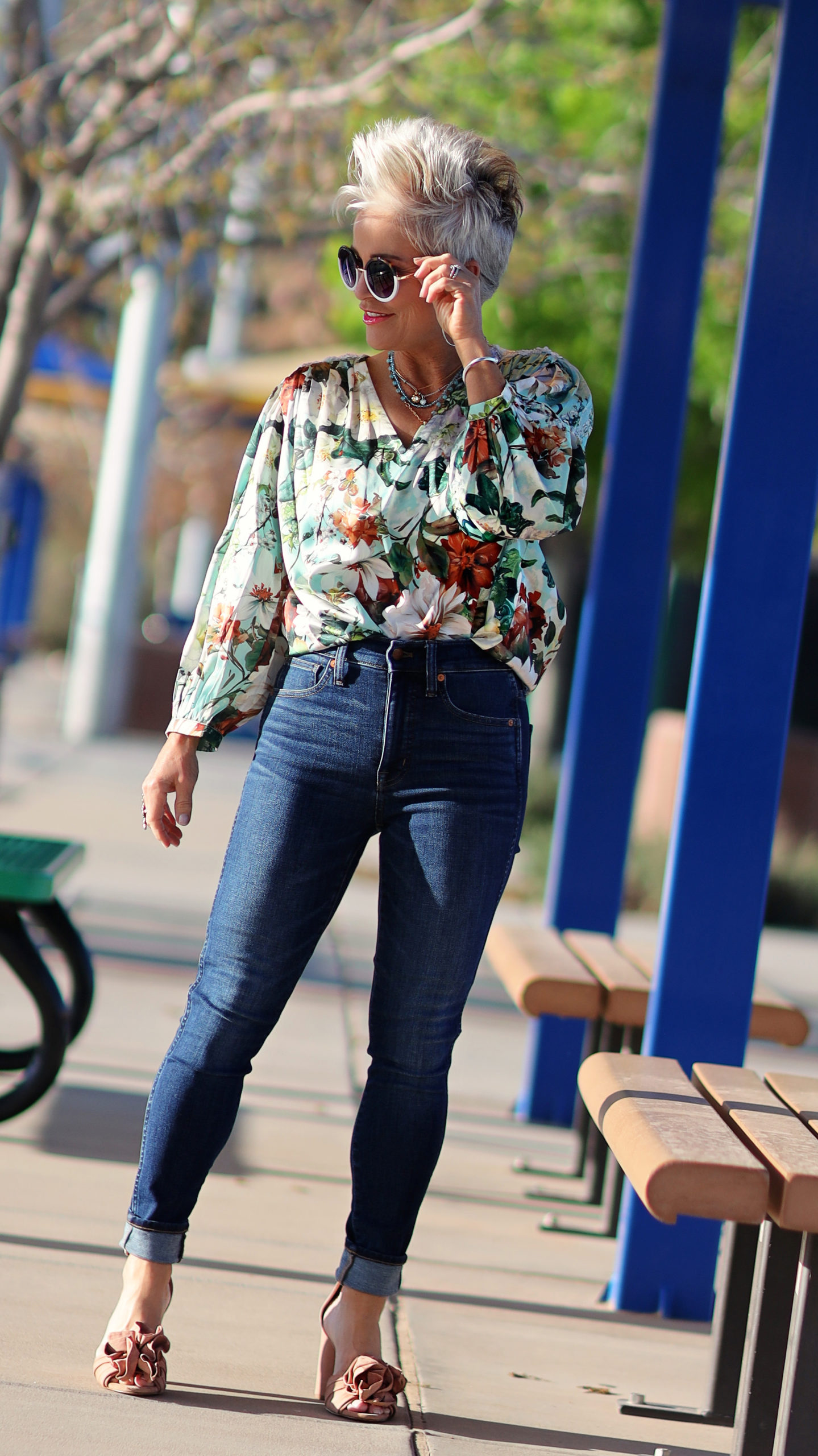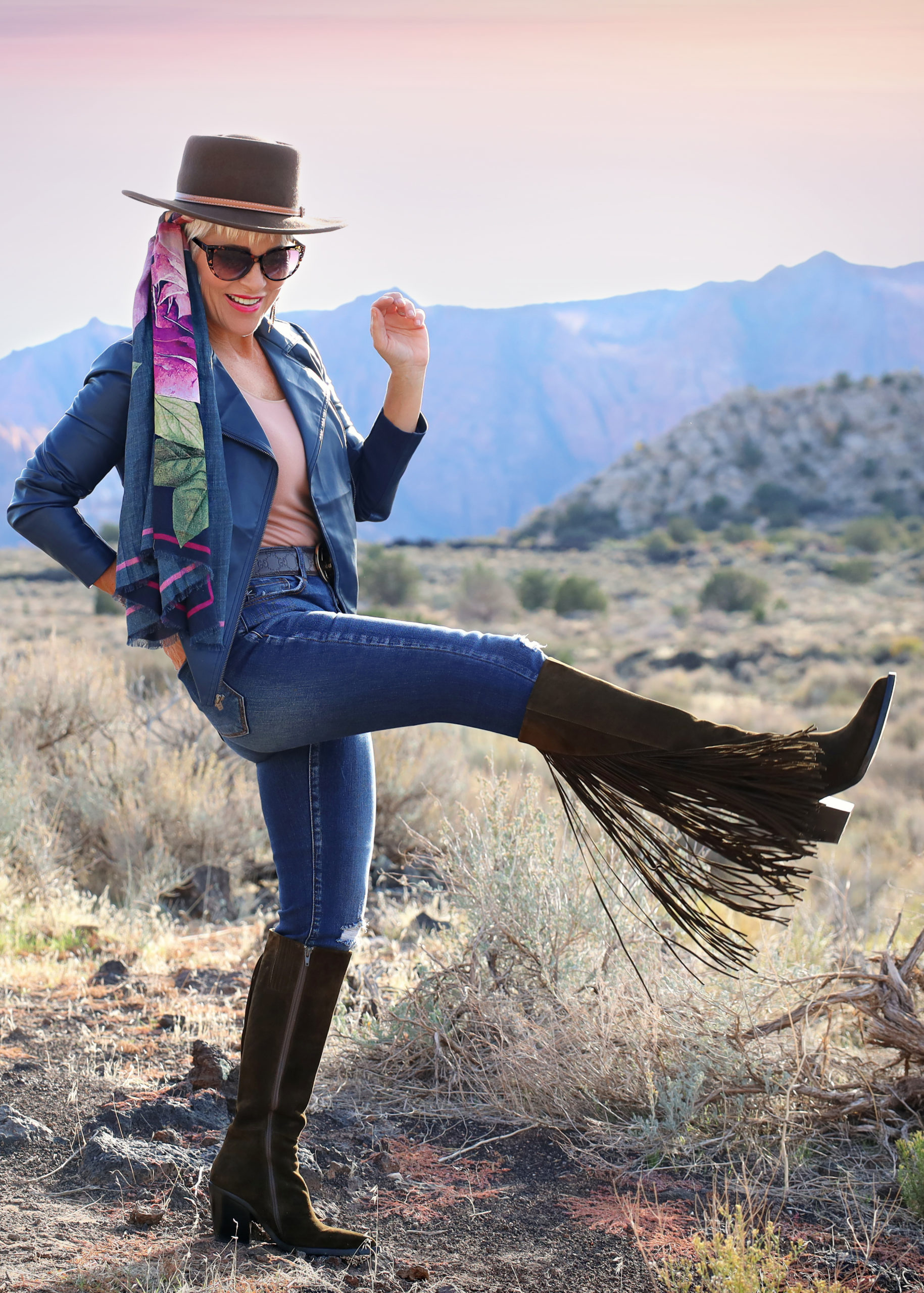 The SKINNY JEAN, is it still "in"? I say yes because it's the type of jean to wear with tall boots and easier to tuck! I think that some version of the skinny jean will always be in. There are skinny and then there are skinny. The later to me are a bit too much in most cases. You can wear skinnies and still look classy. Wear this style with a looser top or a blazer.
SCROLL THROUGH TO SEE and shop THIS STYLE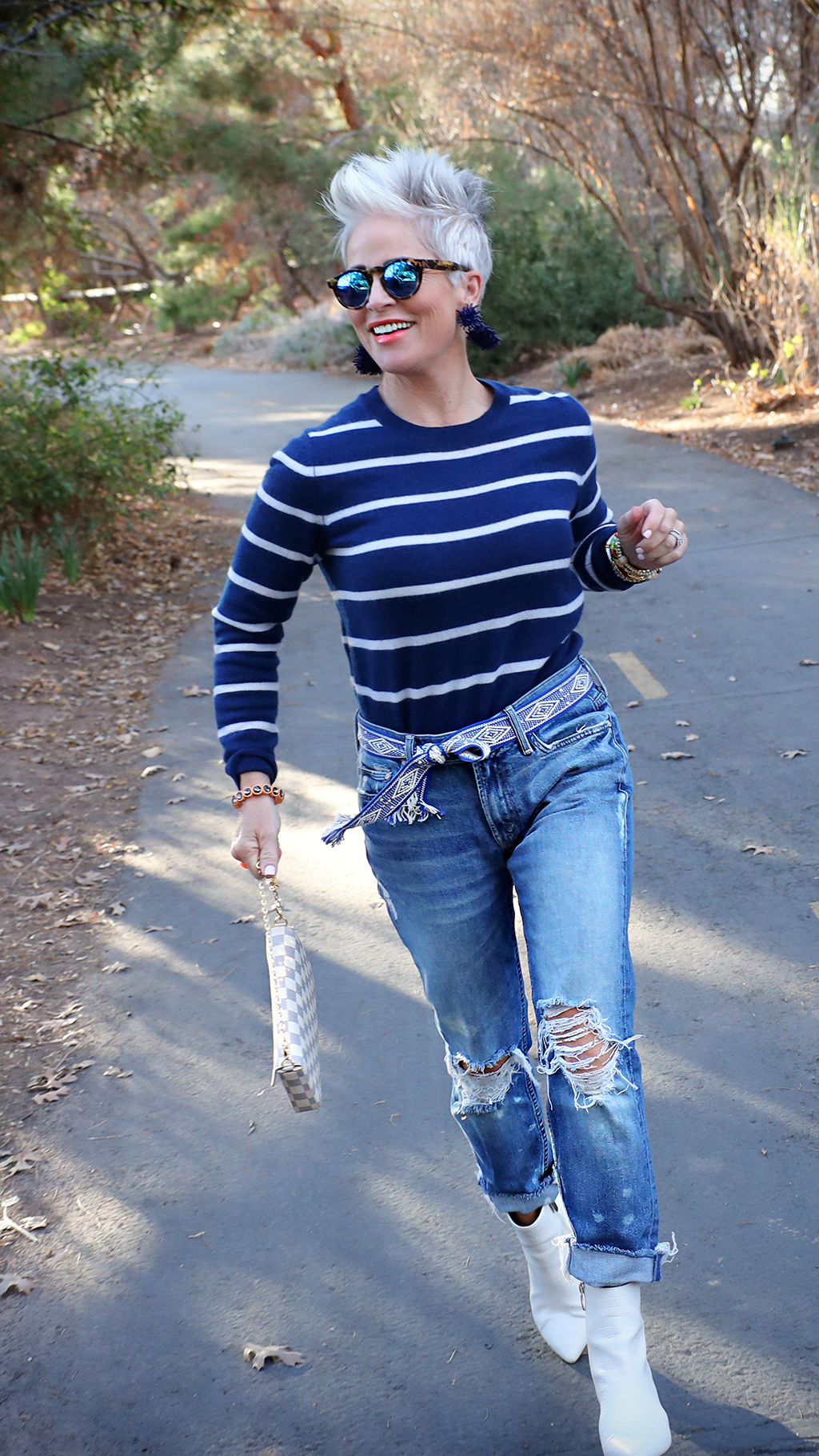 Then there is the ever controversial DESTROYED DENIM. I can't even tell you how many comments I get about this particular style of jean. Women have such strong opinions about them, which to me is ridiculous. If you want to wear them then go ahead. When I wear them, I like to put something more simple on top, like for example a white tee or in this case a classic cashmere sweater. Don't go too trendy on top and you'll be fine. Heels with this style looks fabulous!
SCROLL THROUGH TO SEE and shop THIS STYLE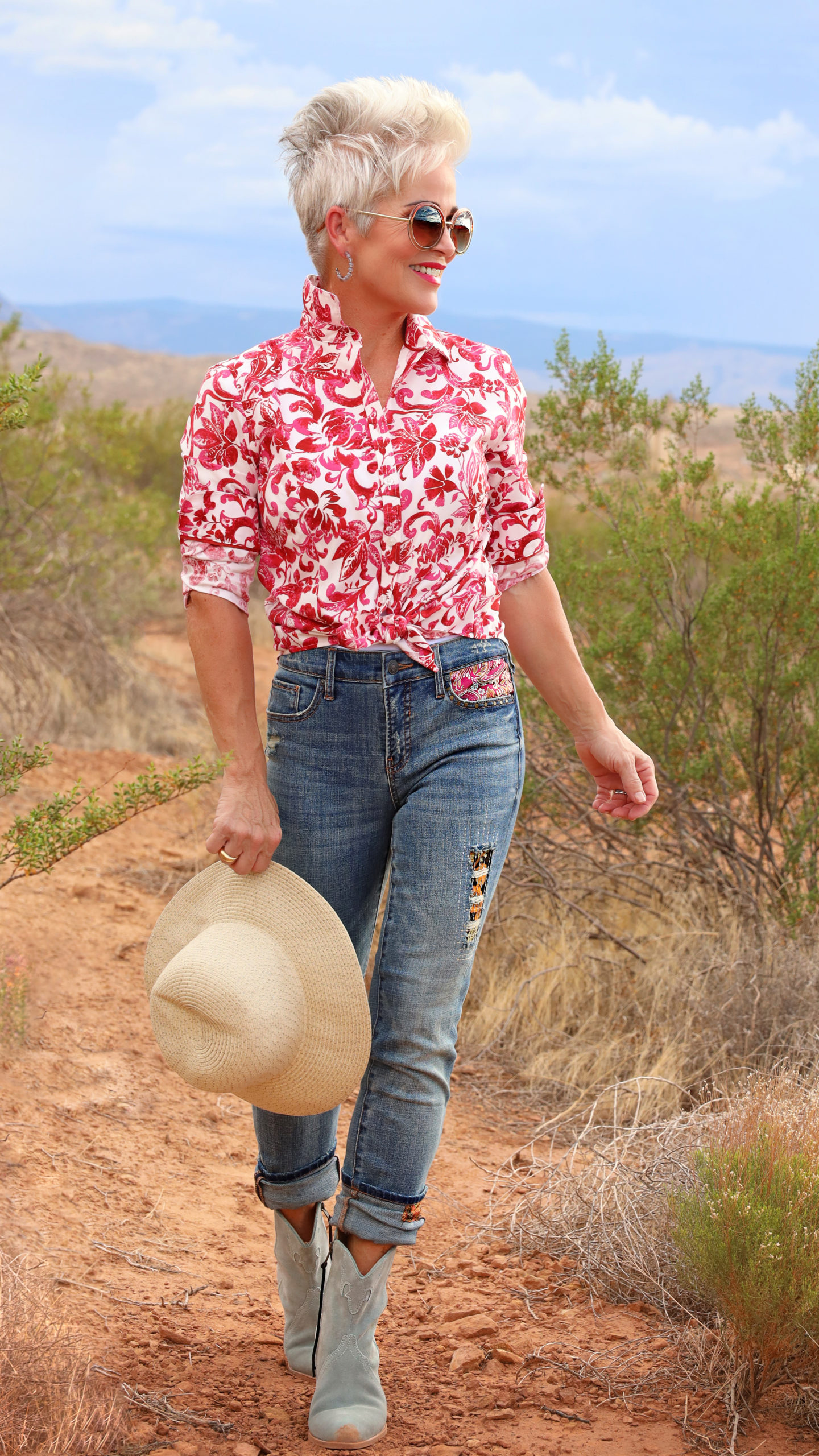 BOYFRIEND OR GIRLFRIEND styles are really fun too. What's the difference? Sometimes it's hard to tell. They are more relaxed through the hips, a little more slouchy, and can be worn more fitted or not. I like to size up on this style and wear slouchy. Picture above is an example of a fitted GIRLFRIEND style.
DEFINITION BETWEEN THE TWO: Typically, boyfriend jeans have a relaxed cut with a low waist, a baggy seat, and loose legs down to the leg opening. Contrary to a girlfriend style with a higher waist that usually rests at or above your natural waistline and tapered legs that narrow from the knee to the ankle instead of hanging loose and straight.
SCROLL THROUGH TO SEE and shop THIS STYLE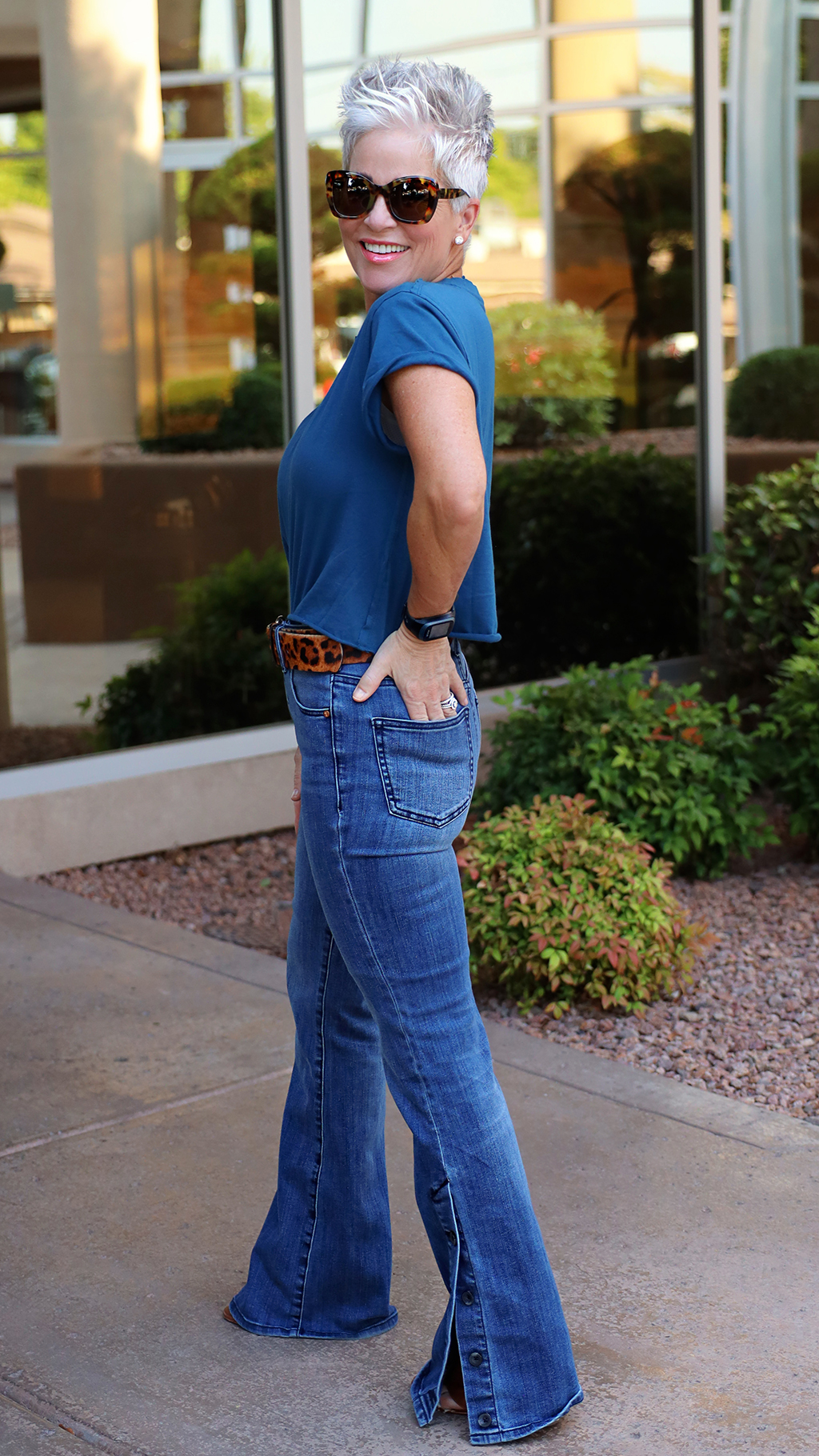 What about the FLARE jean? This is getting more and more buzz all the time. I've always loved them….. since the 7th grade actually! I prefer them with a high-rise and think they are very hip and yet can look professional too. Wear with some sleek heels and always think a blazer to look more polished.
SCROLL THROUGH TO SEE and shop THIS STYLE

____________
SUM IT ALL UP WITH SOMETHING FOR ANYONE!
So all in all 6 TOP JEAN STYLES FOR MIDLIFE WOMEN. There are a lot of choices here, and something for ANY body type and anyone's taste. I don't know I can pick a favorite. It always depends on my mood, where I'm going, and what I want to pair with my jeans! But most importantly recognize that jeans are a staple and don't have to look sloppy! If anything they can be the most CHIC!
____________
STAY TUNED for some upcoming WONDERFUL NEWS about what's to come on CHIC OVER 50 that has to do with JEANS!!!!! For FIRSTHAND NEWS…. sign up for my email HERE where it says SUBSCRIBE TO MY NEWSLETTER.
Shauna XO