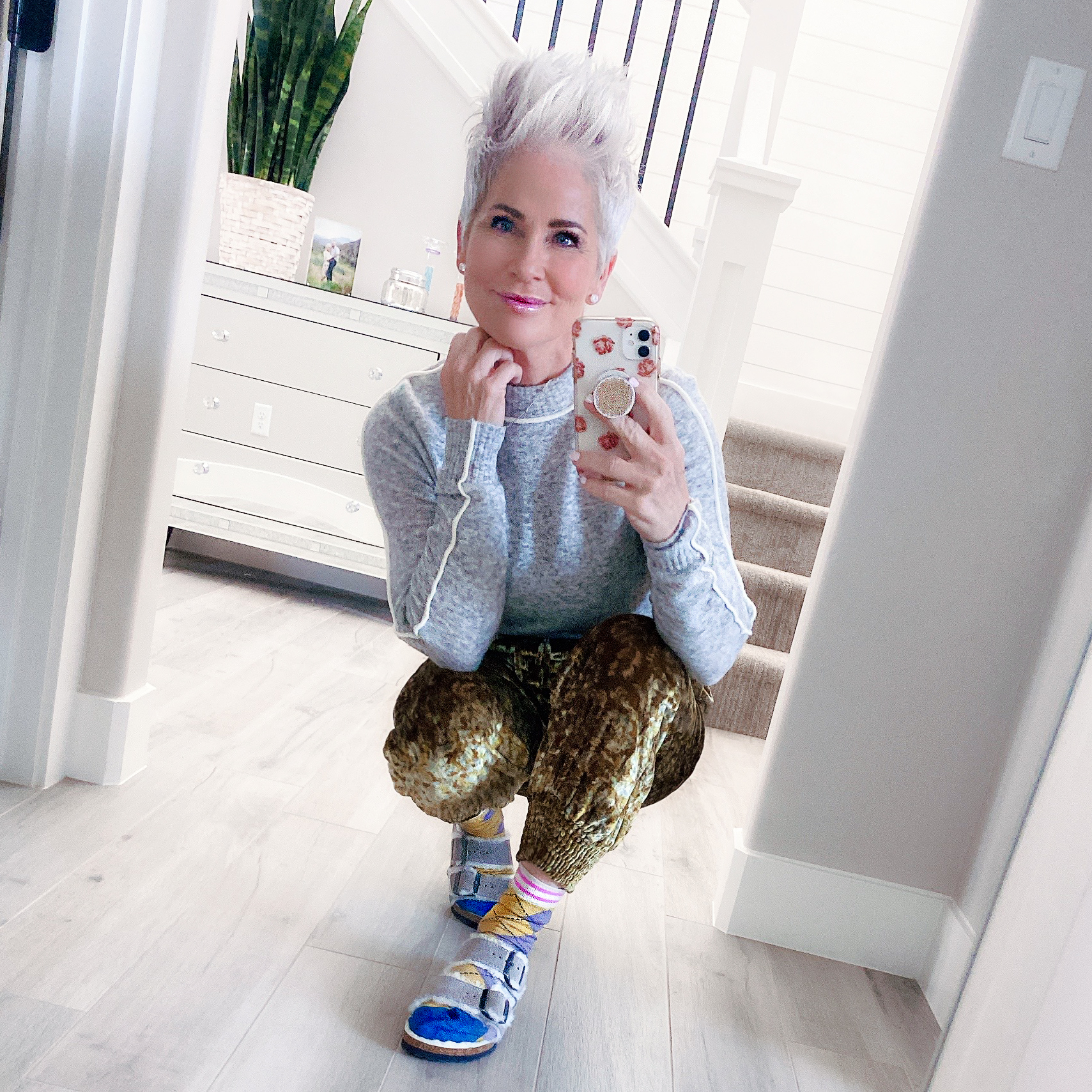 Would you wear this new trend….. socks and sandals? I've always loved fun colorful socks. I can remember a time I had one whole HUGE drawer full of socks of every color and every pattern. I loved wearing them back in the day with loafers! I also love Birkenstock's. I've got a couple different pair, and they really are so healthy for your feet! So when I saw this trend come alive this past year, I was IN.
Now……. is there a way to wear it? I always say there are NO RULES when it comes to fashion, and I still do say that. But I also think that there are ways to make this TREND look very frumpy!
With my look above, I'm wearing green velvet joggers. They are very full and balloon-like. I've put just a basic soft gray pullover sweater with them, which is the same color as my Birks. It pulls everything together in such a cute way. I've got some contrasting green, blue, gray, and pink socks that came from JCrew years ago.
This was such a fun outfit to wear at home. Would you wear this out and about? I WOULD! I would wear it most definitely to run errands of any kind. I probably wouldn't wear it out to meet a friend, but for EVERYDAY…. absolutely!
I've put together some other fun ideas for the socks and shoes trend. This is my favorite part of my blog writing, is to put looks together! I need to start another business……. that of being a personal stylist for women! I have done that in the past with some close friends, and it WAS SO MUCH FUN!
This is a fun site to SHOP SOCKS!
So, here you go with this new trend…….. socks and sandals!!!

You'll need to click through the camo joggers, because the NEON TWEED is the color I personally would go with! I LOVE this hot pink sweater too! Add your black furry Birks and this is almost the same look as mine but in a different color scheme!

Wearing any of your denim in a very casual way, is the perfect way to wear your sandals and socks. I LOVE these fun jeans and the sweater is a KILLER DEAL! Just by adding a little pop with your socks finishes off this outfit just right!
I'm not sure I would ever wear Birkenstock's and socks with a dress or skirt, but believe me it's everywhere! Maybe for a young girl? But I would definitely wear dressed up sandals and socks with a fun skirt! What do you think?

This is such a FUN WAY to make a statement, and to step out of your comfort zone just a teeny-tiny bit! I think I'm going to wear my boyfriend jeans tomorrow with my platform sandals and some COLORFUL SOCKS!
Go get 'em girls! Why not have a little fun???
Shauna XO