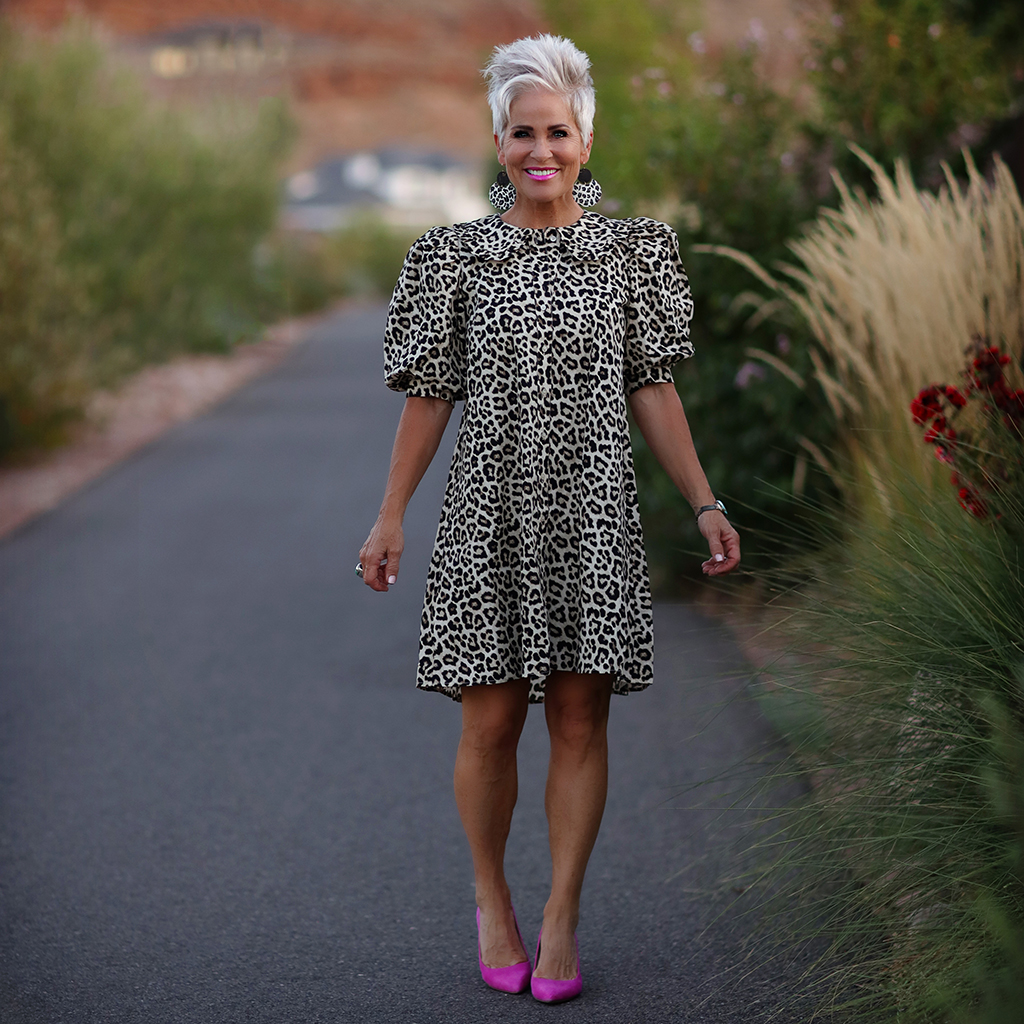 This DRESS is causing a buzz! And a good BUZZ it is! I posted this today on my Instagram and most of you LOVE it! I wanted to link it up here, because for some it's easier to find this way! I wanted first though to give you a little back story!
I took my "bonus" granddaughter out shopping yesterday for her birthday. She just turned 14 and is in to all kinds of fashion and fun like I am. She has her own style and her own preferences, which I'm still learning. But it was fun being with her and watching how carefully she looked at each item she was considering. She was conscientious about her dollars and wanted to make sure she got the MOST out of her shopping trip!
We went in to H&M. This is a store I don't usually shop because it seems young, and it sometimes doesn't feel organized. But this was a store she loved and so we went in to see if we could find just one more thing! I spotted (get it…. leopard) this dress and right away fell in love. But you know the fashion police would say NO! You're too short, the print is too loud, and all of that! But I LOVED it SO MUCH! I even asked my granddaughter and she said….. hmmmmmmm, I'm not sure! She didn't think it would look good. We couldn't try it on because of COVID, so I took a chance and brought it home anyway, knowing I could return.
When I got home and put it on, I knew instantly it was staying! IN LOVE! The Peter Pan collar and puff sleeves, and button down the front shirt dress style, HAD ME! I want to try wearing it open with some black jeans and a tee. I'll get to that when it gets a bit cooler around here. But then there was the PRICE-POINT! $29.99!!!!!!!! It was a done deal! LOVE LOVE and LOVE!
I wanted shop this store some more online. Below is what I found that I WOULD WEAR and that I WOULD SAVE a lot of money on in comparison to the stores I usually shop. Remember for trends you always want to spend LESS! This is the best store to do that in!

THIS DRESS IS CAUSING A BUZZ and in a good way! It's modest, it's sassy, it's priced right, and it's really very versatile. Wear it in the fall with some black booties and cropped denim jacket, or THIS ONE, OR wear it with an oversized black sweater tied up in a knot, OR wear it open with some black jeans and a tee! It can for sure be styled at least three ways!
HAVE A WONDERFUL WEEK FRIENDS!
Shauna XO