I've noticed these passed couple of months that the longer short is really making a comeback for spring. I love the longer length, but I'm still not a big fan of shorts. Maybe I'll change my mind….seems I should never say never! But honestly, I really prefer dresses over shorts. They're still nice and cool, but more feminine and girly. This one from Madewell, is just right. It's long enough for me, comfy, a nice thick cotton, and who can resist navy stripes? Dresses can be more challenging to mix up and make look different. How would you do it? Could a dress like this be worn dressed up? I think it sort of can. If you wore a higher sandal, and maybe a little belt to pull it in, and some nice jewelry, you could make it a bit dressier. I think if you work in an office (by the way, I've had requests to do a business-casual post, and THIS would be it!) and wore a navy or white blazer over the top, it could definitely work in that setting!
Some other ideas I have of changing the dress up a bit, is to wear a button-down shirt over the top, tied in a knot. You could wear a denim shirt or just white, or even a summer lightweight plaid one. Another cute idea I had was to get a colorful long oblong scarf, and use it to tie around your waist like a belt. Add some cute shoes that pull out one of the colors in the scarf, and some accessories! That would be fun, right? Always you could wear a denim jacket over it, or a lightweight cardigan. Tie a shirt around your waist, for a REALLY young look! You could also throw on a pullover sweater that's a bit loose and it would look more like a skirt.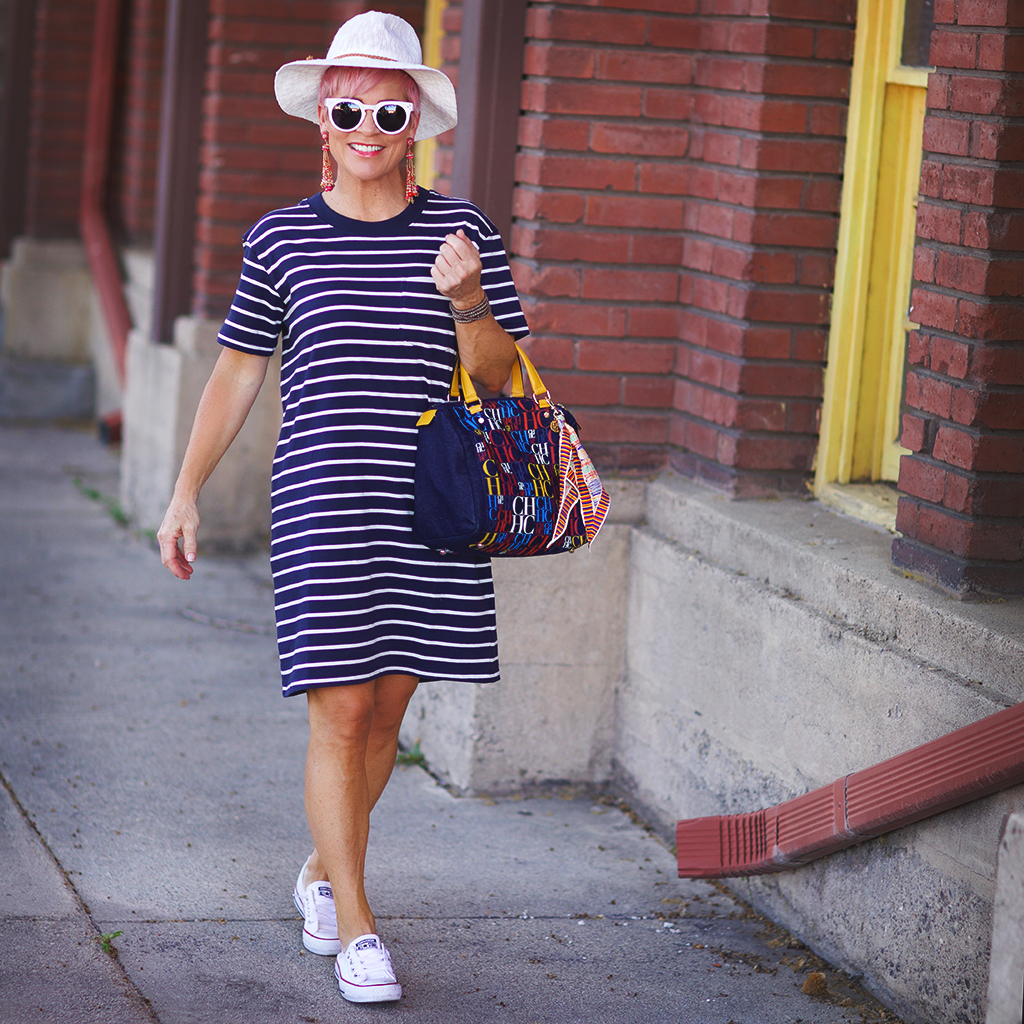 Accessorizing this dress can go ANY direction! I loved the white hat, sunnies, and shoes. The statement denim bag with the bright colors was perfect. I then added the colorful beaded earrings to pull in the colors from the bag. The accessorizing part is what can really give the dress the type of feel you want. It's such a great little dress to have this spring and summer! You can even take it in to the fall with some suede and leather maybe?!!
P.S. My lipgloss is called TRUE!
http://

Shauna…..XO