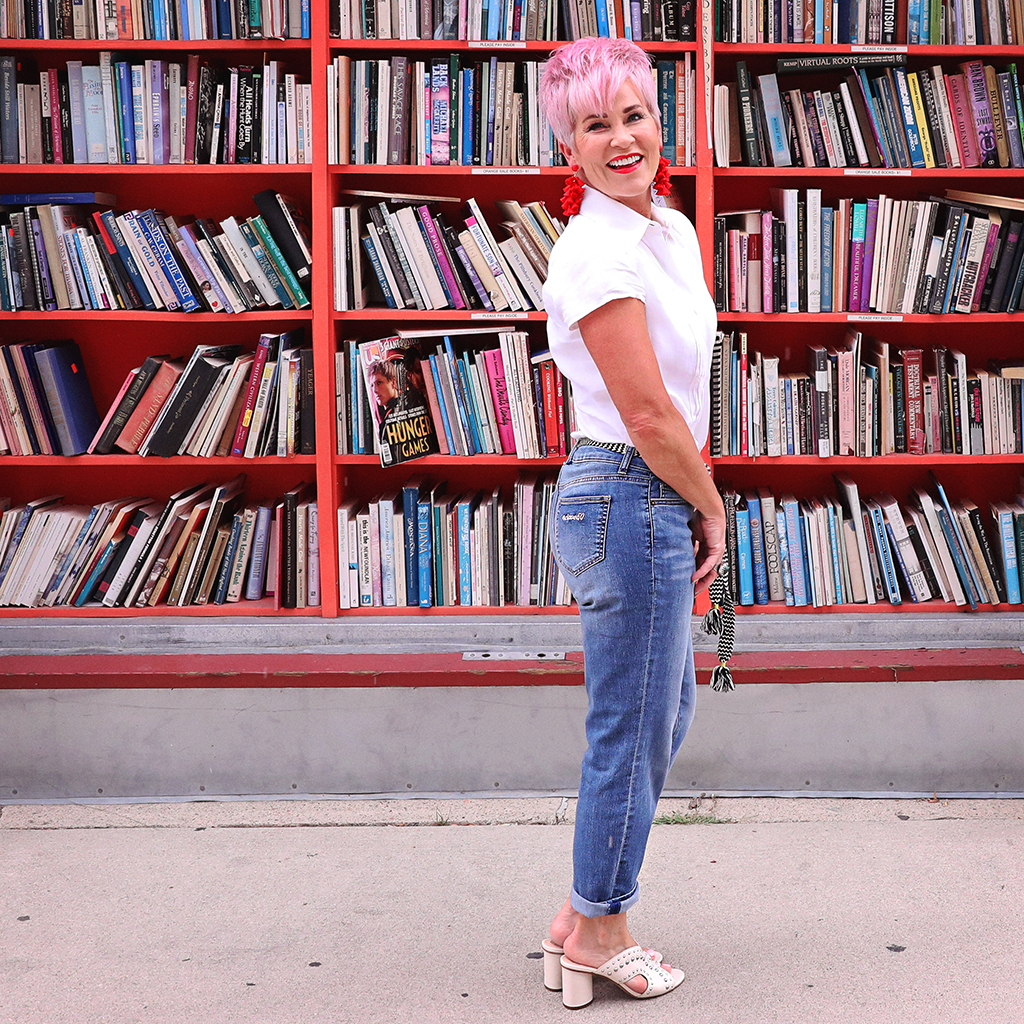 Ladies…how do you feel about shopping for DENIM? Is it easy, fun, an adventure, maybe stressful? Is it like shopping for a swimsuit?? I have always LOVED shopping, but I will say that denim sometimes can be a challenge! You have these expectations of how you WANT them to look, and then they don't! And not only that, but they can be a small fortune!!!!
I have just been introduced to the DRESSBARN'S DENIM, and am really pleasantly surprised! I got two pairs, one a BOYFRIEND Jean, and the others are a SKINNY Jean, and I'm in LOVE with both! The ones I'm wearing are the Boyfriend Jean. Do you see what's embroidered on the back pocket? @chicover50, cute right?? dressbarn has a style for EVERYONE, in every leg opening, fit, AND wash! They are SO SOFT too which is definitely good! Sometimes denim can be so stiff and restricting, and these ARE NOT! I live in denim probably 90% of the time! I can dress them up or not, and they are easy to care for! So if you're like me, and you live in yours too, and want to try out some different trends and such, these could be for you! The price point is amazing!!! These WON'T kill your budget, they WILL be cute, and they WILL be comfortable!!!!!
Right now dressbarn is having a special promotion, the "Denim Try On Event"! You can get $5 off in their stores, for trying on denim and $10 off when you buy them!!!!! And for online shoppers, you also can get $10 off your denim order!!! This offer is good through the 28th of this month! What's not to love about that? Here's your chance to stock up on your denim collection at the #denimdestination, and maybe even start some Christmas shopping! Yep……it's right around the corner!!!!!!
Shauna…..XO
This post has been #sponsored by dressbarn. All thoughts and opinions are my own.