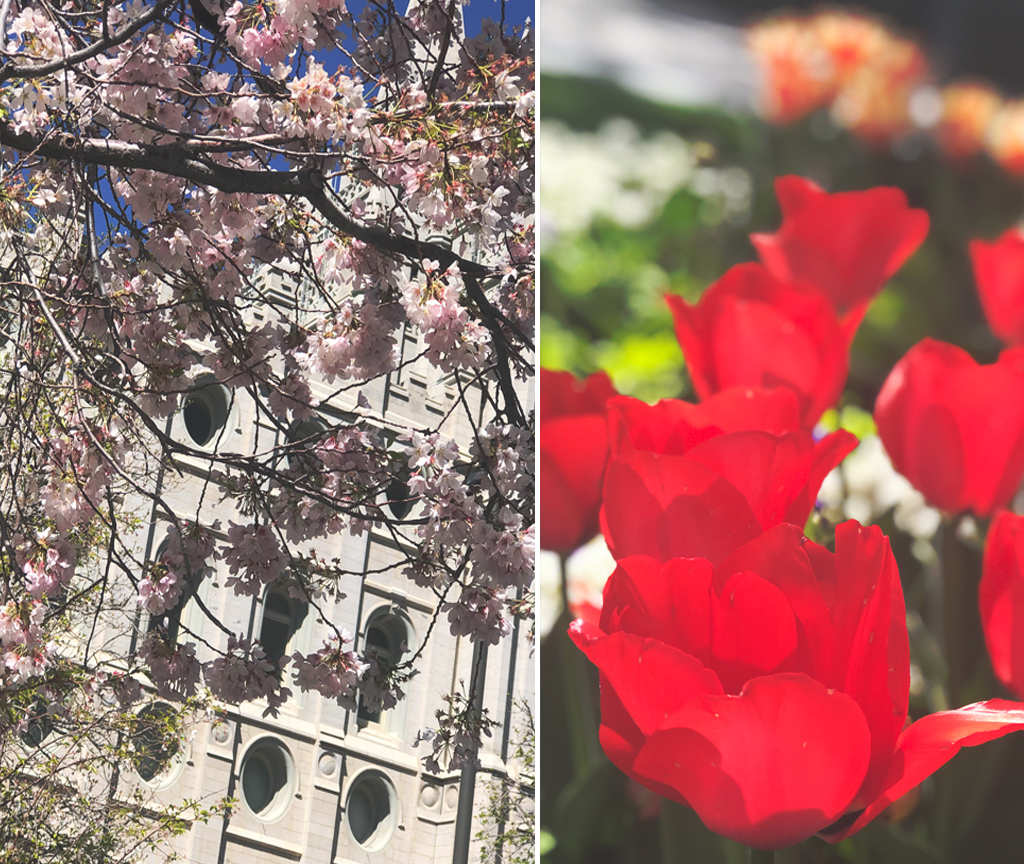 Spring fashion has got to be my FAVORITE…..at least until FALL! We have had such a wet winter here in Salt Lake City. Lots of snow and cold days here. And this makes it all the more exciting to feel some warmer air, and to see all the flowers blooming everywhere.
If you are ever here in Salt Lake, you must go visit Temple Square. The grounds are always immaculate whatever the season. But this time of year with the colorful flowers is absolutely stunning! We walked through the grounds over Easter weekend and it was just gorgeous! I possibly could have spent several hours there!
But lets get back to spring fashion! This look here is all from Ralph Lauren and was all ON SALE! These pinstripe jeans are made of the lightest softest denim and so comfortable! The paperboy waist is fun….make sure you tuck in with this type of waist! I love the slouchy style, easy and carefree! Would you consider these easy to style? Well…..you know I do, or I wouldn't have boughten them!
Here are my ideas for Spring Fashion…….

I think this sequined tank top is ADORABLE! Tuck it in and wear it with the cheery yellow jacket or I would even put a short sleeved white tee underneath instead of the jacket! The espadrilles will give you some height WITHOUT killing your feet!

This floral feminine top makes these jeans look so girly! Pair it all with the bright red accessories and awesome blue fedora hat, and you're set for a lunch with your girlfriends or a movie with your significant other!

And lastly….if you want to amp up some pinstripe jeans?!! Wear a silky ruffly top, edgy heels and fringed bag, and then your dramatic sparkly earrings! This is definitely DATE NIGHT worthy! LOVE this look!
SHOP MY LOOK ABOVE RIGHT HERE…..

It's already Wednesday…..and for me I can't wait for the weekend ahead! What will you be wearing???
Shauna XO