Several months ago, I was invited, by one of my SWEETEST blogging friends, Jamie, to go to Santa Fe and help her with a project for Heritage Hotels & Resorts. My other fab and fun girlfriend, SheShe, was invited too. Jamie is from Santa Fe, and I've had the privilege of working with her on several Chicos events. She loves Santa Fe maybe even more than I do (I've been going for years), and wants to share it with EVERYONE! It is an incredible place, so full of history and culture!!! Jamie had this trip planned out to a tee, making everything so accommodating for us! What an INCREDIBLE girls trip this was. We couldn't have had more FUN!
Both me and SheShe flew in to Albuquerque New Mexico, on a Tuesday. We had such fun meeting up and overloading our audiences with lots of Instagram Stories! We took a shuttle in to Santa Fe to the most lovely Loretto Hotel. The Loretto is owned and operated by Heritage Hotels & Resorts. What a luxurious stay for us. We spent three nights with the most gorgeous rooms with a fireplace and snacks waiting for us when we checked in. We each had our own private patio with beautiful views of Santa Fe. And the beds…..well they were amazing and SO COMFORTABLE! Beds are always a good sign of fabulousness!!! We met up with Jamie and our videographer Jesse, for a delicious meal and then talked about our plans for the next three days!
Heritage Inspiration's Angelisa was the PERFECT tour guide! She is a pint-sized pistol, who is so full of knowledge it was unbelievable! She said to us, "I could talk your ear off", and boy did she ever. She knows EVERYTHING and is truly a walking encyclopedia!!! She was so friendly and taught us so much! Our tours with her were, 1) Santa Fe Shopping with a Local Fashionista 2) Historic Architectural & Interior Walking Tour, and 3) Hiking in Kasha-Katuwe Tent Rocks Tour. She fit right in with us, as well as Tonia, who was our local "fashionista"! In fact part of our tour was visiting Tonia's GORGEOUS home! And it was a WOW!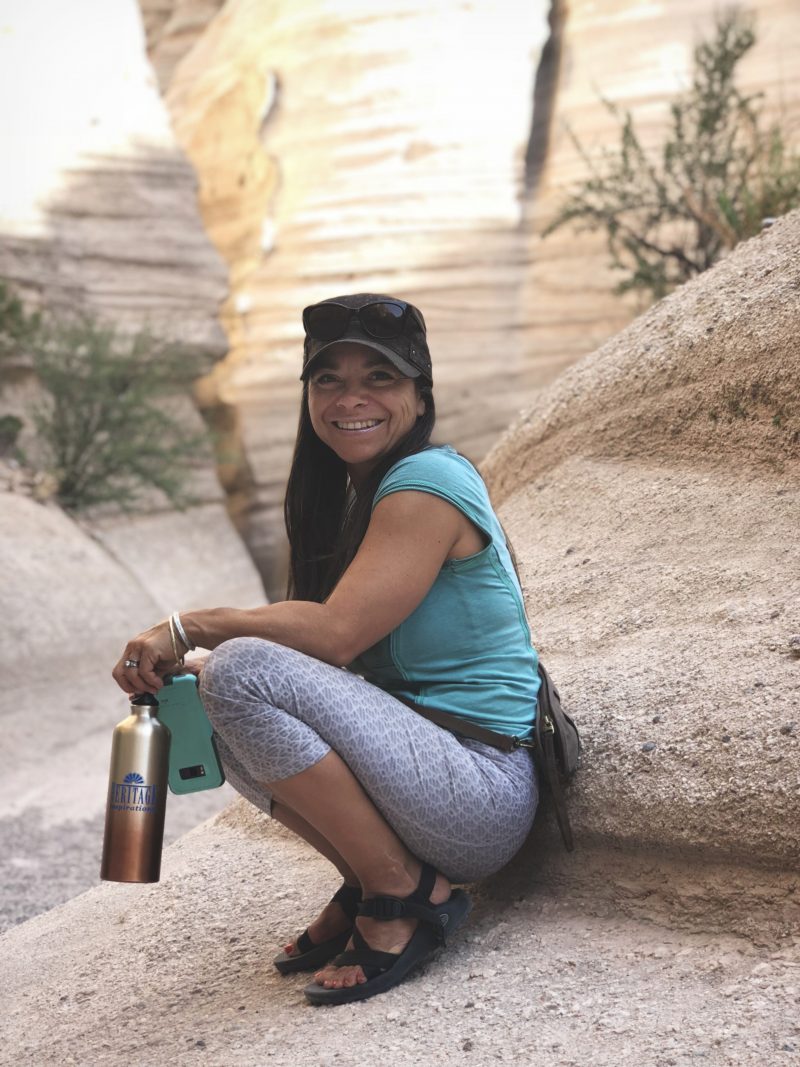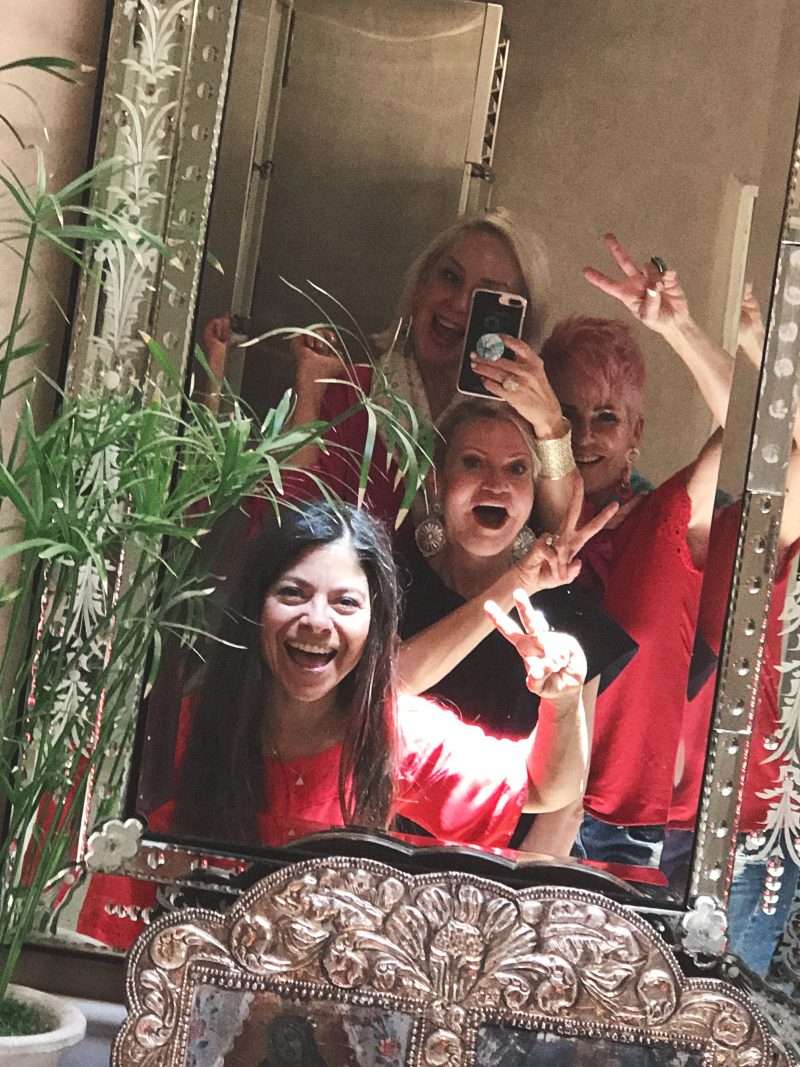 These two women made it such a blast for us, each one giving us her own expertise of Santa Fe and it's history. I would HIGHLY recommend them for ANY trip you have planned here. They can customize YOUR tour to whatever you'd like to see and learn about! Angelisa is here, and Tonia here.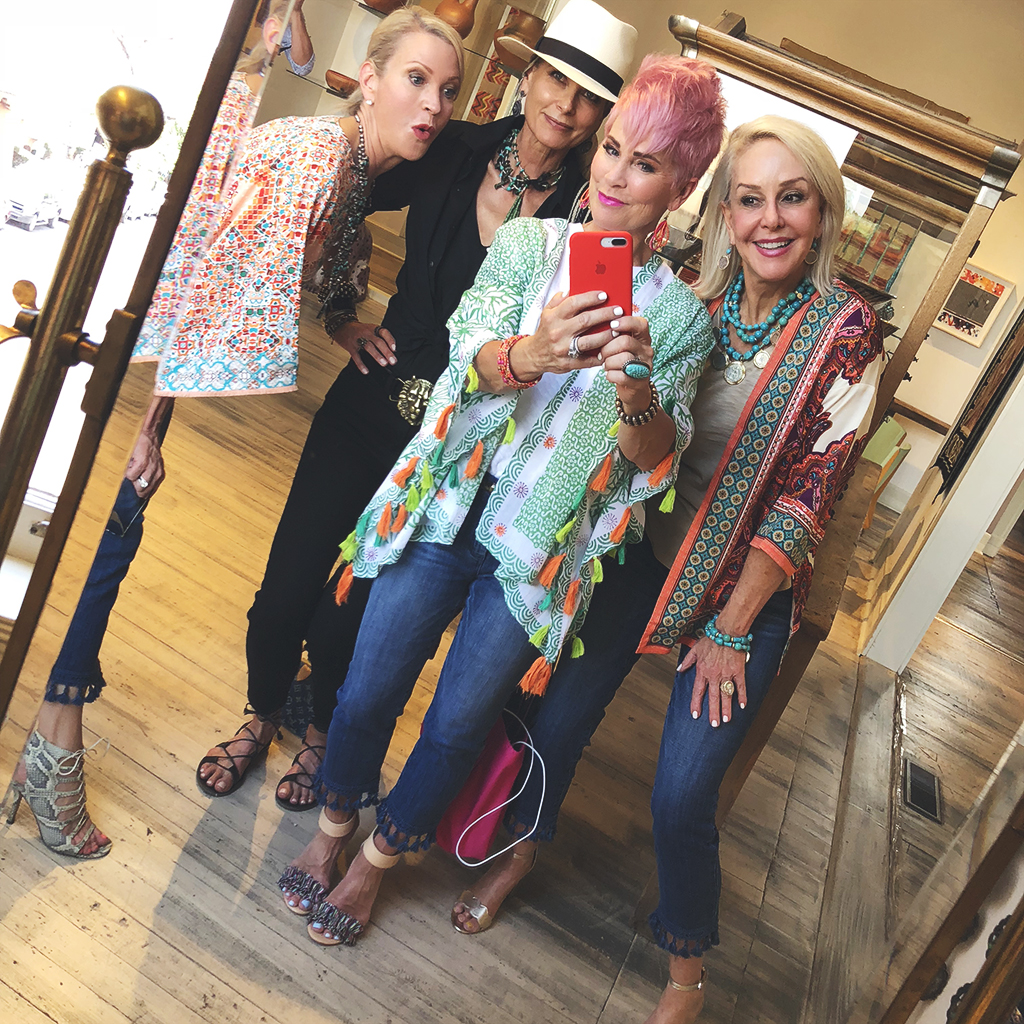 Angelisa met us early on the first morning to start our tour of the gorgeous Santa Fe. This is where she introduced us to Tonia for a walking tour through the town. We saw the Zaguan Adobe Wall. This wall is owned by the Historic Santa Fe Foundation. It's approximately 190 feet long and is along the beautiful Canyon Road! Adobe architecture has to be one of my favorites. We lived in Arizona for many years, and I fell in love back then and still think it's SO beautiful! Here is more information on this wall! We got to visit Tonia's home and have Biscochito cookies and her own herbal tea. Her home was absolutely charming, and she was the best hostess!!!! She then took us about to see some of the finest and most gorgeous rugs, pottery, jewelry, art, and clothing! Shiprock Santa Fe Gallery is here, with incredible goods! I could have been in there all day browsing and dreaming! Then it was off to the Cos Bar where we shopped for our favorite lipsticks and beauty products! It's called our HAPPY PLACE!!!!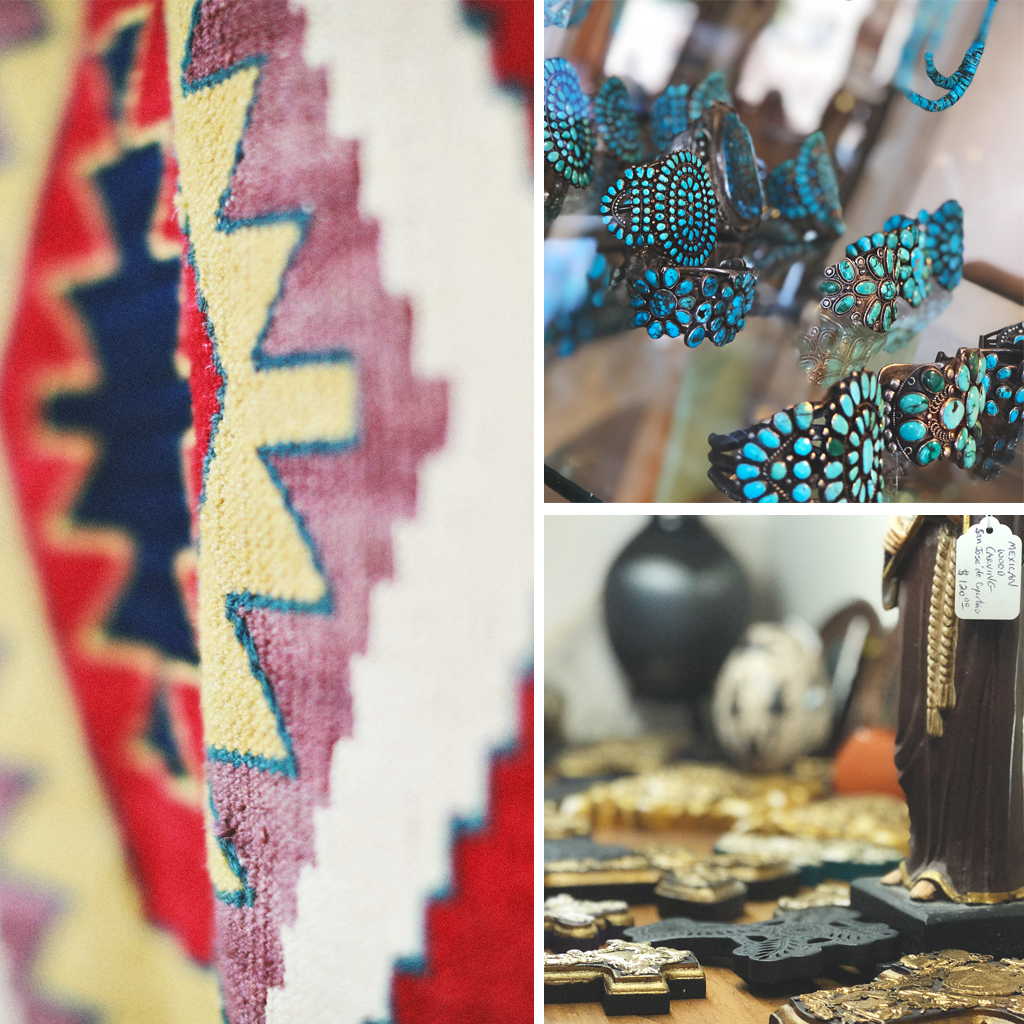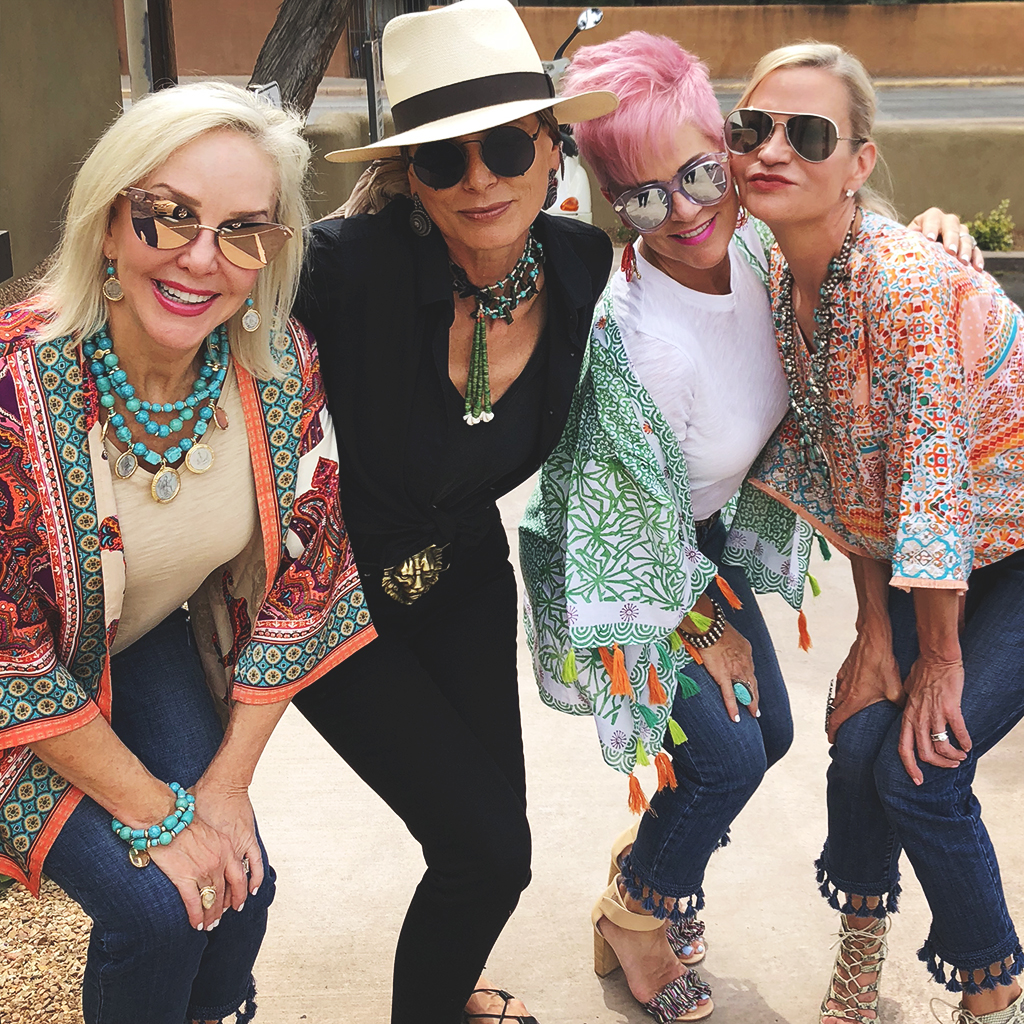 Our day was jam-packed full of all kinds of fun things. We enjoyed a beautiful dinner that evening at the Loretto, even with someone to serenade us! If you go to my STORIES on Instagram, under Santa Fe, I have all kinds of clips from our trip! We all wore our ELIZA J dresses, which are my NEW FAVORITE! The top close-up pic was of us in our dresses, and in the video you will see them better! Thank you Eliza J!! You sure did make us feel pretty! We were so tired by the end of the day, but what a GREAT DAY it was!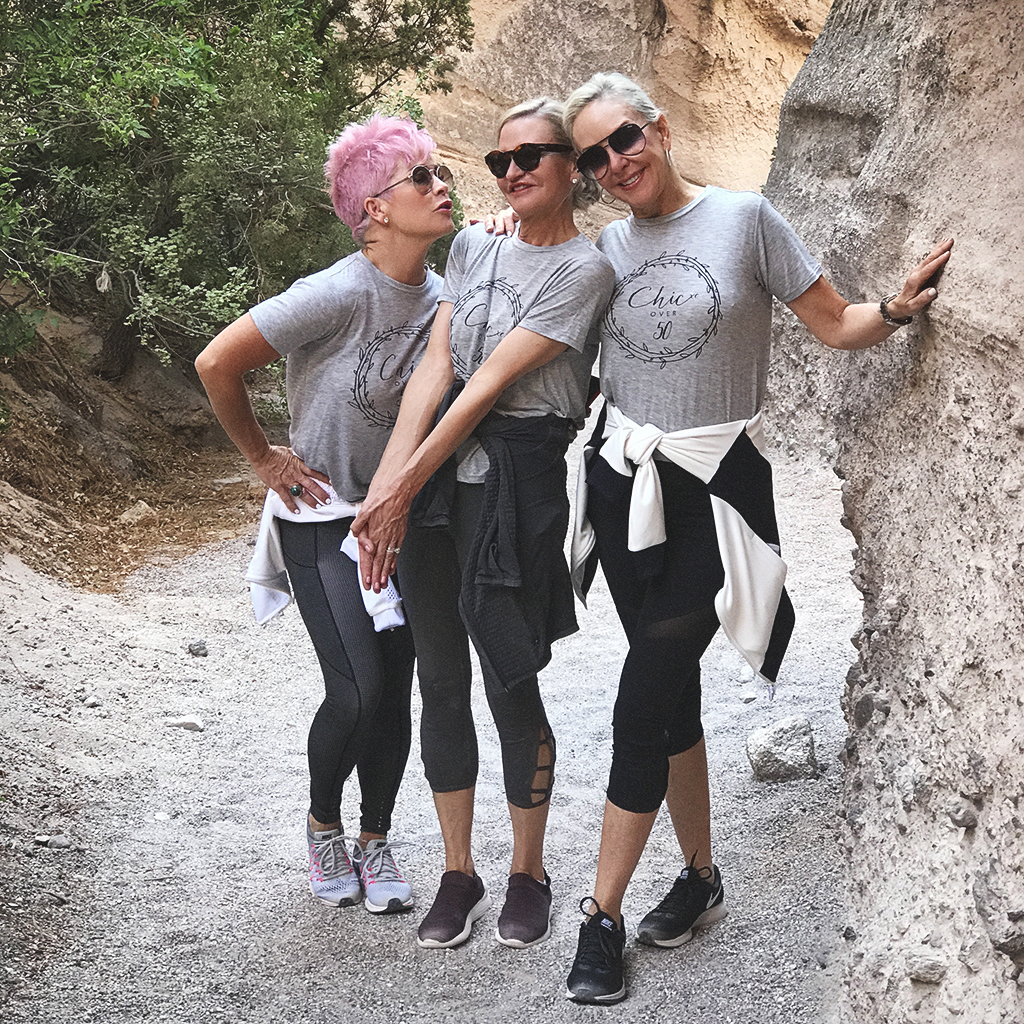 Early the next morning we woke early to meet Angelisa to go on one of her FABULOUS tours, hiking at Tent Rocks in Kasha-Katuwe. The rock formations were incredible, and as a photographer, I could have stayed there all day long taking pics! The slot canyons were so narrow it had you thinking about how it would be if there were a flash flood! Eeeek!!! Angelisa again, knew everything!
This is from Angelisa about Tent Rocks…
"Here, two different geologic processes formed the rock layers. It began with volcanic eruptions in the nearby Jemez Mountains 6.7-7 million years ago, that formed igneous rock. This rock, also called TUFF was a by-product of silvery-gray pumice and ash ejected from numerous vents that fell throughout the region. Other eruptions threw out larger fragments of igneous rock called RHYOLITE, which ranges in color from light gray to red."
On our hike we all had on our Chic Over 50 tees…because we are just that, CHIC! Lol! It was such a gorgeous morning and a great time! Thank you Angelisa!!
That evening we got all dressed up for a very fancy dinner at the Casa Espana, a private membership club. They offer private wine dinners. I wasn't a part of the wine tasting, but sure did get an education on each kind. The food was absolutely delicious, presented beautifully, and the chef even came out to meet us, which was such fun! And this PINK room, which was just next to the dining room, was over-the-top AMAZING! It was adorned with pink velvet sofas and red walls, and made the best backdrop ever for my metallic jumpsuit and pink pixie!
~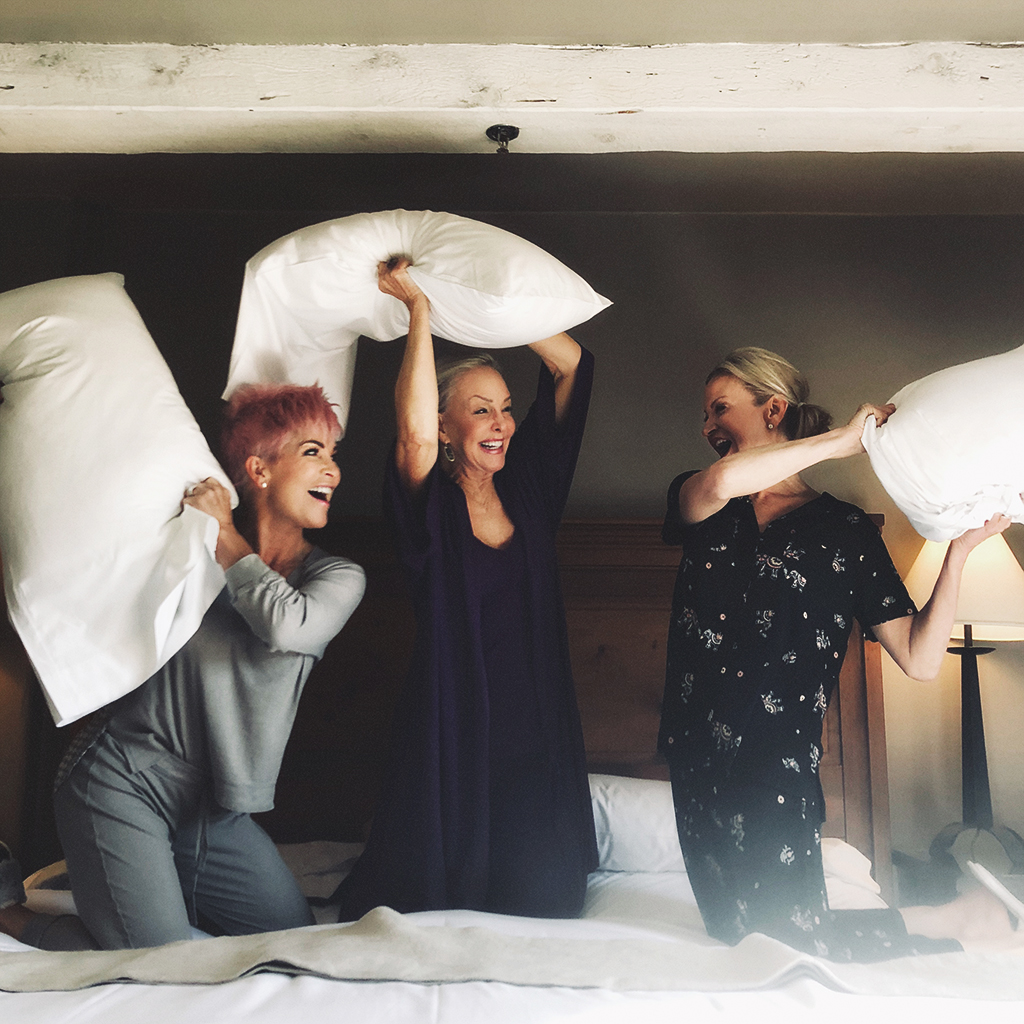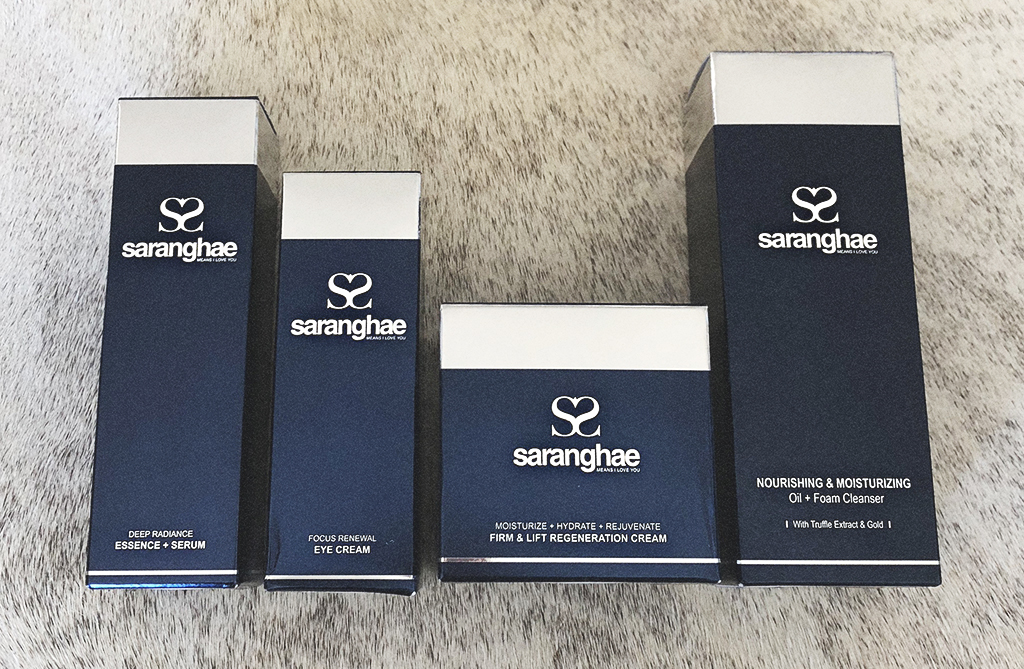 Our last morning of our girl's trip took us to the Penthouse Suite at the Loretto! The only Penthouse in Santa Fe, and it was GORGEOUS! It has five terraces, a gourmet kitchen, formal dining room, a second story master bedroom with a spiral staircase, even a library and best of all…..a sunroom, which was my favorite! WOW! You have a 360-degree view of Santa Fe! Stunning! We enjoyed a delicious omelette breakfast there, dressed in our Soma jammies! Soma Intimates has THE BEST jammies ever….no kidding! LOVE them! Thank you Soma!!!! And then we treated ourselves to our wonderful face products from Saranghae from Korea. I had never used these before, but they are VERY LUXURIOUS! Thank you for our goodies, we LOVED them! And lastly……a pillow fight! Who do you think won???
Our trip went by way too fast! On the last morning, we all put on our CHICOS BOLD TEES  and took one last walk together through town. We literally had people in the streets commenting! One group of young girls said, "That's how we're going to be someday!" People were shouting out from their cars…it made for a really fun morning in beautiful Santa Fe. CHICOS was so good to provide our tees and these fun tasseled jeans as well as our walking tour outfits! Our kimonos/tops were this, this, and this! Chicos STYLE fits right in to the Santa Fe vibes! We LOVE CHICOS and appreciate their support in helping us to feel BOLD! We GO BOLD, WE GO SO BOLD, and we love it!
LOVE you Santa Fe…..your charm, your history, and your COLOR!!! See you soon!
#heritagehotties #whathappensinsantafestaysinsantafe #wegobold #howboldareyou
YOU CAN SEE THE VIDEO HERE! Thanks Jesse!
Shauna…..XO