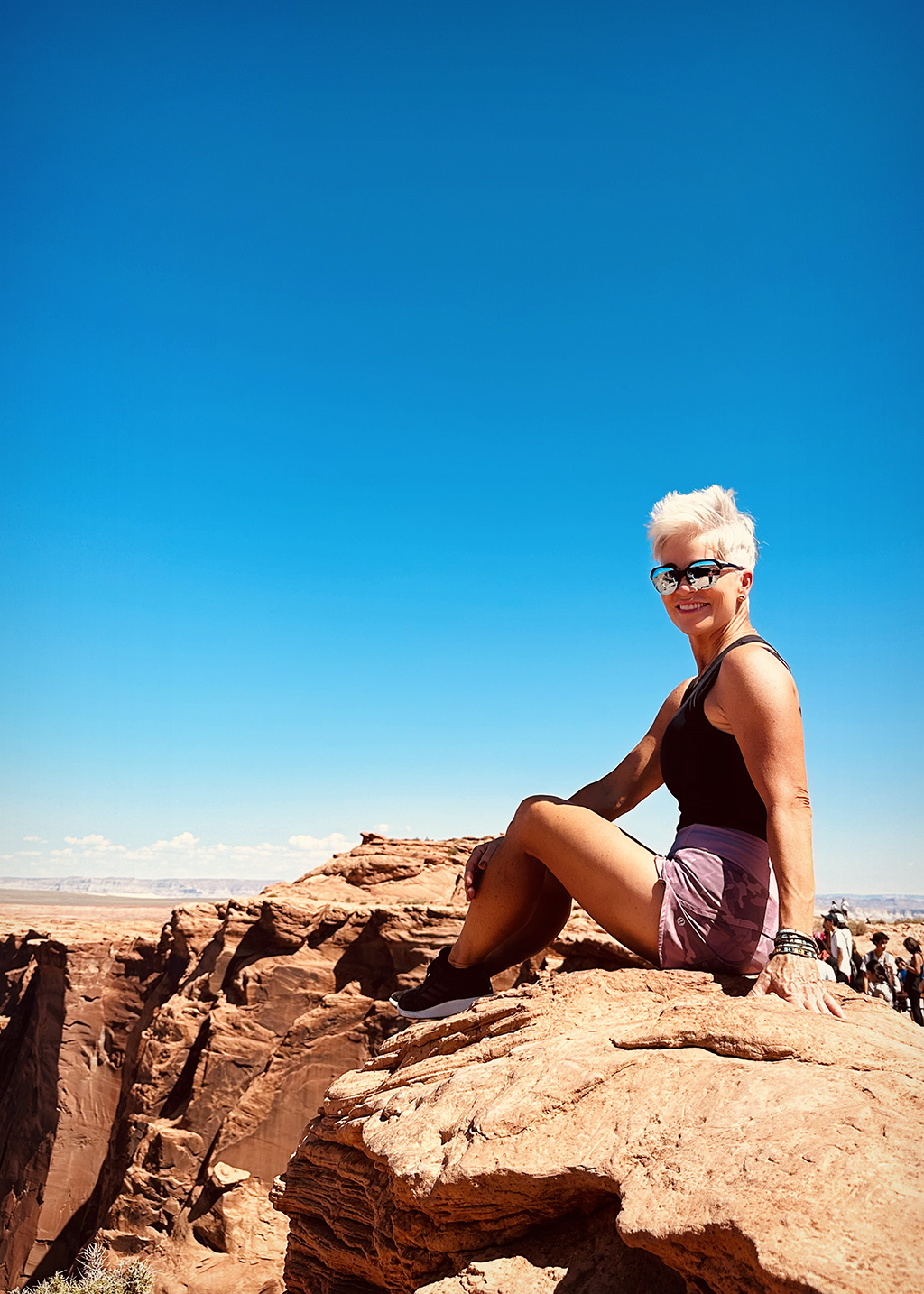 OUR LAKE POWELL FAMILY VACATION
Nestled amidst the breathtaking red rock canyons of the American Southwest, Lake Powell stands as an enchanting haven for families looking for the perfect getaway. Every year around this time, we travel to this mesmerizing reservoir, to spend time with our family and friends. I spent years and years vacationing at Lake Powell with my boys back in the 80's and 90's. It's a place where countless families have gone to do the same thing. Our annual trip here with my husband's family, has been some of my most memorable times with them.
The lake came into being with the construction of the Glen Canyon Dam in the 1960s, holding back the Colorado River. This was a remarkable triumph of engineering. It stands 710 feet high, just a few feet shy of the Hoover Dam. It sparked many conversations about preservation and conservation. THIS IS A GREAT VIDEO about the dam. It took seventeen years for the lake to fill the canyon to the high water mark, which is about 3700′ above sea level.
LAKE POWELL HIGHLIGHTS 2023
On our trip this year, we spent a couple of days docked at Antelope Point Marina. Although we prefer being out on the lake, we took advantage of the surrounding areas, of which some of us had never been to. We were especially lucky to get tickets for all of us to go through lower Antelope Canyon early the first morning. This is an ABSOLUTELY INCREDIBLE wonder! I've been twice, and as you wind between the stunning curvy canyon walls, it's UNREAL! In my opinion, it's in the TOP FIVE most amazing things to see in the southwest. It's located in Page, Arizona and operated by the Navajo tribe.
We also visited Horseshoe Bend, another iconic image you've probably seen pictures of. This is an easy ten minute walk from the parking lot, and is located near Page too. Horseshoe Bend is a horseshoe-shaped meandering of the Colorado River. It's also been referred to as the "east rim of the Grand Canyon". What a site it is! If you look close, on the bottom left, you'll see kayakers.
Once we got out on the lake we did all the normal things we usually do. Definitely, Lake Powell is a playground like no place else on earth. We surfed behind the boat, fished, swam, relaxed and ate yummy food…. of which fresh peaches are always a part, played games, and hiked. We always find the same camp spot every year up Navajo Canyon. It's interesting to see it change year after year, due to the water level.
It's always a good time….. until you get an afternoon storm. And what a storm we got!!! Unquestionably we have the strongest men on our boat who always make sure we are anchored down safely and securely. Our neighbors however weren't, and so when the storm came they all came loose and were hitting into each other. Indeed the scariest kind of storm! You especially have to know what you're doing out on this lake, and if you don't, you'll find yourself in trouble!
Unquestionably our Lake Powell family vacation was once again the perfect little getaway. There's nothing like being together out on this stunning lake. We treasure this time together and look forward to it each and every year. Above all, if you get the lucky opportunity to visit Lake Powell, you need to go!