And speaking of COLOR (yesterday's blog post)….. WO!!!!! This is my sweet friend Caprice! Isn't she a stunner? I met her one year ago at an event in Chicago, and she had this coat on, that SHE designed! And of course being a lover of color and print….I was instantly drawn to her! I blogged about her coat last year. She is as sweet as can be….so humble about her talents and abilities! She's strong and unstoppable!!! Her creativity is OFF THE CHART! These boots she's wearing in this shoot are some she created herself, by getting used belts and strategically attaching them around the booties! Creative yes, and such FUN style!!! I told her she absolutely needs to be on ETSY!!!
This is from Caprice……….
Shauna and I bonded immediately when I walked by her in my Queen trench coat, and as it's said "the rest is history."
The beauty of personal style, is how universal it is, and what you have here are two women representing their love of Color together.
We finally had the perfect opportunity to wear our coats together at one of my favorite Chicago hideaways, the Lincoln Park Conservatory. Full of the most beautiful blooms, I couldn't have imagined any place more perfect.
The Queen Trench holds a special place in my heart, I was inspired at the time, by a seamstress I'd worked with for other pieces. We came together on a piece that reflected both her and I.
As much as I love Queen it was time to say goodbye. Unfortunately I inspired her a little too much and she uses my personal custom pieces for a profit, with no mention of my design contributions, so I felt it best we part ways.  Artistic integrity in our community is so important, and I feel for the most part we respect each other enough to acknowledge how we inspire each other.
Shauna inspires me.
I am SO GRATEFUL I can call her a friend. With her encouragement and endless support, I am beyond excited to announce I will be launching the Caprice In Color Collection Summer 2018! You can expect the same eclectic  whimsy of colors and patterns in standard and expanded sizes!
Women, Support Women.
Together our achievements are endless.
Peace and Love to you all.
-Caprice
I LOVED meeting up with Caprice in Chicago at the Lincoln Park Conservatory, for a quick photo shoot! She couldn't have picked out a more beautiful location! If you've never been there, and live in the Chicago area or are visiting, it is SO WORTH visiting!!! Here are more pictures of this gorgeous place!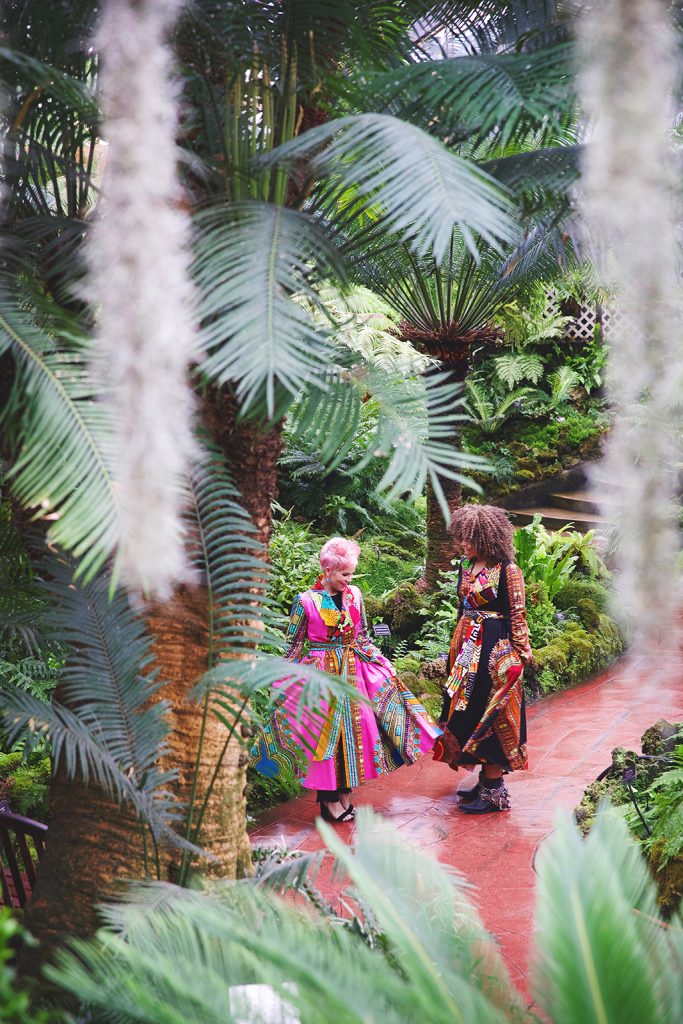 I'm lucky to know Caprice, she truly does inspire me!! I'm literally old enough to be her mother, but she's full of wisdom and seems much more mature in spirit, than her age. You can follow Caprice on Instagram @capricecole. Hope you've enjoyed reading about Caprice, and seeing our pics! I LOVE photographing her…she's such a natural!
Shauna…XO