OUR BLISSFUL GETAWAY TO CABO MEXICO
Imagine a vacation….. our 4th wedding anniversary, at a resort that was an architectural gem, and world-class customer service. That's absolutely what we experienced during our stay at CABO AZUL RESORT in Cabo San Lucas, Mexico. Indeed from the moment we arrived until our departure, every aspect of our vacay was nothing short of amazing!
Cabo Azul Resort is nestled along the stunning shores of the Baja Peninsula. The resort's design blends modern luxury with traditional Mexican aesthetics, and has such an inviting atmosphere. Our suite was on the first level with a private patio and garden, with views of the main pool area. Even though it was on the humid side, I found our outdoor area to be the perfect office!
One of the things we noticed right away at Cabo Azul, was its exceptional customer service. The staff went above and beyond to ensure our stay was perfect. Whether it was arranging for a cabana on the beach, or booking reservations for golf and dinner, their warm approach was impressive. We had room service every day and evening. If we happened to leave our "do not disturb" tag on the door, they made sure to call us to check if we needed anything. They were always there poolside ready to serve us our favorite vegetable rolls or chips and salsa!
GOLFING PARADISE – PUERTO LOS CABOS
We had planned all along to take our golf clubs with us. Being able to golf in such a beautiful place sounded like the perfect vacation, and our favorite way to spend time together! For golf enthusiasts, Puerto Los Cabos is a must-visit. We golfed two of our three golf days at this course. The greens and fairways were immaculate, surrounded by breathtaking ocean views. It's a golfing paradise that you dream of. We were told it's the prettiest in Cabo, and we found that to be true, after golfing at Cabo Real.
One of the things that sets this course apart, is its delicious offering of complimentary food at different holes along the course. As you make your way through, you'll find food stations serving up an array of snacks as well as full lunch meals. This is where we had our favorite shrimp tacos! Absolutely Puerto Los Cabos is not just a golf course, but sort of like a culinary adventure on the greens!
MORE IN THE TOWN OF SAN JOSE
Just fifteen minutes away from Cabo Azul Resort lies the vibrant San Jose City Center. Stepping into this town is like entering a world of color and fun. Its cobblestone streets are lined with colorful buildings, showing off the rich cultural heritage of the region. It's full of art galleries, boutiques, and street markets where local artisans display their crafts. San Jose City Center is an experience that added a touch of local flavor to our Cabo getaway.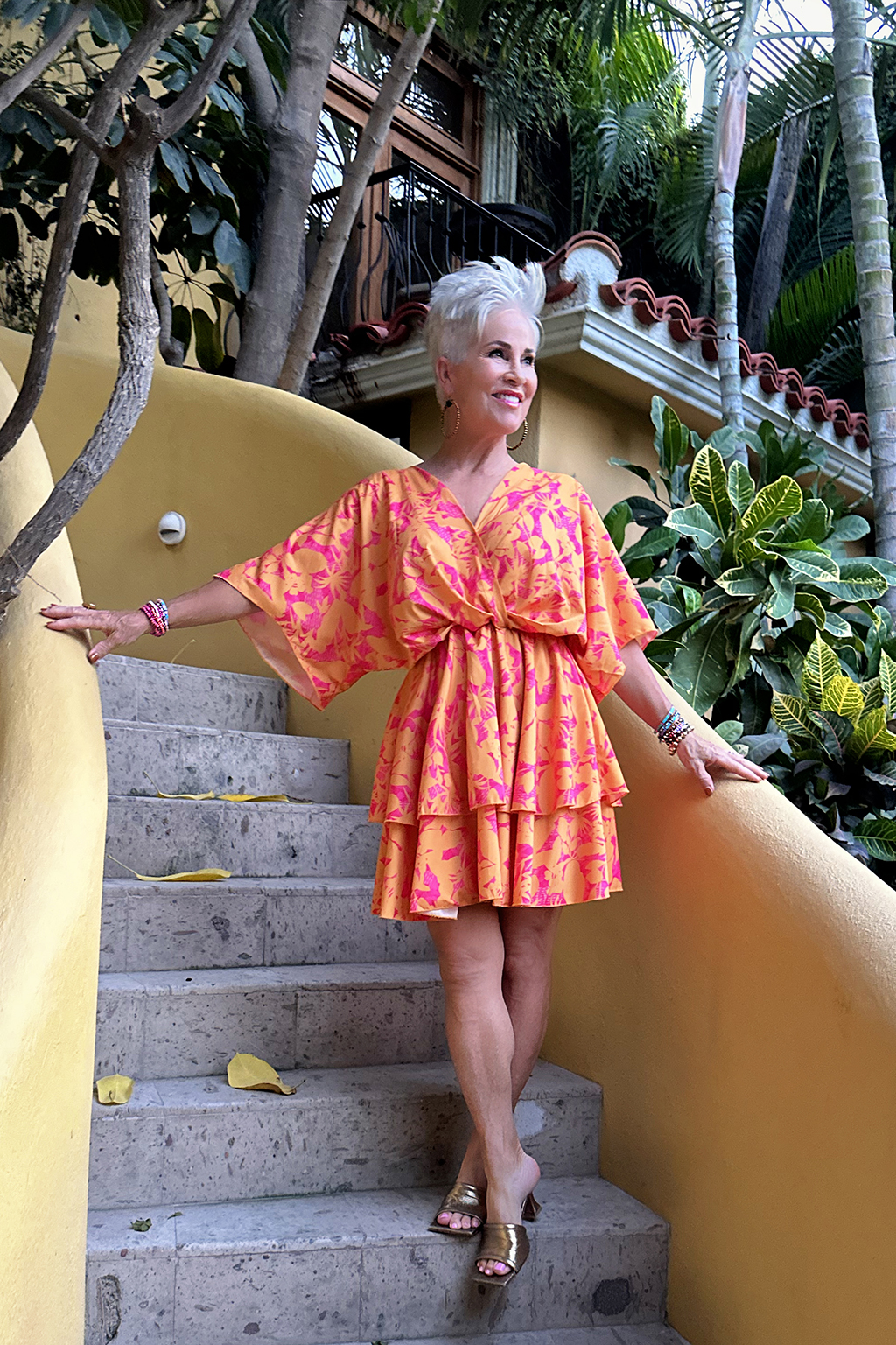 ____________
One of our favorite evenings was FLORA FARMS. Our son-in-law recommended we go and it was all he had described. It's just north of San Jose, about a 30 minute drive from our resort. It sits on 25 acres and you'll find beautiful shops, a grocery stop, and of course the delicious restaurant. We loved their attention to detail with our HAPPY ANNIVERSARY sign! Before our dinner reservation, we stopped into one of the shops. I found some coasters that I had been looking for. When I paid for them I asked the sales girl how much it was in American dollars…… $130!!!! WHAT??? She said, "They are all handmade though." Supporting small business I guess! LOL!
Finally, our blissful getaway in Cabo Mexico was definitely an escape into luxury and comfort. From the resort's picturesque setting to the exceptional customer service, it exceeded our expectations. We left with unforgettable memories and already talking about our return. If you're looking for a dream vacation in Cabo Mexico, Cabo Azul Resort is the place to be!
LEARN MORE ABOUT THIS RESORT HERE