Several weeks ago, you heard me talking about this THRIFTING experience I had with a friend. Ali is a local TV personality, that I met when I went on Good Things Utah, where she is one of the darling hosts! She has a segment on Thursdays all on thrifting, and she is an EXPERT……believe me! She can take the simplest, even the ugliest things and turn them to magic!
I was so intrigued, and wanted to know her tricks and tips! So, I asked her if she would go with me on a thrifting shopping run, mostly for fun, but also to share with you here. Since being a full-time blogger, I have met so many people who shop mostly this way. These are the reasons to do so…. 1) You can save a ton of money 2) When you get tired of something, there's no guilt of wanting to get rid of it 3) You will always be unique and different, no one will ever have on your outfit 4) To recycle is the thing to do these days, saving our planet, and 5) It's all about the hunt, and is a THRILL when you find something amazing!
So we planned our day and ended up spending nearly 3 hours at the Deseret Industries, which is a thrift store here in Salt Lake. The store is clean, and organized, and things are neatly hung in categories and sizes. When I first got there I had no idea what I was doing and so started just going through stuff picking up what I thought might work. I was mostly looking for brands. But when Ali got there and saw what I had, she said, "No, no, that's not how you do it!" I put it all back, and we began our thrifting experience together!
We spent an hour or so going through the store looking, and me…..learning from her. As we went through the different racks of clothing I was amazed at what she saw! She has been thrifting since her college days, and definitely knows what she's doing! We loaded up our arms with our goods and began the process of trying on! We ended up using the mens dressing rooms, which some of them weren't too happy about because we were taking our time deciding on which pieces to keep!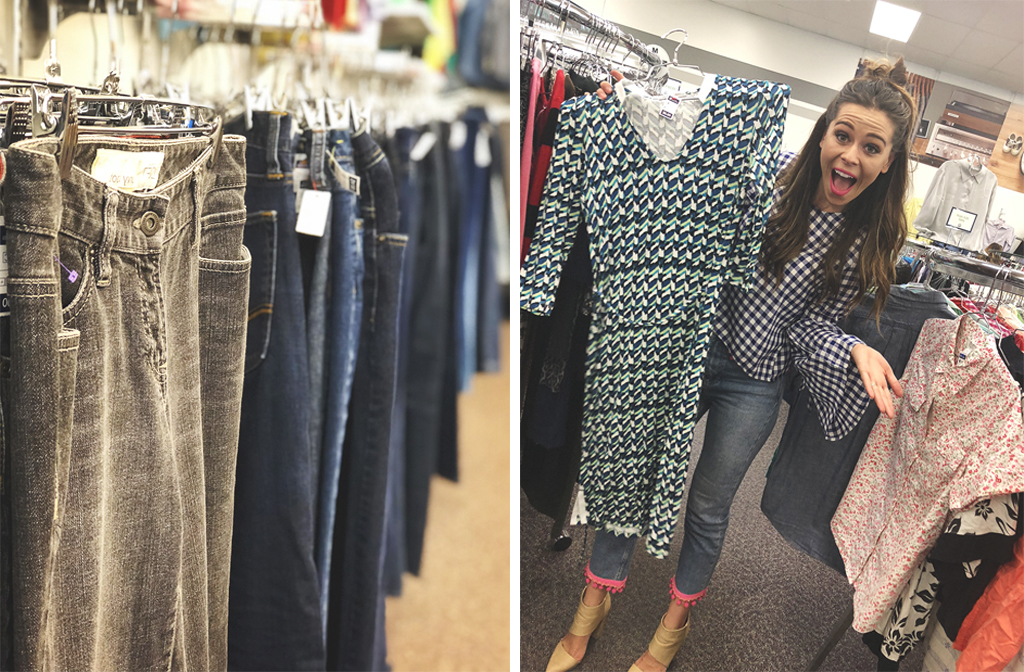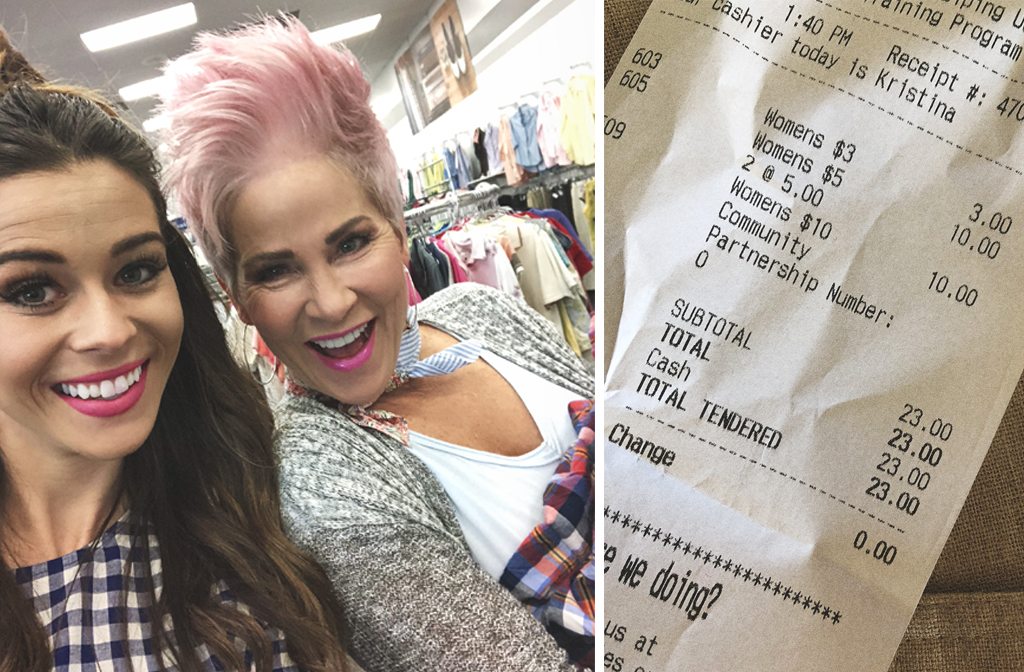 Here are Ali's 5 tips to thrive next time you thrift:
1.  Go with an open mind – Don't be dead set on finding one specific type of clothing or accessory.  My best finds often end up being things I never knew I needed!  😉
2.  Forget everything you know about brand names – While it's fun to score a designer piece for a fraction of its regular price, it's even more exciting to discover brands from other cultures, decades, and walks of life — especially because no one else is going to have your unique "new" item.
3.  Experiment with new styles – Thrift shopping is the perfect way to try a new trend or look you've been interested in.  If you end up hating it, you're hardly out any money and can simply donate the item back to the store.
4.  Quality is key – If something looks like it's going to fall apart the first time you wash it, it probably will (I always wash my thrifty threads 3 times for good measure!).  Go for sturdy fabrics that will hold up and look flattering on your body.
5.  Don't buy it unless you'd buy it from a regular store – Never buy something just because it's a good deal.  It's a thrift store — there will always be good deals!  If you don't love an item enough that you'd pay significantly more for it at a retail store, you're probably not going to wear it once you take it home.


Ali looked ADORABLE in everything! She ended up with a shawl, an asian inspired dress, and a pink skirt. Ali's entire outfit here in our photo shoot, is actually all thrifted! Her shawl $6, tee $2, Joe's jeans $7, BCBG heels $4, hair scarf $2, belt $1, necklace $2!!!! Can you believe how she put that together in less than $25?!!! The skirt I have on is one of the things I chose. It reminded me of a VINCE style with it's simple lines. I put it with this
Madewell top
tucked in and
summer slides
and thought it turned out pretty darn cute! What do you guys think? How would you style our picks? The skirt that Ali has on in the dressing room is actually one that I bought. It was from Anthropologie and still had the tags in it! The other was a white button-up shirt with a fun print…both posted on my Instagram, May 22nd and June 4th. My fourth purchase I will wear in the fall when the weather turns cool. I spent a grand total of $23!
My take on the whole experience is this…….don't get anything with stains or snags, rips, or tares! Wash it at least three times when you get it home, and look for interesting lines and shapes! I'm not sure if I'll be going back any time soon, but it was fun learning and I'm always up for a fashion challenge!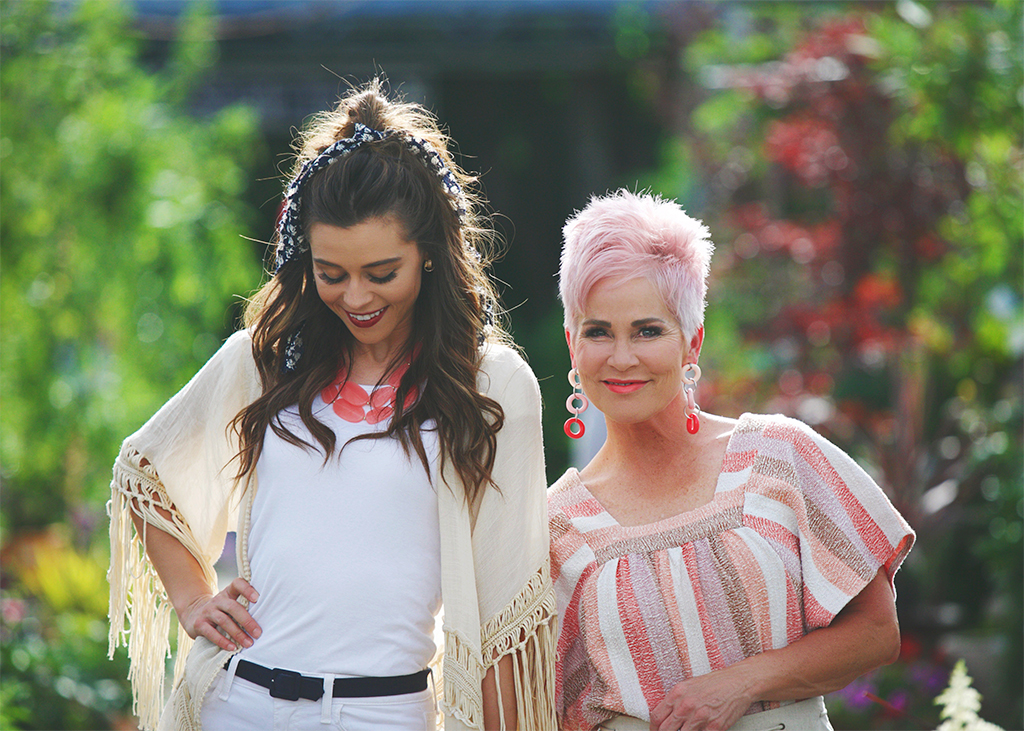 We took our stuff home and styled it our own way, and did a serious/not serious photo shoot! I've loved getting to know this amazing girl! She's such an inspiration, so bubbly and fun, and sure does know her stuff!!!! Thanks Ali…..vintage shopping next?
Shauna…..XO