MY ROUND-UP OF SUMMER STYLES
I'm sharing with you all today some fun SUMMER STYLES that I haven't shown you yet, because I don't want you to miss out on some SUPER CUTE things! Summer is sort of half over and all of these pieces are worth thinking about for the rest of your summer plans, as well as pieces easily incorporated and transitioned in to your fall style.
FIRST A RED DRESS…
This dress is so summery and fresh. What's that quote….. "WHEN IN DOUBT, WEAR RED?" The edge of this dress has a beautiful scallop to it, a loose cool cut, and the fabric isn't sticky and lays beautifully! I chose to style it with the belt, but probably meant to be worn more without. The accessories are SO MUCH FUN and can be worn over and over again with so many things!
SECOND…. BW&R NEVER WAS CUTER…

SEE THESE TWO REELS HERE and HERE!
I'm having SO MUCH FUN with these pieces of BLACK, WHITE, and RED! The earrings are sadly sold out, and the Terry white pants in the top right pic are sold out as well. THIS SHIRT, THESE JEANS, and THESE WHITE JEANS are so so SO good! I am especially LOVING these pieces!!!
LASTLY A BEAUTIFUL TEE SHIRT DRESS…
Sometimes a tee shirt dress can feel a little cheap. But THIS ONE is very different. This dress lays so beautifully! I know I keep saying this over and over, but I'm telling you that CHICOS fabrics are exceptional! And the fabric on this dress IS just that! It's absolutely gorgeous and I LOVE the gathered sleeve! It's the perfect neutral shade to add in all the color you want!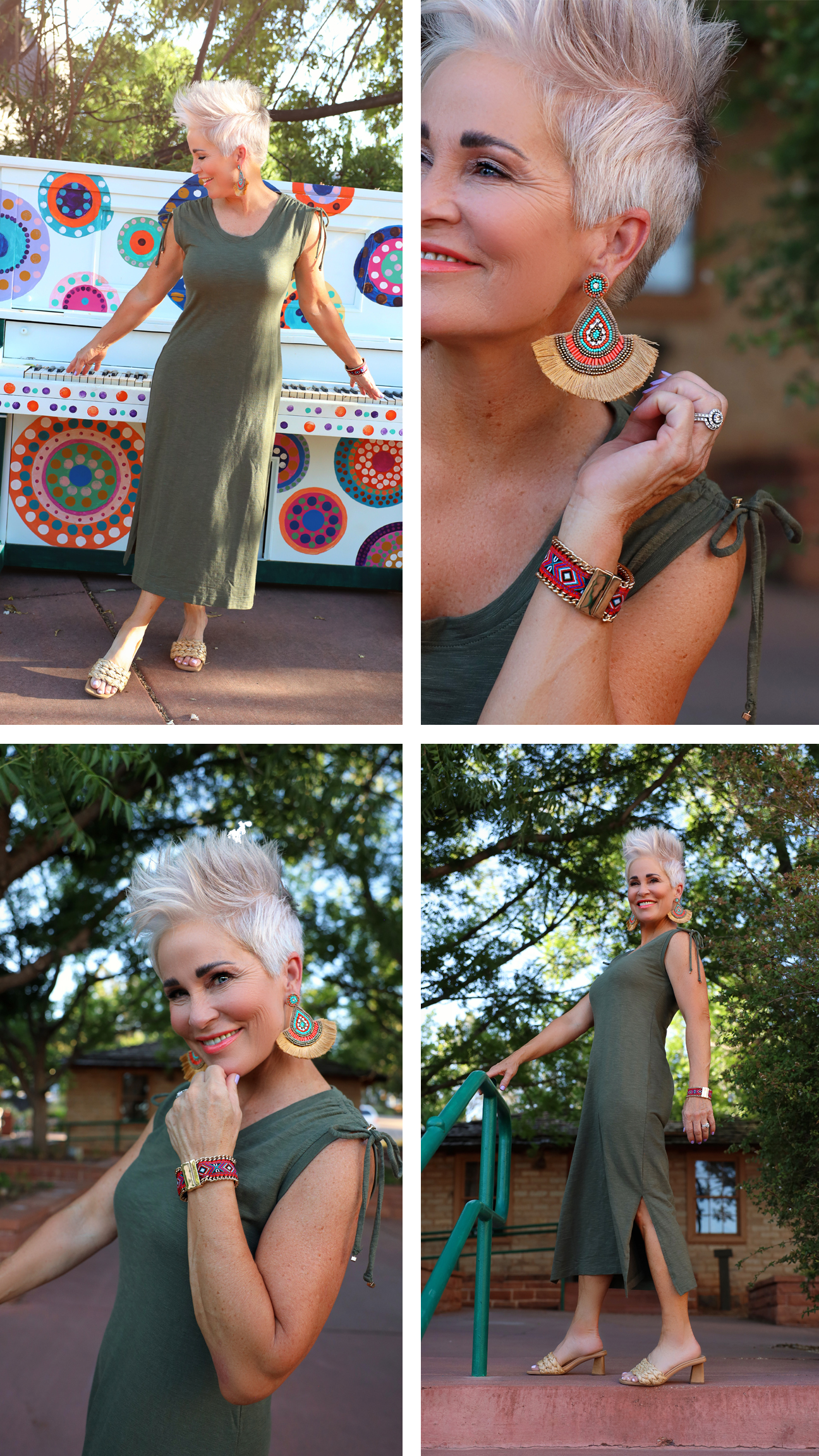 You can see how comfy these all would be for all of your summer travels. They all really work so well together, which is exactly what you want to pay attention to when traveling. So much less to pack and think about, when your clothing works well together! My round-up of summer styles has got me thinking VACATION!!!
Shauna XO