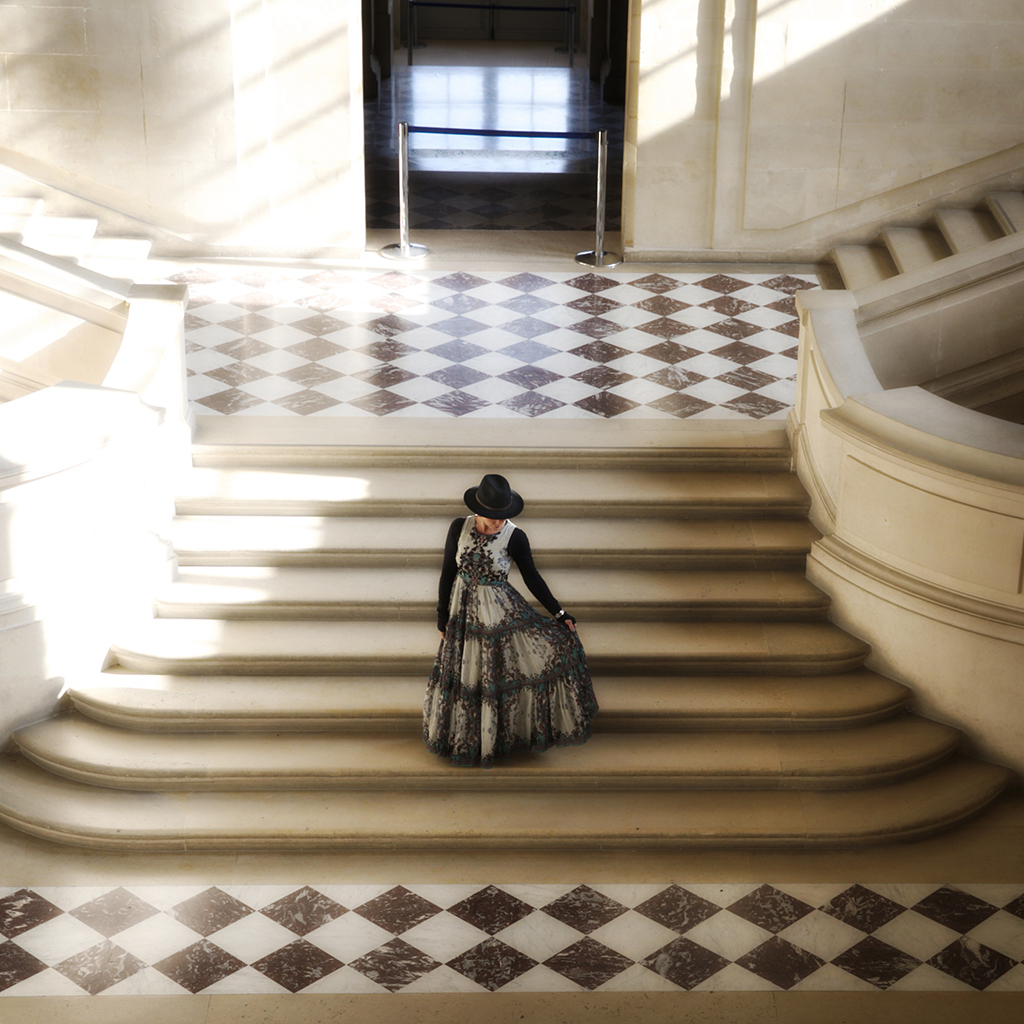 My love for MAXI DRESSES has been going on for a long, long time. I remember my very first one (I think) when I was in Junior High School. My mama made it for me and I LOVED it, in fact I wore it for years! It was white with ruffled butterfly sleeves. On the edge of the sleeves and on the pockets and I think the hem, she had sewn rainbow colors of rick-rack. Going down the front she added buttons in the same color as the rick-rack. It was ADORABLE I thought, and I'm sure that that's when my love for MAXI DRESSES began!
This picture was taken at the Palace of Versailles a few years ago when I lived in Paris for a month. I got it at Anthropologie and instantly loved it, and thought it was perfect for Paris and perfect for the PALACE. There's nothing that makes you feel like a girl faster than a MAXI DRESS, and a floral one too! I LOVED it on this gorgeous staircase! One of my followers, Carrie, sent this picture to me a couple of weeks ago saying that it was one of her favorites of mine. How SWEET is that? I have the best peeps!
I wore another fab Anthro maxi in Paris as well….right here!
I realized after she had sent it to me, that I hadn't worn a MAXI for a long, long time. Then I wondered if they were GOING OUT OF STYLE! I started looking on-line for maxis and couldn't really find THAT MANY! Trends are interesting aren't they? Are you influenced by them? I hate to admit, that I AM! And although I will always love MAXI DRESSES, if they aren't really trending, I probably won't choose to wear one.
But…. these are some really BEAUTIFUL maxi dresses I've found. I'm going on a really LOVELY and ROMANTIC trip in February with my hunky husband, and thought about maybe bringing one along for our Valentine's trip! What do you all think? Do you like them? Do you feel good in them?
MY TOP TWELVE FAVORITE MAXI DRESS PICKS!

I really would be interested in knowing how you feel about a MAXI!
Shauna XO