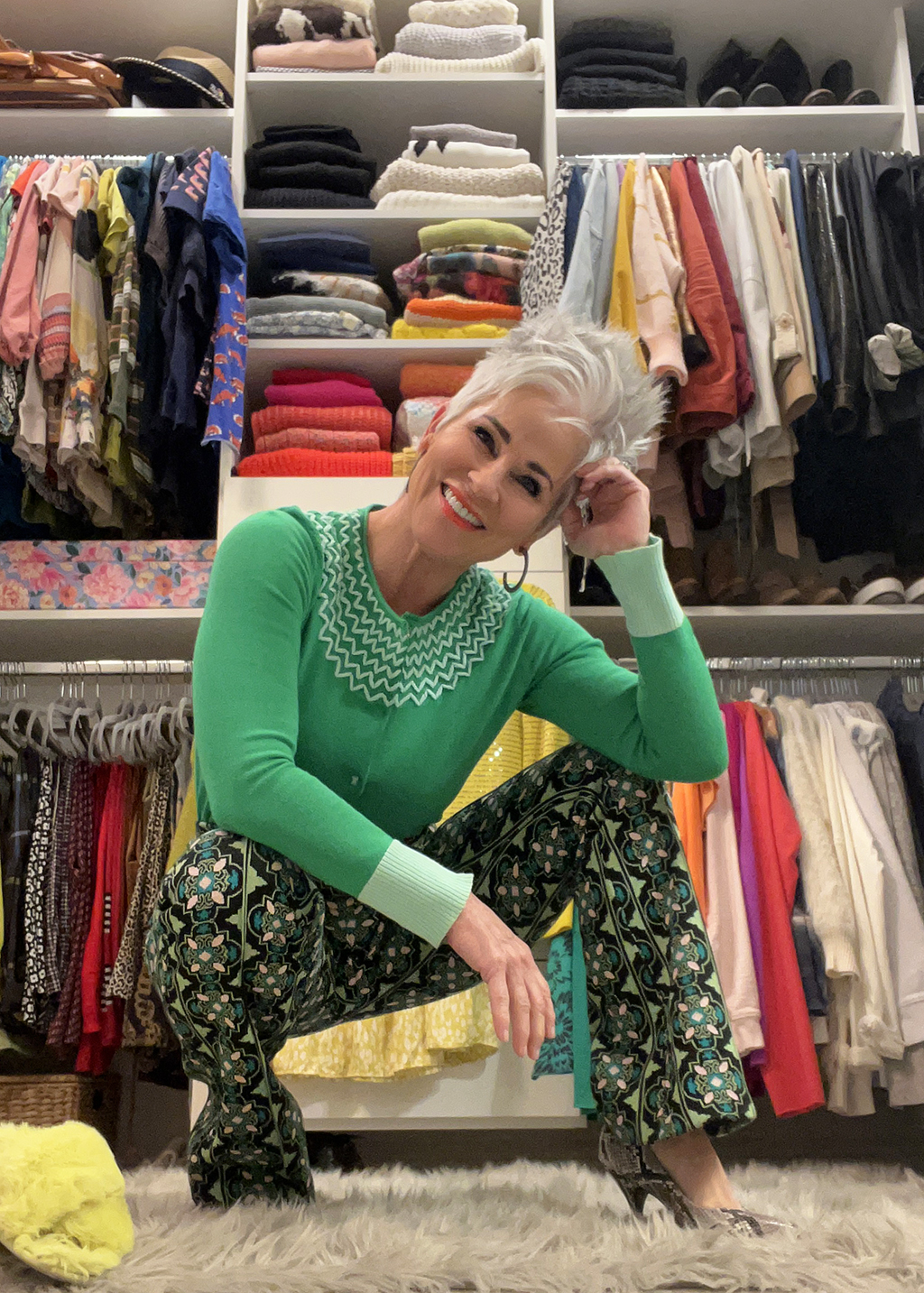 MY CLOSET MAKEOVER
This may or may not be what you expect. A fashionista who adores clothing and all things related to fashion…. and her closet. Clearly in my dreams, my closet would be ENORMOUS. It would look like a store in fact! That would be my dream, but for now I'll settle for the space I have and make it look the very best I can! Believe me, I know how to make a tiny space fabulous and functional!!!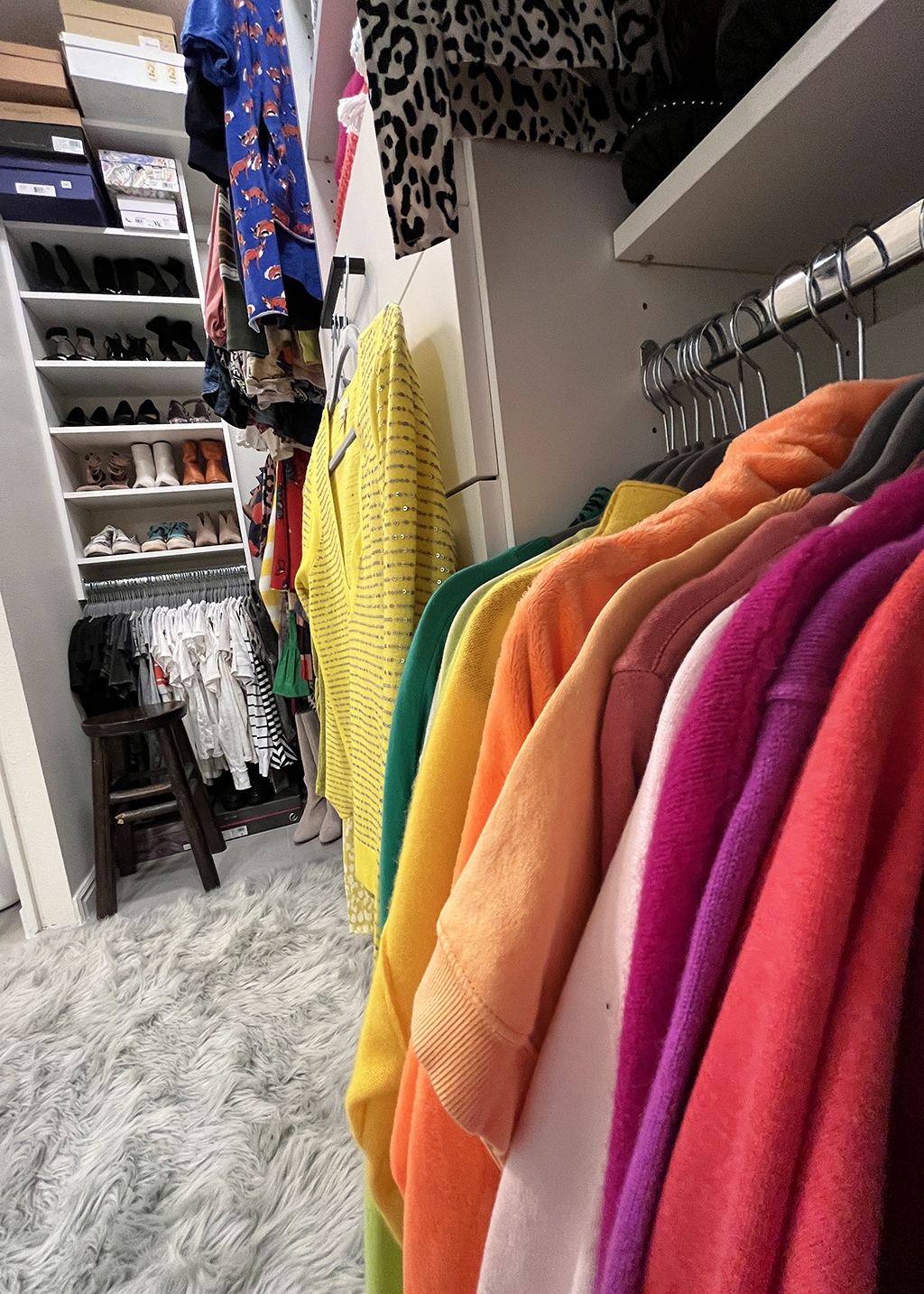 The funny thing about SPACE is…. no matter how much you have, it gets filled up. And most of the time, with stuff you don't need! I was there once and have done ALL that. I used to live in a HUGE HOUSE with a HUGE CLOSET…. like a bedroom size. Not only did I fill it up, but it was also too full! Do we really need that much stuff? I think back to my simple mama, and how meticulously she went through what very little she had before she passed, so that her children wouldn't have to do it. Think about that one……
MOVING FORCED ME TO THIN OUT
Just recently we moved in to our first home TOGETHER. After we got married (if you're interested in that story, it's here) we were living in a temporary home. Unquestionably when I saw the home we live in now for the first time, I KNEW it was for us. It's gorgeous, manageable, and perfect! The only problem was….. the closet space. I thought to myself, "can I do it?" It was tiny. There were other rooms that were going to be guest bedrooms, and they did have their own closets……. so maybe there was a way!
We bought the home, YAY! Without a doubt some serious cleaning out had to be done. I went through EVERYTHING….. my clothes, shoes, as well as my accessories! I had three drop-offs…. the Desert Industries (Goodwill), my consignment store Namedroppers, and my family. At least one third of what I had was donated or given away. Do I miss it? Nope not yet!!
USE A CLOSET COMPANY TO HELP YOU MAXIMIZE YOUR SPACE
In my NEW HOME, I got a closet company to come in and make the most of my space. This DID make a difference! Don't be afraid to invest in maximizing your space with the professionals. Also in my bedroom there was an empty wall that was about ten feet long. My closet company built me a BEAUTIFUL cabinet with glass front doors, to fill that space. In the middle is a huge mirror that sits on the floor. I LOVE LOVE LOVE IT!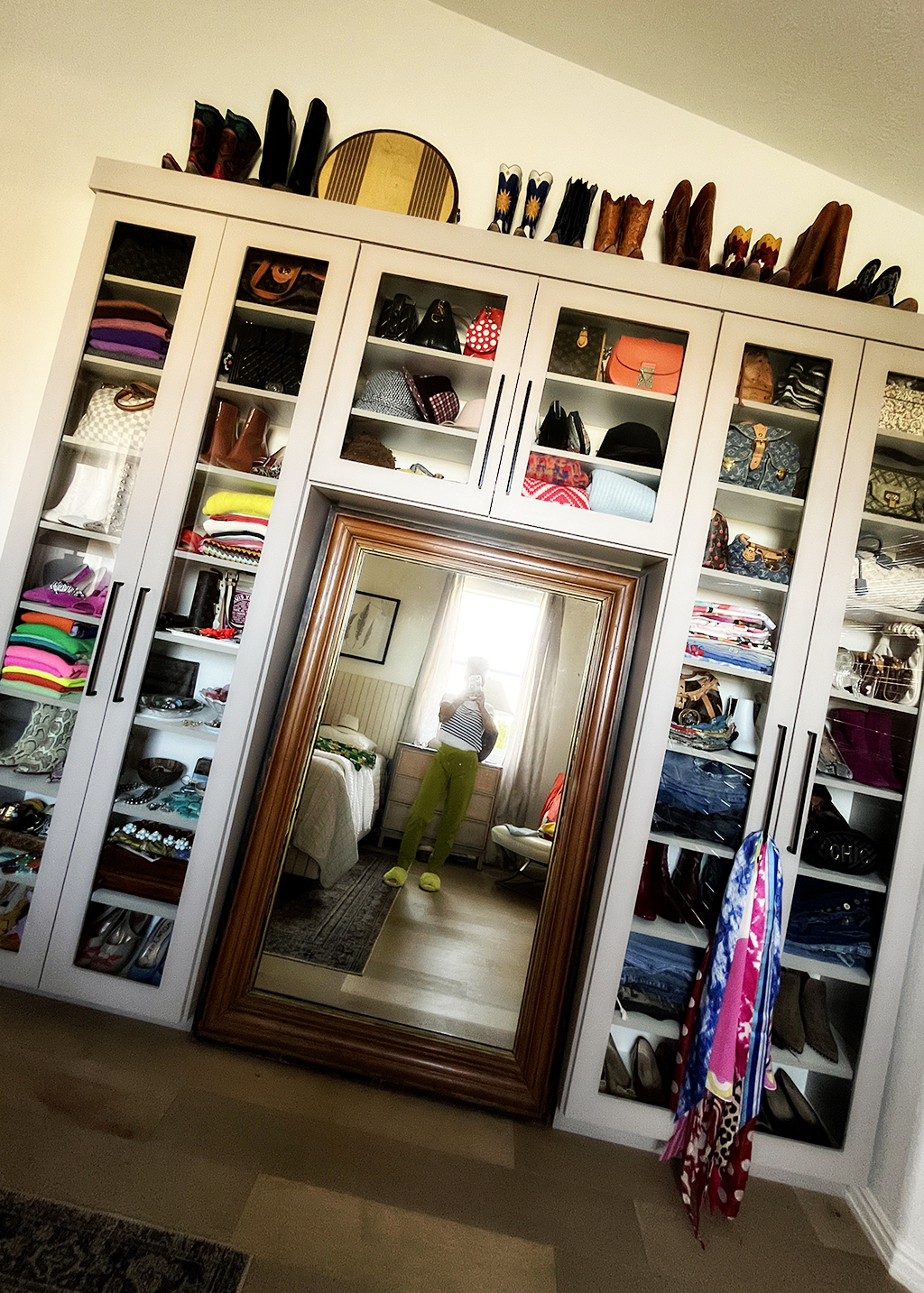 I have used this built in cabinet to show off all my pretties. All of my colorful shoes, scarves, jewelry, hats, sweaters, are arranged neatly. Most of my jeans are in there as well and I love it because I can actually SEE them! It has been so much easier to find what I'm looking for!
For many years I was told to get matching hangers. FINALLY everything is hung beautifully on hangers that all look the same. HERE are the ones I used and I really like how everything stays without slipping! It really does look so much nicer!
My Closet Makeover | HOW I ORGANIZE MY CLOSET
My closet is organized in to categories and then colors. For example I have a tee shirt section, tops and blouse section, sweaters and sweatshirts section, and sections for dresses, skirts, pants. Most of my sweaters are folded on my shelves, and without a doubt organized by color.
Every section in my closet is organized again by color. Subsequently now when I need something, I can find it so much quicker than if everything was just thrown in there together! My closet isn't big enough to hold all seasons, so now is about the time that I would switch things around. For example, winter pants to summer pants, etc.
I'm sure you all can guess what's in the guest bedroom's closets! Yep…. MY CLOTHES! Besides, what else were we going to put in there? These closets hold my seasonal clothes, all of my "special" clothes, my coats, and my extra shoes.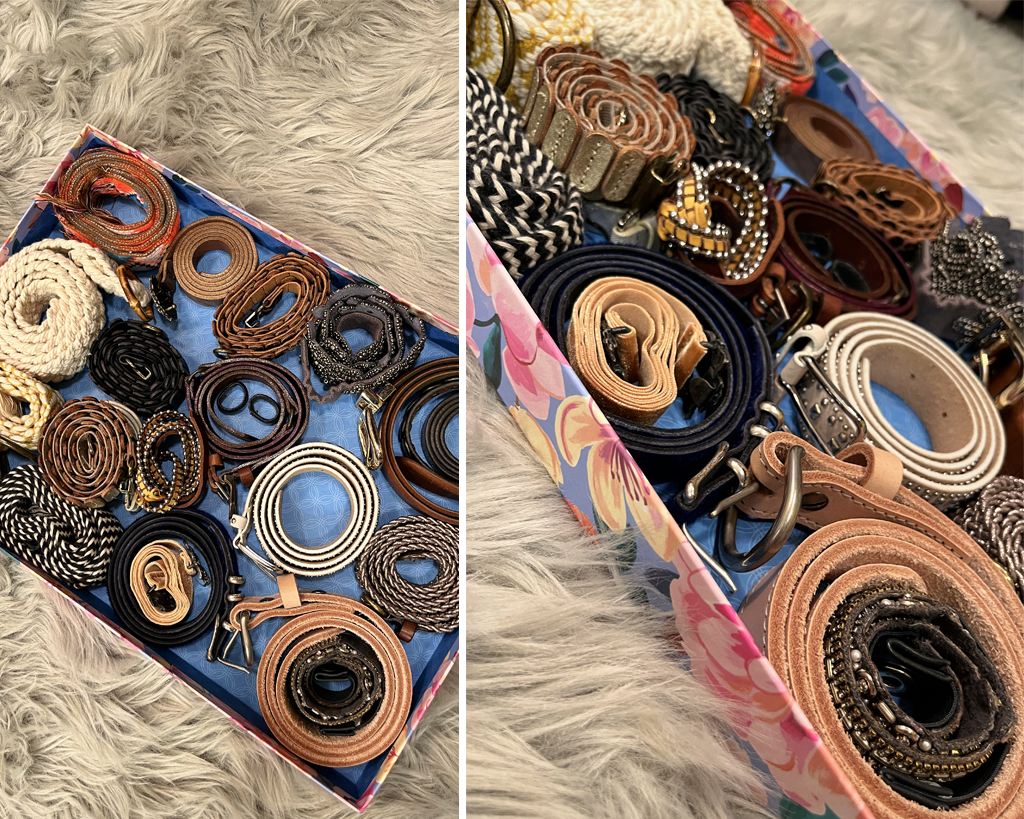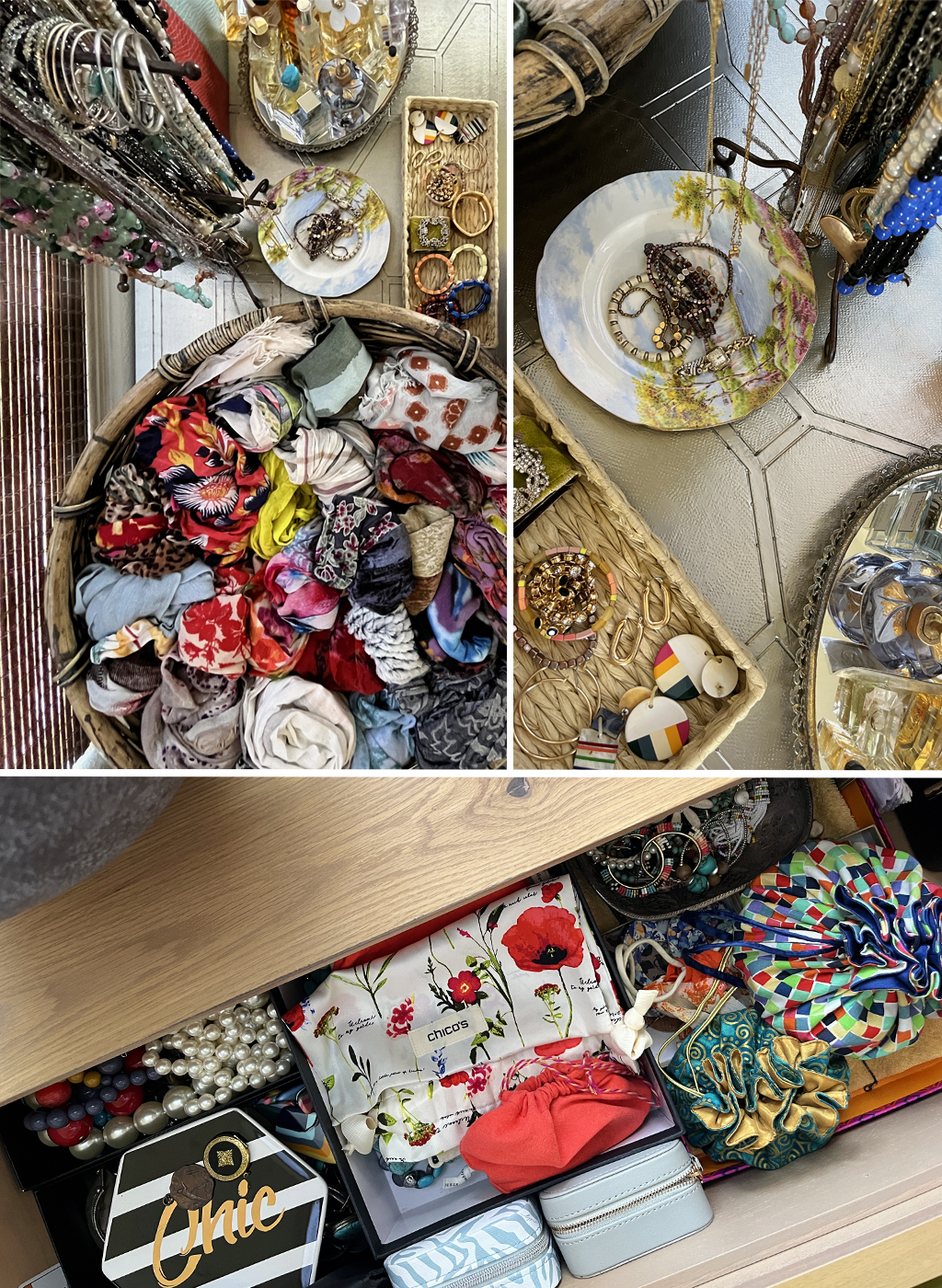 HOW I ORGANIZE MY ACCESSORIES
Last but not least, my accessories! Most of my jewelry is stored in a drawer. Some of my really special fun pieces are arranged in my display cabinet…. remember I like it to look like a store! I keep my belts in a single layer displayed in a cute floral box in my closet. My scarves are folded and stacked neatly in my cabinet. My workout wear is in a dresser drawer folded in to categories…. tights, bras, tops, shorts. And not to forget my cowboy boots…. they are all displayed on top of my cabinet in a row and I LOVE that I can see them!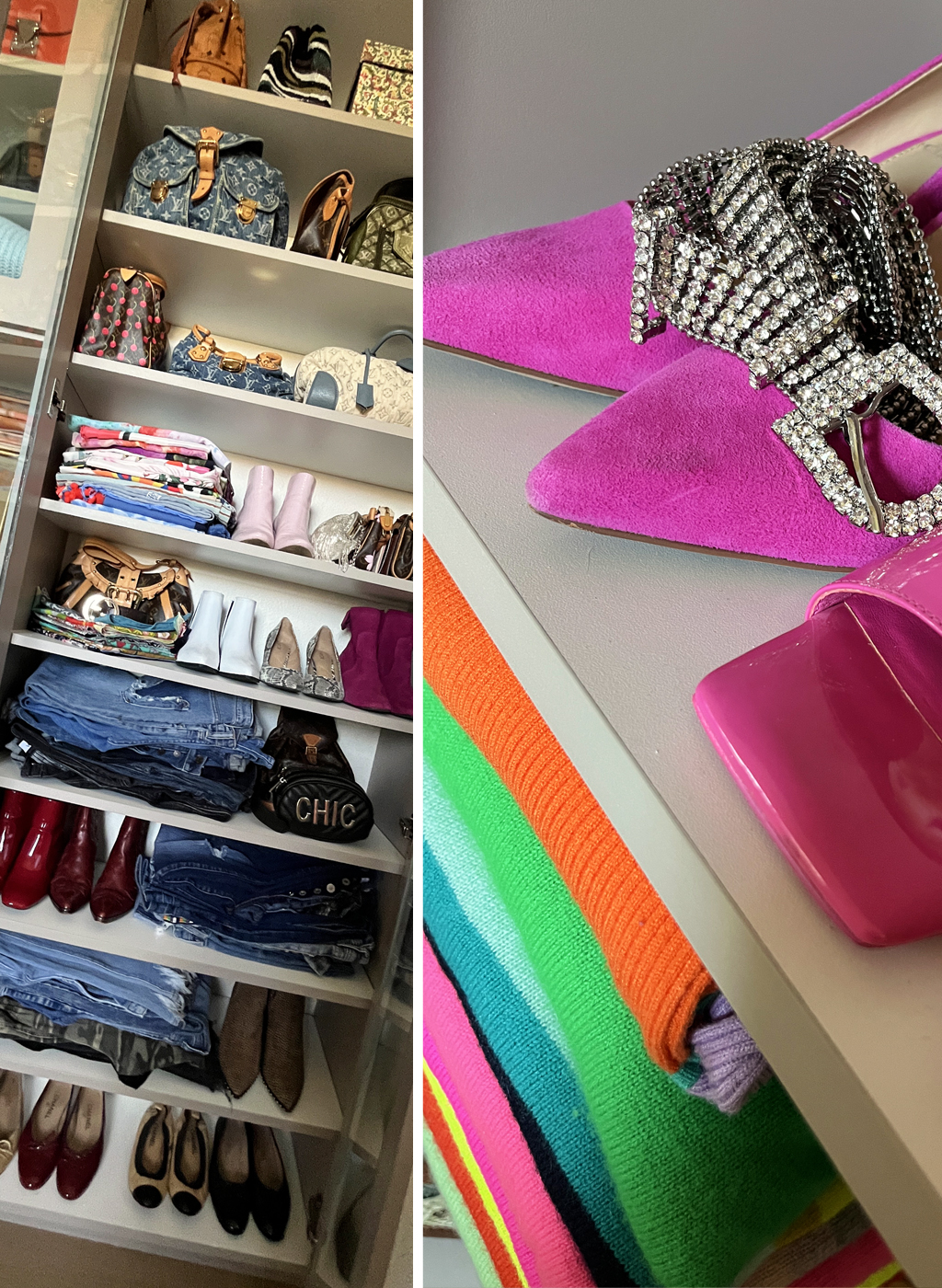 MY CLOSET MAKEOVER WAS LIBERATING!
Without a doubt my closet makeover was liberating! I love that what I have in there is everything I love, and things that I would choose to wear most of the time. I've shared that truth that we wear 20% of our closet 80% of the time. I still do have my favorites, but I'm wearing more of what's in there all the time! So do it! Thin out your closet and get it organized!!! It will make you feel SO GOOD!
Let me know if you have any questions!
Shauna XO