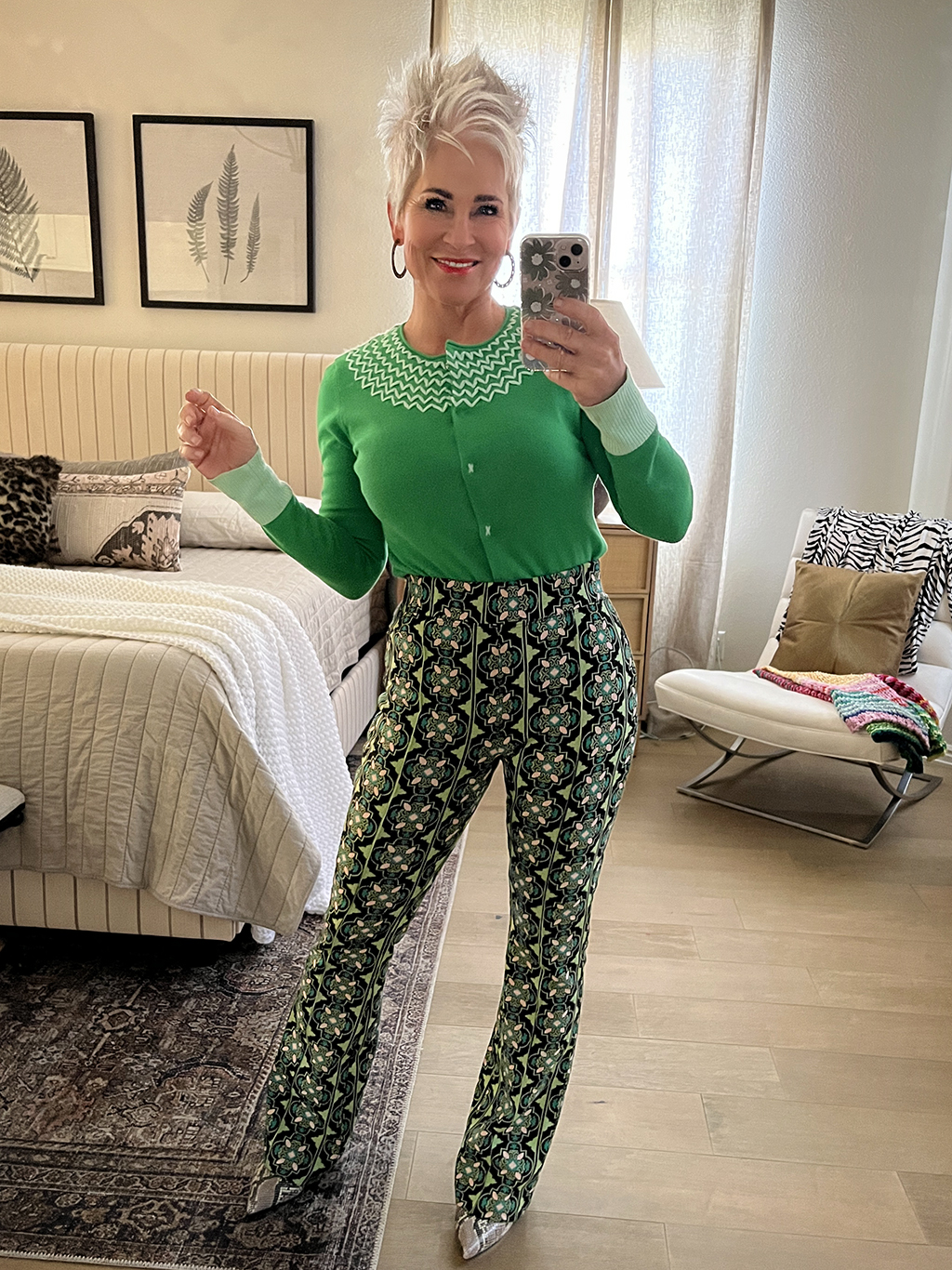 MARCH AND THE COLOR GREEN
March has always seemed like a GREEN month to me. My brother's birthday is on St. Patrick's Day, and so for our family that was an extra special day. We always made sure to wear our green, so as not to get pinched! I wonder where that tradition came from anyway? Green also symbolizes new growth which is what spring is all about! And did you know that the color green also affects us physically as well as mentally? The color green is very soothing and relaxing.
WHY SO HARD TO FIND THE PRETTY GREENS?
I have found though, that it's sometimes hard to find the pretty greens when it comes to clothing and fashion. I've always wished there was more out there, especially in the brighter shades! My favorite shade happens to be what I'm wearing. This sweater has been in my closet for a number of years. I don't wear it a lot, but when I want green I go for this one! And have you tried tucking in your cardigans? I wear them so much more this way!
I've searched and searched for these beautiful greens below. If I was a fashion designer, I absolutely would use this color in many of my designs. Do you remember THESE? They were on the AMAZON fashion show called MAKING THE CUT. This green (chartreuse) color is awesome!
A FAVORITE SINCE I WAS YOUNG
I tell a story of when I was little. My mama made me a KELLY GREEN dress. It was the dress I chose to have my school pictures taken in. I loved it! Whenever I wore it, people would tell  me that it made my eyes look green. I liked that! I have lots of memories of the clothes that my mother made for me, but this GREEN dress was one of the fondest. It made me feel so pretty!
SHOP ALL THE SHADES OF GREEN!
Now that March is officially here, I thought I'd share a little GREEN inspiration with you! Wearing it in a monochromatic way would be stunning for March. Wearing it in a color-block sort of way would be fantastic. Or wearing it just in your accessories would be just enough for some!

There are all different shades of greens here. Which is your favorite? Kaki green has almost become a neutral in my book. It really does go with all kinds of bright colors! I LOVE these favorites…. the green bag is classy with a punch, the light green suede heels are DARLING, and these green pants are FUN for spring AND summer!
~
I always knew that March and the color GREEN went together. Not only St. Patty's Day, but a signal that the leaves on the trees will soon be budding out, and another rebirth of our beautiful world! Without a doubt, spring is one of the most gorgeous times of the year!
Shauna XO