I just got home from spending a whole week at Lake Powell with my new family! Never did I think that I would ever inherit another family. My plan was not this at all. But how blessed I am that they are ALL amazing and have welcomed me in to their fold with SO MUCH LOVE!
But let me just tell you about Lake Powell! It is simply the most beautiful lake you'll ever spend time on. It's situated on the border of Southern Utah and Arizona. It winds in and out of the most majestic red rock canyon walls, and has 1960 miles of shoreline. It has been a favorite of mine from my days as a mother to my three boys!
We were there staying on a houseboat, along with the most fab PINK ski boat, and a couple of wave runners. There were also lots and lots of blow-up toys involved, which were a blast! I'll be posting a lot of these pictures in the next couple of weeks. I wore mostly LimeRicki swimwear! These cute suits I'm in here were all from LimeRicki. I took four bottoms and four tops all of which mixed and matched with the others.
Also packed in my bag was some Lululemon, JCrew, and Cabana Life. Of course when you go down to Lake Powell, the fun takes over the fashion in an instant. There were so many fun activities every day! What a trip and what a wonderful memory making experience with my family. Oh…and by the way, I'M MARRIED NOW! We got home from Lake Powell and were married two days later. I can't wait to share my pics with you all, and talk about OUR DAY! It was nothing short of MAGICAL….in every way you could think of!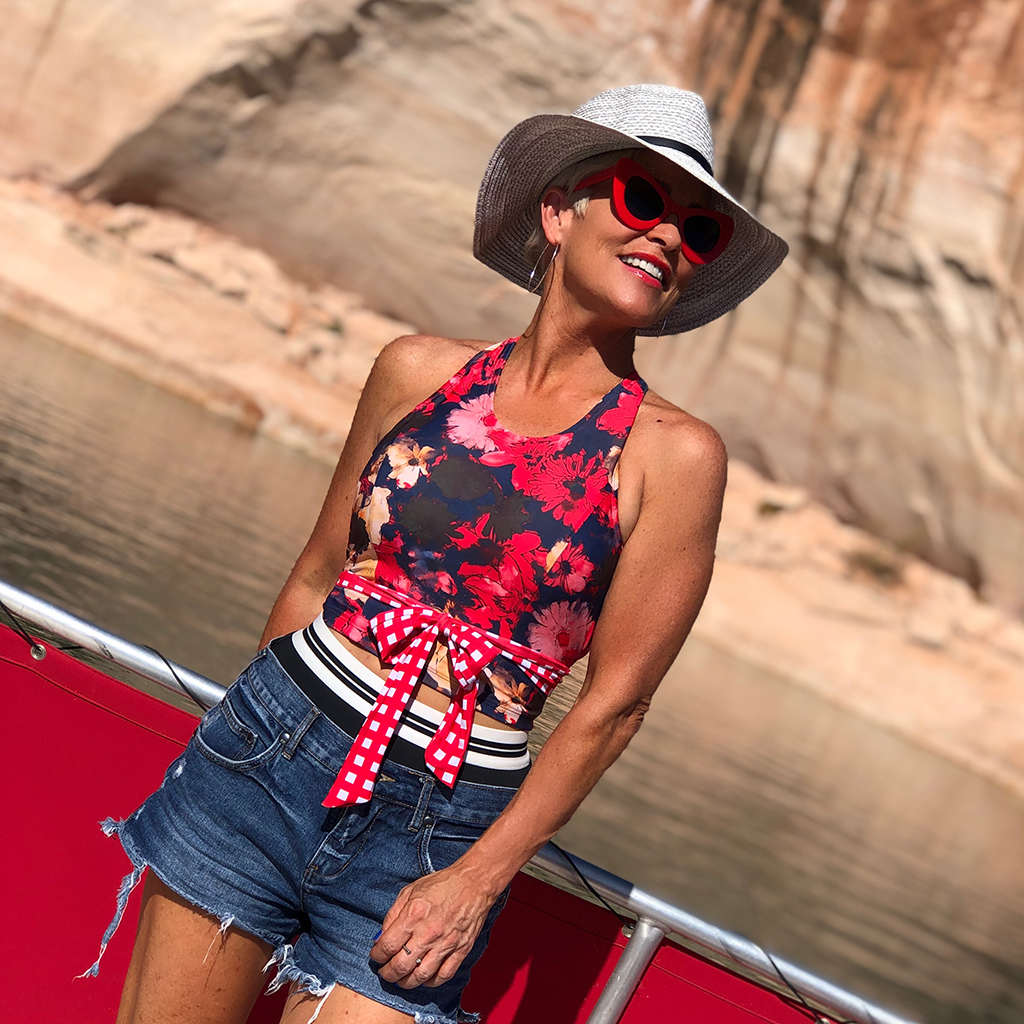 You can find Lime Ricki tops here and the bottoms here!
Packing the way I did in almost exclusively one brand, was so easy because it cut down on what I was taking, and I was able to get a lot of different looks. I loved my high-waisted bottoms. After carrying and giving birth to three sons my stomach has been stretched beyond! Some day I would love to have surgery to get my tight stomach back!!!
Staying away from social media was REALLY DIFFICULT! When you work as hard as I do on my brand, walking away for a week is nerve-racking! But I'm proud to say I DID IT! My new hubby was thrilled that I was focused only on relaxing and enjoying what was around me…..and I sure did! Being at Lake Powell with my new family was a memory I'll treasure forever! Taking a break is so vital to our overall well-being. I would recommend it to anyone!
Now married, and now back to work. Stay tuned for all the details of my wedding……and to see what I wore! IT WAS AWESOME and I felt SO GOOD IN IT, and it had MY NAME WRITTEN ALL OVER IT! It couldn't have been MORE PERFECT!
HAVE A GREAT WEEK FRIENDS!!!!!!!
Shauna XO