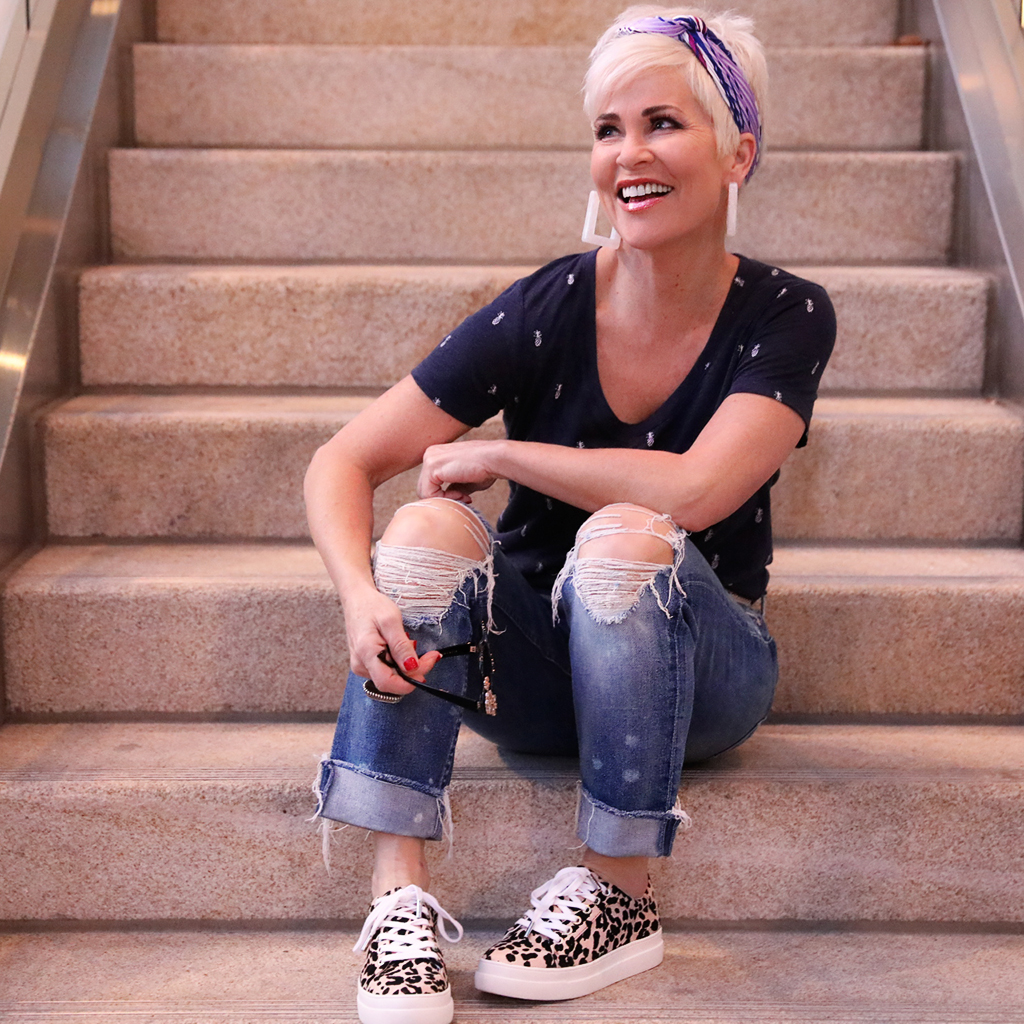 Just sitting over here waiting to take this PALM TEE on vacation! And of course my first choice in styling it is with jeans, because JEANS STYLED ANYTIME is a great idea! Tees and jeans are definitely my staple! These MOTHER jeans I've had ever since I started my blog, and really good now, because they're all worn in and soft! Here are some that are very similar. But seriously I do love jeans and tees and wear one or the other or BOTH, every day!
One of my favorite things to do when it comes to dressing, is to punch up a look with something fun! This tee and jeans alone, could be quite boring, right? But I chose to add a head scarf, some sassy sneakers, and some fabulous contemporary earrings! Jeans can do anything for you really! How do you like to wear them? I think I've worn them every way possible! But this boyfriend cut, with sneakers has got to be the most comfortable way!

I was talking to a close friend a couple of weeks ago about jeans. She felt like they weren't very "classy". She agreed that it was probably just the way she was raised, AND her profession. She didn't feel like she could wear jeans and be taken serious. I however, disagree. But, I have never worked outside of my home, and so never HAD TO DRESS UP! So the way I feel in jeans is much different than hers.
I definitely think that you can style jeans to work just about everywhere. I've linked three great looks with jeans that I would wear right now! Jeans are always changing when it comes to style. I've picked three different cuts for you to see and hopefully give you some JEAN INSPIRATION!!!
FOR THE OFFICE~

WEEKEND LUNCH~

A DATE NIGHT~

I could go on and on when it comes to JEANS STYLES! They come in so many styles and cuts, and you can be sure to find something fantastic no matter your shape and size. As I always say, if you're not sure about what looks good on you, go to a department store where there are plenty of sales people who can guide you! That's what they're there for!
Shauna XO