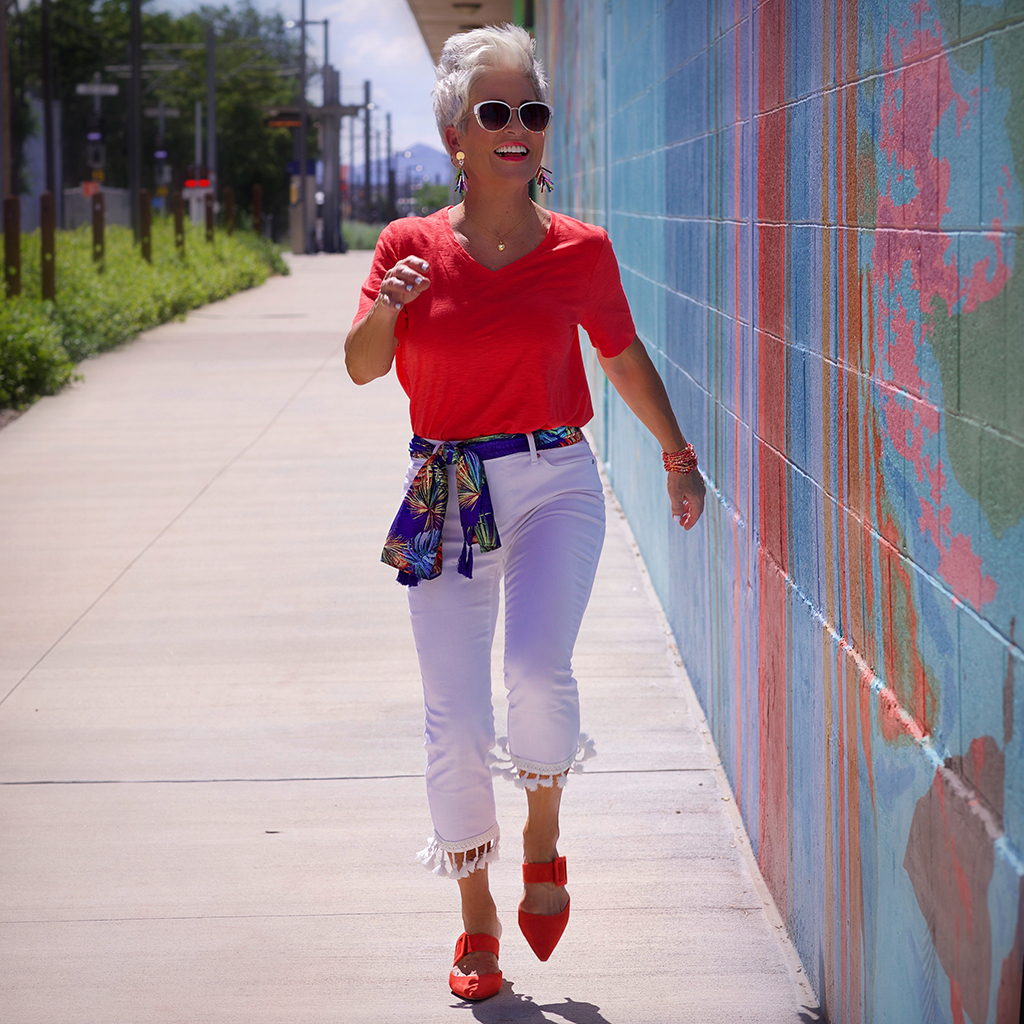 Did you know that today was INTERNATIONAL TEE SHIRT DAY? There are so many INTERNATIONAL whatever days….in fact nearly one for ANYTHING! I'm not sure how or why this day started, do you? BUT….when it comes to tee shirts, I'm right there! It's practically my uniform! And CHICOS tees, if you've never had one, are the best! And there are many styles and colors to choose from too!
So this blog is going to be about how you can take a tee shirt and where it many ways. THE most versatile thing in your closet perhaps! The one I'm wearing here is the GREATEST COLOR for summer! It's called Papaya Coral, just FYI! It will go with blues, neutrals, shades of purple, and even pinks!
I LOVE this all white look! So fresh for summer! My girl Jamie posted this idea and I loved it! And the skirt…..will be such fun for summer!!!!! Add some colored accessories and metallic sandals and SUMMERTIME….here we come!!!! JUST DARLING!

This is how you make a basic black tee and jeans in to something STATEMENT making!!!! And EVERYONE needs a black tee. This is the one that I wore in the picture below! My floral pants are sold out, but I've linked a denim trouser in the same collection! A beautiful basic! This is a great example of how to dress up a tee! As you see……I wear them almost anywhere!


This next look is SO ME! I LOVE a cute graphic tee and this skirt would be so fun to wear ALL SUMMER LONG! Wouldn't it look cute over a swimsuit? It's not in my wardrobe just yet….but I'm quickly rethinking that! Yes, perfect for some great beach style!

So how will you celebrate INTERNATIONAL TEE SHIRT DAY? Yay for tees! Style them up or style them down! Wear them to the beach or to the office! Versatile little numbers to be worn ANYWHERE!
Have a WONDERFUL WEEKEND FRIENDS! Summer is here!
Shauna XO