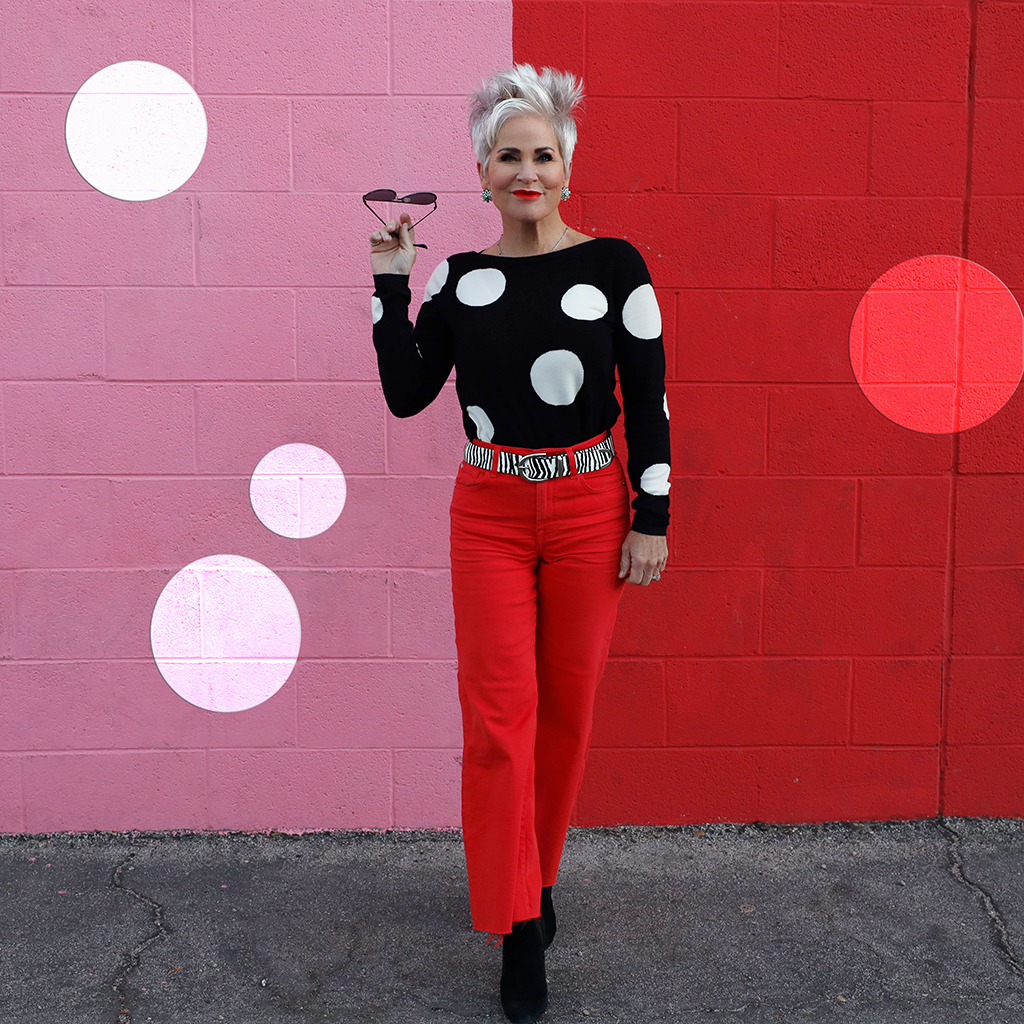 Did you know that there is an International Polkadot Day? It's on January 22nd. I seriously didn't know this, and it was CHICOS that alerted me! They have some SUPER FUN polkadot things in their lineup right now. THIS SWEATER….. is just one of them, and IS ONE NOT TO MISS!
I have always loved polkadots, but it's always a challenge wearing them! I buy something and then don't like it when I wear it. They either feel too busy, too much, too loud, or too close together! So… why is this one different? The number one thing I LOVE about these polkadots, is that they are there but spaced out randomly. LOVE that! And number two, the sweater is super lightweight and SOFT! It's not bulky, which I think helps when it comes to wearing dots!
When this arrived I had SO MANY IDEAS going through my head in how I wanted to style it. At first I was going to wear it with these jeans. But then I thought that since polkadots are so happy, the sweater required more color than black! So hence…… the red pants (these are actually similar)!
This sweater is such a fun one to have in your closet! I can't wait to style it MANY MANY WAYS! I wanted to give you some other ideas here….. since you know….. THAT is my favorite part of blogging!
LOOK ONE~
This look is ADORABLE with this yellow jacket (ON SALE)! I love the beautiful blue tulle skirt paired with the comfortable boots. This is a look that would be darling for shopping or meeting up with friends. You could most assuredly walk in this outfit ALL DAY LONG!

LOOK TWO~
This goes to show you that with a polkadot sweater….. and some SUPER GLITZY COLORFUL shoes….. you only need some black washed out jeans and simple earrings! LOVE these jeans and LOVE these shoes! Even though there's not much going on these days, the shoes are fun ones to have on hand when it's time to PARTY!!!!!!

LOOK THREE~
I'm so excited about this fabric belt! I loved it with this look with the army green pants and everything else black…. boots, earrings, beanie, and sweater! The belt adds just a hint of COLOR (it also comes in other colors too). Check out the hem on these pants! They too, come in other colors!

I've added just a few more POLKADOT pieces for the next INTERNATIONAL POLKADOT DAY 2022….. OR for whenever. They really do make such a happy statement! I want you to get out your polkadots and tell me whether or not they lift your spirits!!!

Have a FANTASTIC week friends! I really do APPRECIATE your support here on my blog. If there is something you'd love to hear me talk about, please let me know in the comments! I really REALLY do want to know what your ideas and questions are when it comes to fashion!
Shauna XO