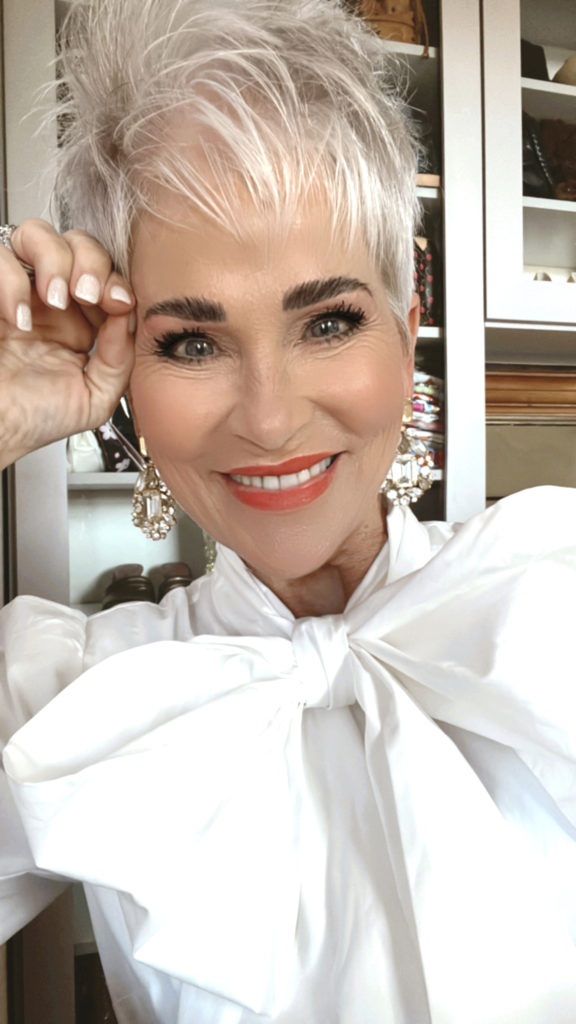 There was a time, I can't remember exactly when it was, that big bows and shirts were a thing. Maybe the 80's? Yes, I think it was the 80's when I had a couple of these. In fact, I had a maternity dress that had a big bow. Then suddenly…. they were so outdated and in my mind very matronly! Well friends, the BOW SHIRT is back in a very big way!
During my last shopping trip while I was in Arizona, I found this BOW SHIRT and couldn't resist! The thought immediately went to, "Can I wear this at least three ways?" The answer was clear….. YES! So in my shopping bag it went. I can't wait to show you how versatile I can make this shirt!
This is a great shirt to update your basic white button-down in your closet. I feel like they only last a year or MAYBE two before they look dingy! So I want to make sure I can wear it over and over again, and in DIFFERENT WAYS! Don't ever get stuck wearing your clothing only one way. That's way too boring!
In THIS REEL, you've seen that I've styled it with a vest over the top and some glitzy earrings. This shirt will go with ALL MY VESTS! And what about the holidays? It's the perfect basic to wear with all your sparkles and glamour!
WAYS TO STYLE YOUR BOW SHIRT
ONE is to wear like I've done in MY REEL, with a vest! I love my VESTS and love them even more with the drama of my big bow shirt! I've linked several vests here. They're the perfect layer, not too much and easy to wear with a shirt AND a jacket. I've added the hat for some extra personality!

TWO is how to wear a big bow shirt dressed way down, like with some casual boots or sneakers. I personally would tie the bow more in to a knot for this look. However I would tell YOU to tie the bow however it suits you and your personality!

THREE would be a gorgeous party look! The tulle skirt paired with a big bow and some faux fur, is just beautiful!!! This skirt comes in several colors. I've shown here the dark emerald green and the blush color. Talk about a statement….. it sure is!

____________
Now you know HOW TO WEAR A BIG BOW SHIRT and hopefully you've been inspired to get one of your own and ROCK IT LIKE A SUPERSTAR!!!!! They really are such fun! Below I've linked several others to try! They really are quite fun!

Shauna XO