At sixty-three you'd think that my birthday parties were over! HA! Not in my husband's book! How I celebrated sixty-three was MORE THAN FUN! Unquestionably, I had the kind of birthday celebration that anyone of ANY age would LOVE!
My husband had my day carefully planned out with SEVEN envelopes that had two tickets in each one. In addition to this, he even went to the work of having them professionally printed with my logo CHIC OVER 50! The personal touches meant the world to me! First and foremost before I go on, I have to acknowledge him for making my birthday SO special!
THIS IS HOW MY CELEBRATION WENT DOWN 1-7
We started at 9:00 am with the FIRST ENVELOPE. It was for BREAKFAST. I didn't know what was on either ticket, so was choosing blindly throughout the day. One ticket said CRASH A BREAKFAST and the other said BEAR PAW. I chose crash a breakfast, so we drove to a local hotel. Before going in, he went first to check things out and came back and said…. "I can't do it!" So, we drove to Bear Paw our favorite breakfast cafe here in town and had a delicious omelette!
The SECOND ENVELOPE I opened in the car after breakfast and again two tickets… TARGET SHOOTING or MOTORCYCLE RIDE. I chose target shooting which we've done several times before. In fact it was one of our very first dates! It was very nice weather too, whereas the motorcycle ride indeed would have been freezing! I almost got my bullseye…. I was close but he was closer!
Afterwards I opened the THIRD ENVELOPE to my two tickets. This one was very obvious in which one he wanted me to choose. He wiggled and put the one he wanted in front so I'd pick it! WATCH MY REEL, it's quite funny! The first was ROLLERSKATING and the second was ROCK CLIMBING. Of course I chose rock climbing, so off we went to CONTACT CLIMBING, a gym here that was really fun! It should be noted, I went all the way to the top in a flash!
Then off to my next, ENVELOPE NUMBER FOUR. Firstly was a PEDICURE and secondly was a FACIAL. I would have loved either of these, but my pick was a facial. This was at a facial bar that I hadn't ever been to, and I especially loved how convenient it was! I was really enjoying how I was celebrating birthday sixty-three at this point!
My FIFTH ENVELOPE was a treat….. literally! The two tickets were both excellent and I would have loved either! ROCKY MOUNTAIN CHOCOLATE or MENCHIES. Obviously I chose the chocolate. In we went and I got my favorite treat, a dark chocolate almond bear.
We were already on the SIXTH ENVELOPE and my husband said, "This is kind of sad!" We were nearing the end after an all-day birthday celebration. It was about 4:00 by then and I was having the time of my life! I didn't want it to end! My choices were shopping at MINA'S or LULULEMON. WOW! Mina's Boutique is a LOVELY shop here with exquisite clothing and jewelry and Lulu is one of my staples! Obviously either one would have been amazing, but I chose Mina's. I chose some beautiful spring and summer pieces and actually wore my new pants to dinner.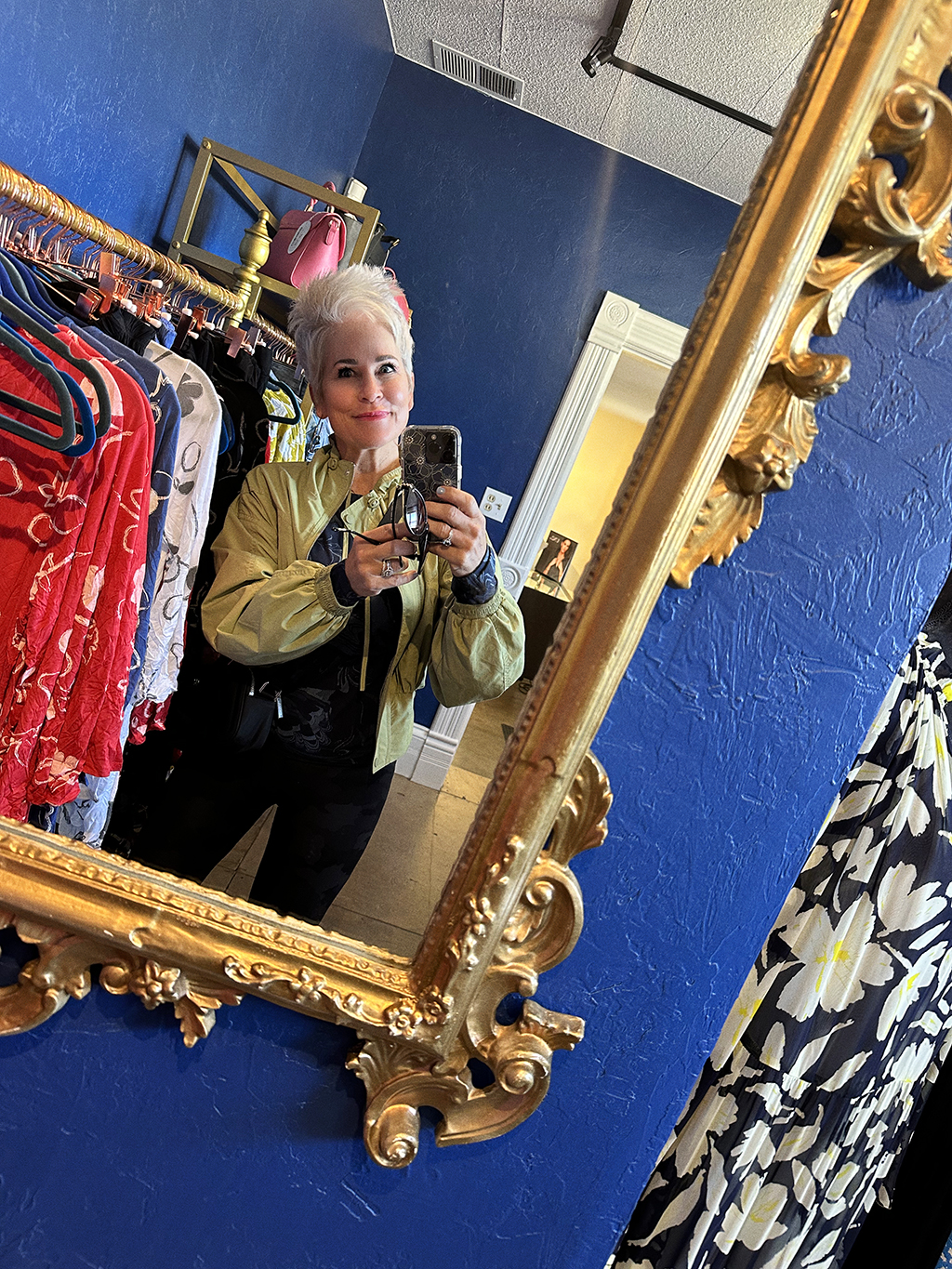 SEVENTH…. there were TWO SEVEN ENVELOPES with DINNER on them. The surprises weren't ending yet…. my husband has such a great sense of humor! The first envelope BOTH of the tickets were McDonalds. What?!! He knows how much I dislike McDonalds! He then brought out the 2nd seventh envelope with two much better choices, thank heavens! I chose the one that I hadn't ever been to before, ANASAZI. My other choice was CLIFFSIDE. I had salmon and he had a steak. Unquestionably some of the best salmon I've had.
WRAPPING UP MY 63RD BIRTHDAY CELEBRATION
Absolutely, how I celebrated turning sixty-three was so much more than I EVER expected! In addition to all of this, the next day he invited several friends over for birthday cake! I've asked him what he has in store for next year, and he says we're golfing!!! LOL! It was such fun to be celebrated in this way…. twelve straight hours of everything I LOVE! Clearly the thought and time he put in to my day was so appreciated!
CLICK HERE TO SEE HOW I CELEBRATED SIXTY-THREE!