FASHION MISTAKES TO AVOID AFTER FIFTY
Fashion is a personal expression, and there are no hard and fast rules for anyone based solely on their age. However, let's talk about fashion mistakes to avoid after fifty. These are some general tips that you might consider at midlife. Remember that these are only SUGGESTIONS to help you feel confident and comfortable in your clothing choices.
ONE…. AVOID OVERLY TRENDY PIECES. Experimenting with trends can be so much fun, but it's a great idea to not go overboard with them. Timeless will always win. My favorite is to mix classic with trends. Below I'm wearing a trendy (ripped) pair of jeans with a classic button down shirt.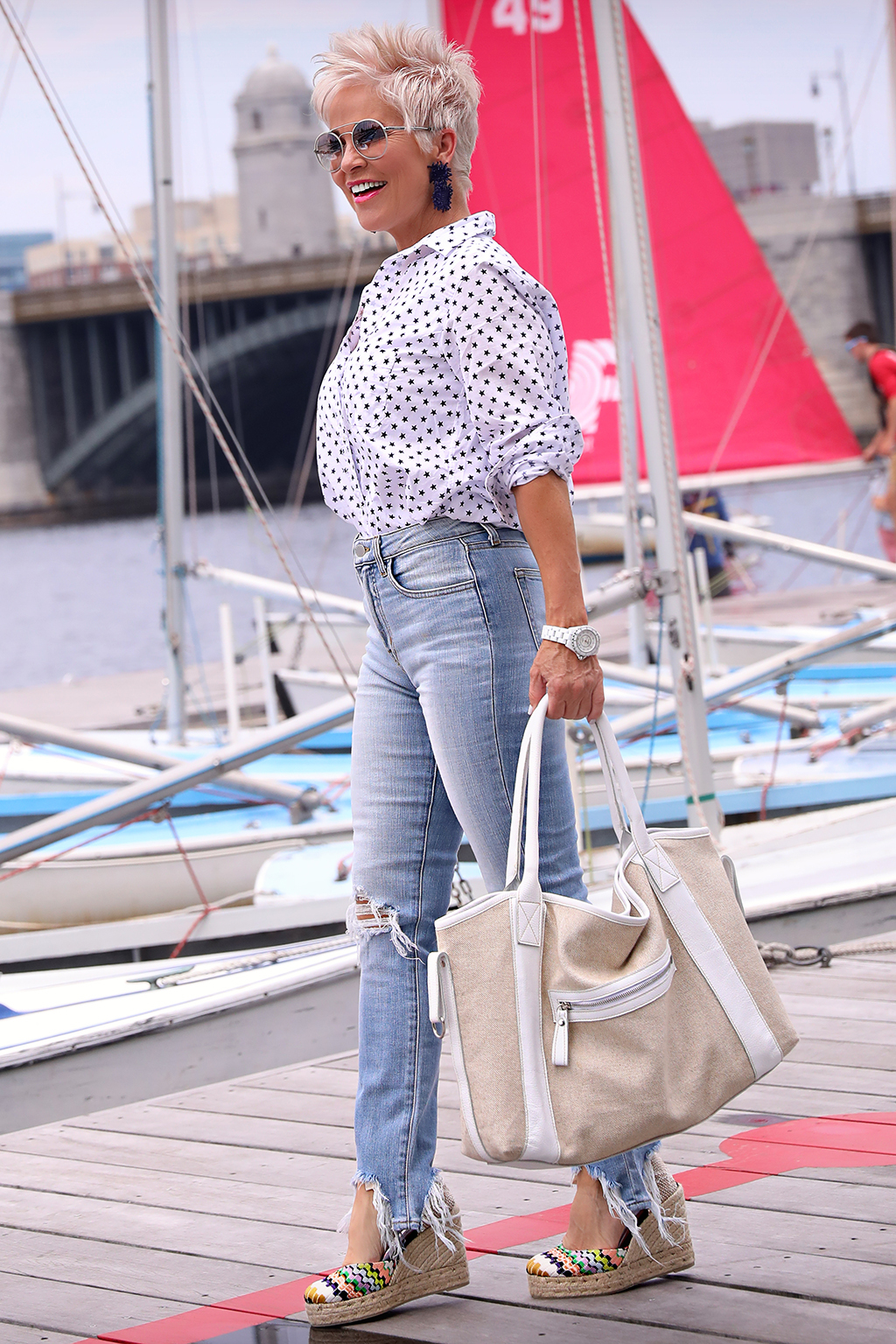 TWO… DON'T WEAR THINGS THAT ARE TOO TIGHT. Clothing that fits properly makes all the difference in the world. Clothes that are too tight or too baggy or just don't fit your body right, will just be a frustration to you. Donate them or give them away! This red skirt is very fitted but NOT TIGHT! It's a substantial knit so covers everything. I've paired it with a looser fitting top to balance everything out.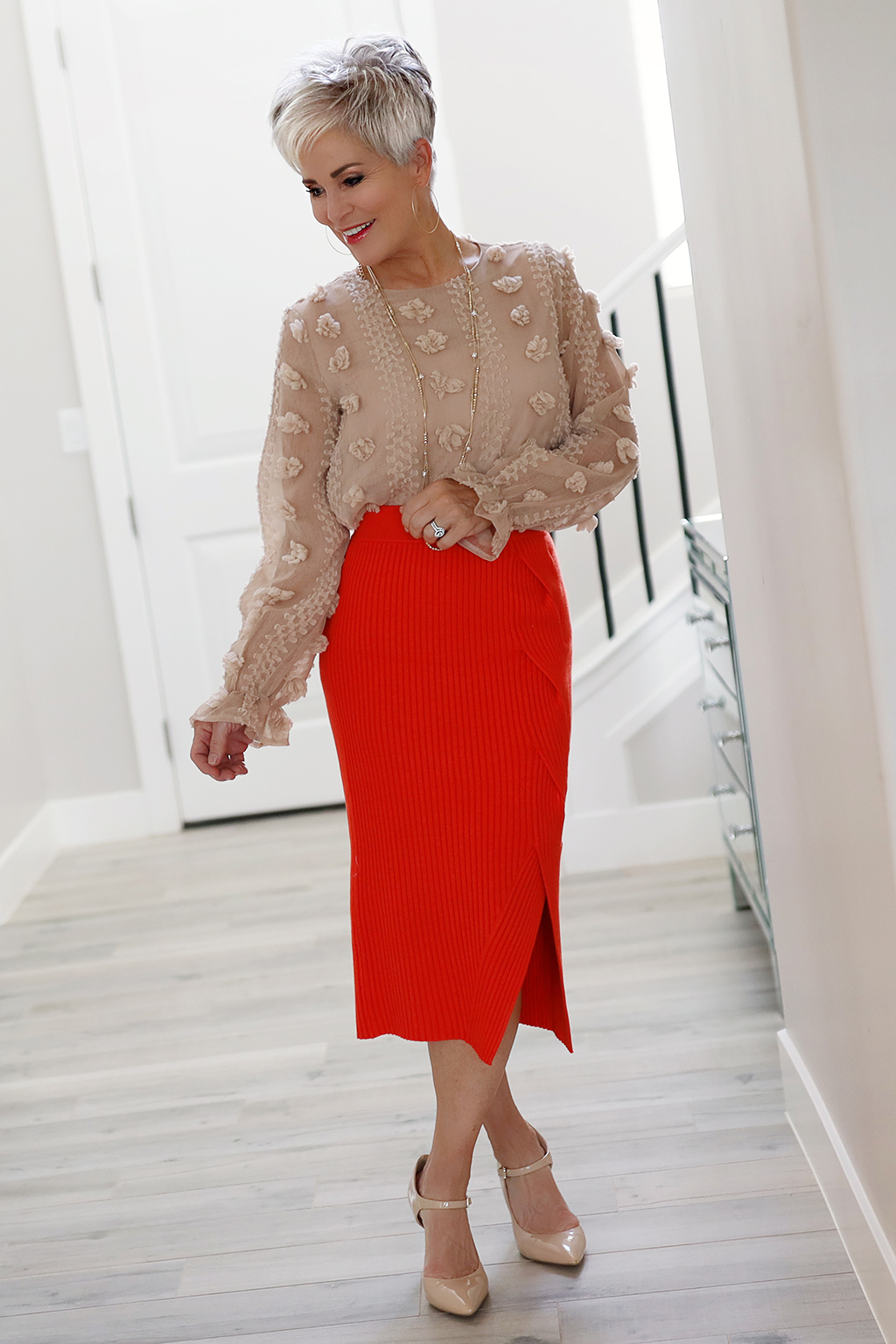 THREE… AVOID AGE-INAPPROPRIATE CLOTHING. While you should wear things that make you happy, it's a good idea to avoid things that would be considered too youthful. If I wear something that a younger girl might wear, I always make sure to pair it with something more toned down. Unquestionably, this is always a good rule of thumb!
FOUR… AVOID MATCHY-MATCHY. Matching everything in your outfit is so overboard. For example, an outfit with stars on your jeans, top, AND accessories. Think more about coordinating and using different textures, patterns, and complimenting colors to create a more modern and up-to-date look. My outfit here all coordinates perfectly, but doesn't have that "matchy" feel. You can see how I've used different textures, which makes it much more interesting.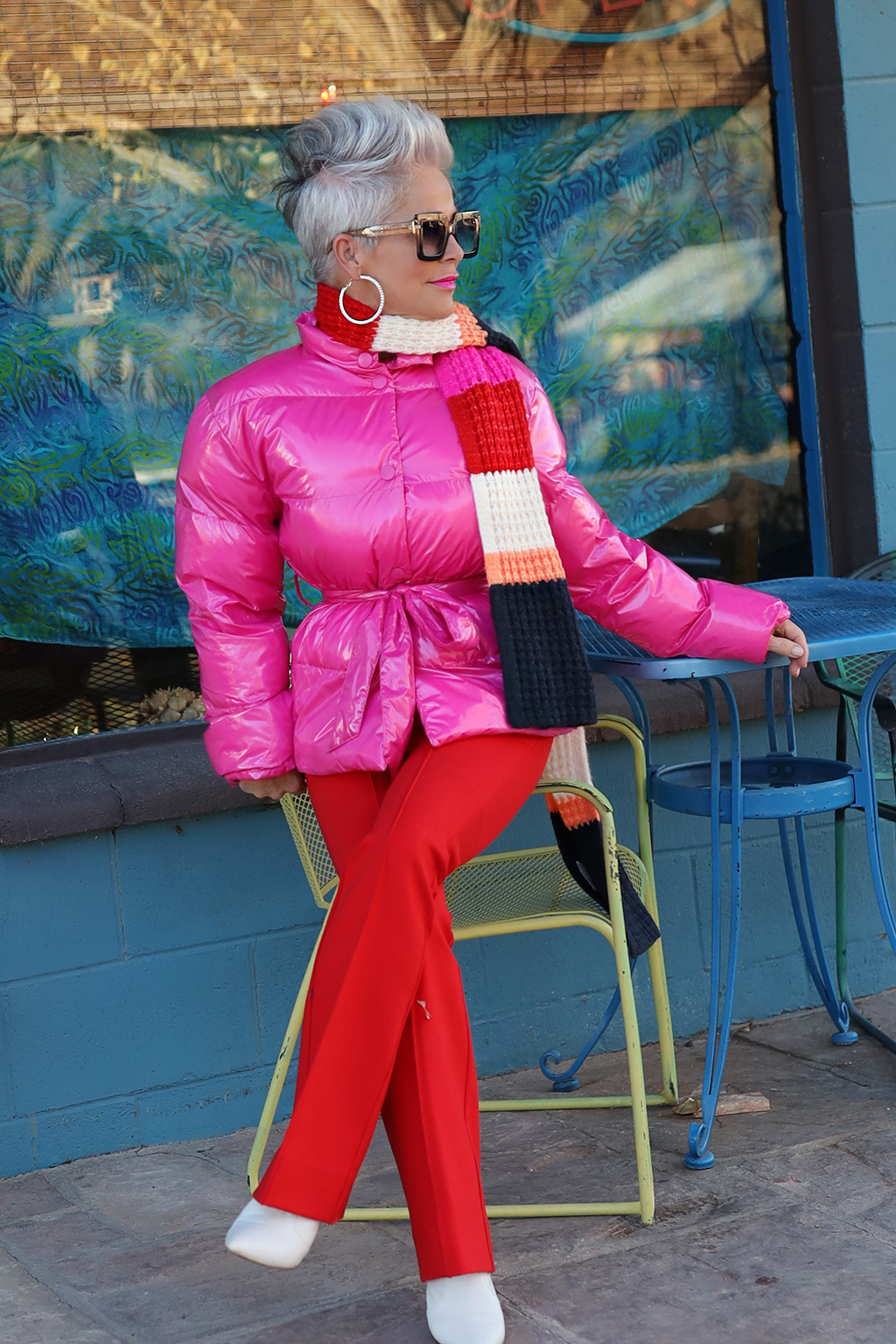 FIVE… AVOID HANGING ONTO OUT-OF-DATE CLOTHING. If you really don't know if something should stay or go in your wardrobe, just ask your best friend. They WILL tell you. Staying current is so important. Take note of other women whose fashion sense you admire. Buy a style magazine, THIS ONE is one of my favorites. Make sure to incorporate modern elements into your look! Even if it's just one of two things, it will make a huge difference!
SIX… AVOID SHOWING TOO MUCH SKIN. This of course is very personal, so remember these tips are my opinion. Even if you're fit as a fiddle, showing too much skin just doesn't look flattering. We all know skin gets loose and crepey and wrinkly EVEN if we aren't overweight. Indeed knowing just how much to show if that's your style, will serve you well. I'm thinking a little cut out here and there. If you're brave enough to wear something on the shorter side, I would think about keeping the rest covered. If you want to wear something more plunging in the neckline, don't pair it with anything too short. BALANCE is key!
SEVEN… AVOID OUTDATED HAIR STYLES. This makes me a little crazy! When I see someone with the SAME hairstyle that they had in college, I just want to arrange a makeover for them! If you really don't know how to go about it, have someone refer you to a hairstylist. This is what THEY LOVE TO DO! Now I realize most aren't going to color their hair pink, but I think I proved that you CAN if that makes you happy. Mine here is a subtle color, a great cut, and super modern. Experiment with your hair…… IT GROWS BACK!
EIGHT… AVOID WEARING TOO MUCH MAKEUP. This can be daunting if you don't know anything about makeup. I ALWAYS tell my friends and followers to GO TO A MAKEUP COUNTER at a department store. NORDSTROM is my go-to. Find someone that is your age, to make sure you are getting tips from someone at midlife. Without a doubt they will know all the concerns and challenges of aging skin. You want to think ENHANCE and not MADE-UP! This is what I'm wearing currently…

NINE… AVOID SHOES THAT ARE TOO HIGH. If you are uncomfortable in your shoes and can't walk in them normally, the shoes should go. Choose a heel height that you can confidently walk in. My perfect heel height is 3-4″. If they happen to be a platform style, as the pair here, then I can get away with something a little higher. Indeed you should do a test walk on all surfaces (except for the red rocks LOL) before deciding if you should keep them or not.

TEN… AVOID WEARING BLACK ALL THE TIME. Without a doubt, black can look very CHIC, as you can see below, but never my go-to. It can also look very dated and frumpy. I love color so much more, even if it's just in my accessories. Women think that black is slimming, and although it can be, wearing color will give you a youthful vibe! Black is never my first choice.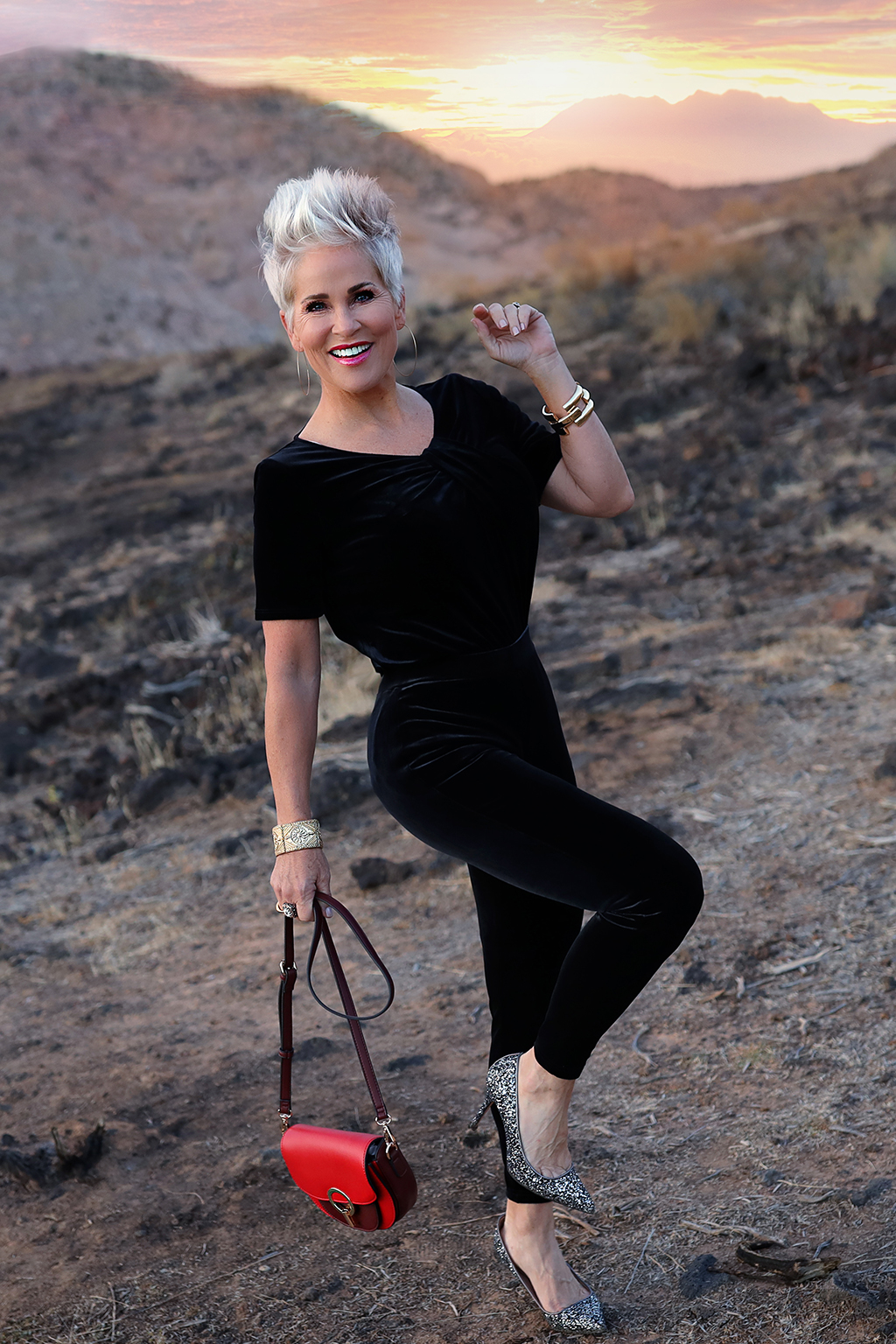 ____________
It should be noted, the most important thing is to feel comfortable and confident in what you wear. These tips will guide your fashion choices and help you look your absolute best!!