FASHION MADE EASY AT SHOP CHIC
Welcome to SHOP CHIC my friends. It's been awhile since I've posted about my own personal on-line boutique. It offers a range of trendy and fashionable clothing items such as…. athleisure sets, these ruffled tees and graphic pants, jeans, denim jackets, CHIC sweatshirts, even lipgloss. You'll find much to elevate your style game! Let me share with you just a few of what's available!
First these RUFFLED TEES…… add a feminine touch to your tee shirt style. If you love girly details, these two tees would be perfect for you. They feature delicate ruffled eyelet sleeves that cover your shoulders. Wear them with the graphic pants, jeans, denim skirts, or summer shorts. The pale blue is my fave, but the beige color is a great neutral that goes with so much! They come in small, medium, and large. I'm wearing the size SMALL and you see it has plenty of room.
YOU CAN SHOP THE BLUE TEE HERE AND THE BEIGE TEE HERE
Secondly are these super flattering GRAPHIC PANTS! Make a bold statement with these pants. They are especially eye-catching and will instantly turn heads. I've worn mine with a graphic tee and sneakers and it's such a darling combination! They are made of 95% pollyester and 5% spandex, and come in small, medium, and large. The zipper up the side allows the flattest front and they fit like a glove! Inject a dose of personality into your wardrobe with some graphic pants!
CLICK HERE TO SHOP THE GRAPHIC PANTS
This DAISY ATHLEISURE SET is right on trend. Indeed sets have taken the fashion world by storm, and this one is right up there with its whimsy daisy pattern. Easily broken up and worn separately with your favorite jeans and tees. It's made of a premium knit fabric and will make running errands so much more fun. This is a great weekend look and will keep you comfy too. My favorite place to wear this is the movie theater!!!! It's the ultimate in comfort while at the movies!
SHOP THE ATHLEISURE SETS HERE
Unquestionably, every girl needs a fabulous DENIM JACKET and this one is perfect! It has a distressed look to it with the frayed bottom. It comes in a lighter wash, perfect for warmer climates and temperatures. Important to note that the fabric is a combination of 73% cotton and 27% rayon which gives it such great shape and give! It can be paired effortlessly with ANY outfit!
SHOP THE DENIM JACKET HERE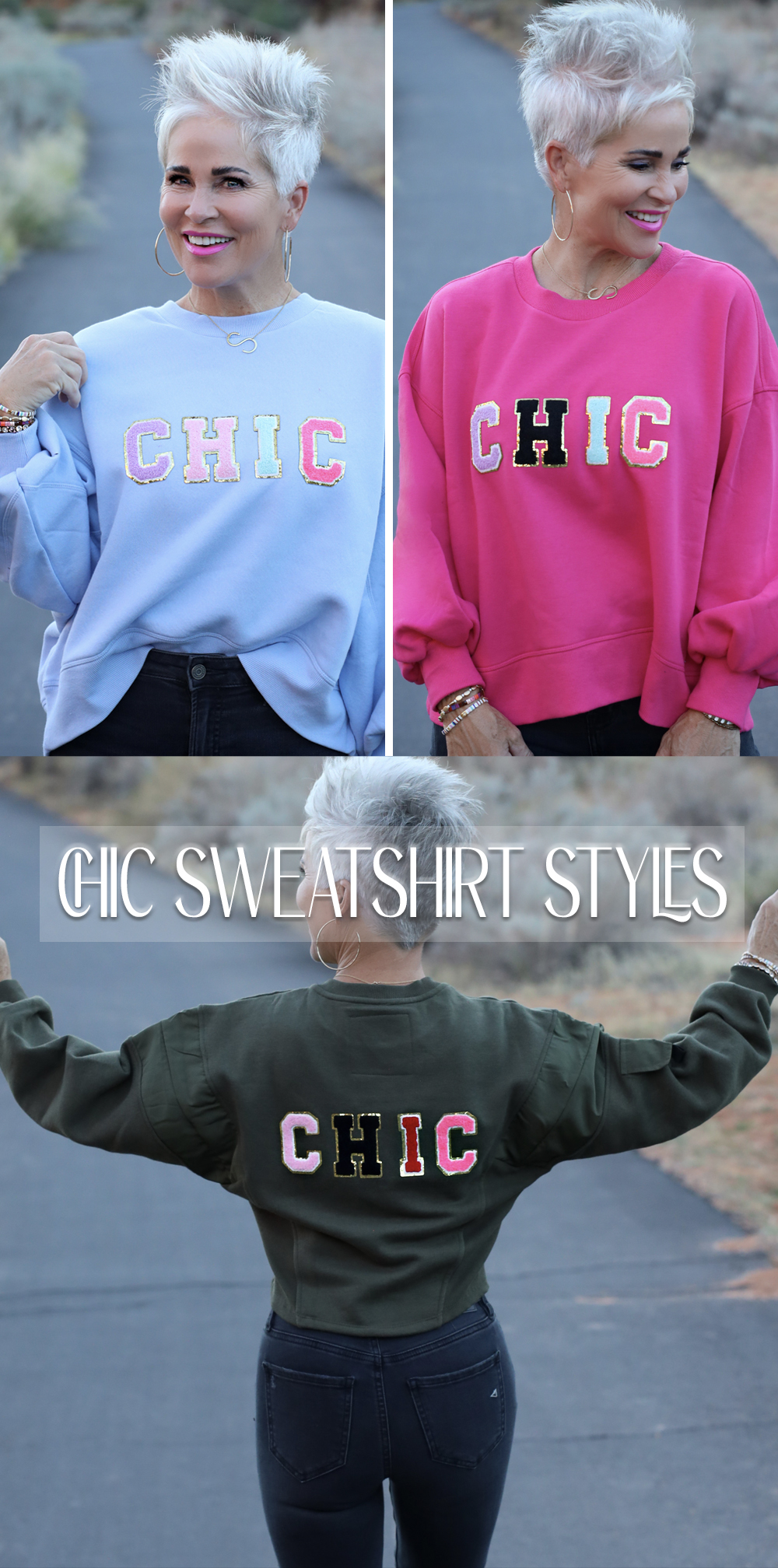 CHIC SWEATSHIRTS….. when comfort meets style! Made with cozy fabrics, these sweatshirts are such fun! Wear your CHIC proudly ladies! I've given these as gifts and my friends and family have loved them! Besides many color options, there are many styles and colors to choose from.
CLICK HERE TO SHOP CHIC SWEATSHIRTS
Finally, the finishing touch for any look would be a pop of LIPGLOSS! I have the most beautiful PINK and RED shades and absolutely love the texture and staying power of both. Regardless of what type of gloss you prefer, I've never heard anything but EXCELLENT of these glosses. Get your glamour and shine on with a pop of color!
____________
In conclusion, SHOP CHIC is your destination for all things fashion-forward. Without a doubt, these carefully selected pieces of girly tees, graphic pants, sets, jeans and jacket, and CHIC sweatshirts, will ensure that you'll be able to sass up your unique style. Visit my online boutique today and elevate your wardrobe with my CHIC and TRENDY offerings!