DENIM SKIRTS FOR ANY AGE
I think I've always had a denim skirt in my closet. They are especially good this time of year because they're super cool and comfortable…… at least they should be. I've had denim skirts before that weren't always very comfortable.
I've recently been reading a couple other blogs about denim skirts, and my take is a little bit different. They said NO RAW HEM, NO DISTRESSING, and NO LIGHT WASHES. I guess that's what sets me apart from the typical or the expected taste of a midlife woman. I say YES to all the above, but YOU HAVE TO KNOW HOW TO STYLE IT AGE APPROPRIATELY. If you want those trendier parts to your denim skirt, just tone the rest down. IT WORKS!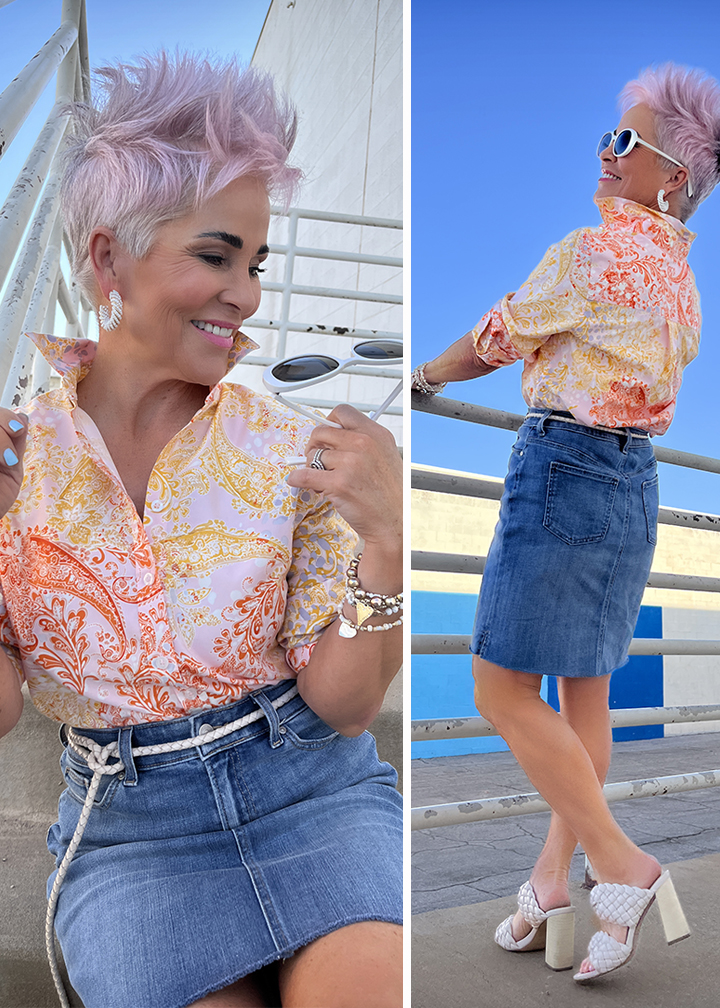 THIS ONE I've just recently gotten, and it checks all the boxes for me. It has a classic cut to it, side slits, raw hem, comes in two washes, and is the perfect length. I actually cut an inch or so off the bottom of this one because I felt like it was a little too long for my height. After I washed it, it frayed out the edge a bit, just like it came from the store.
KNOW WHAT TO WEAR WITH YOUR BODY SHAPE
With denim skirts, more than any other kind of skirt, they can look REALLY frumpy if you are wearing the wrong length or cut. Denim obviously is a heavier fabric and for someone like me, 5'1.5″, it can look overwhelming. So a skirt like this one, probably isn't going to be my best. But if you are a tall lean girl, it could look fantastic! It's important to know what looks good ON YOU!
I'm a petite girl, and so I would choose one LIKE THIS that is to the knee, or a midi length pencil skirt that's more slimming. For the best look, I would wear it WITH HEELS! You've heard me say, "It just depends"? Well…. it does depend on your body shape and height, etc. whether something will look good on you. A tall girl can get away with a fuller midi or maxi denim skirt. I wore this trench pictured below, which is very voluminous, but I belted it all the way in. It is long, almost to the ankle, so I'll always need to wear it belted.
MY FABULOUS BELT CAN BE FOUND HERE!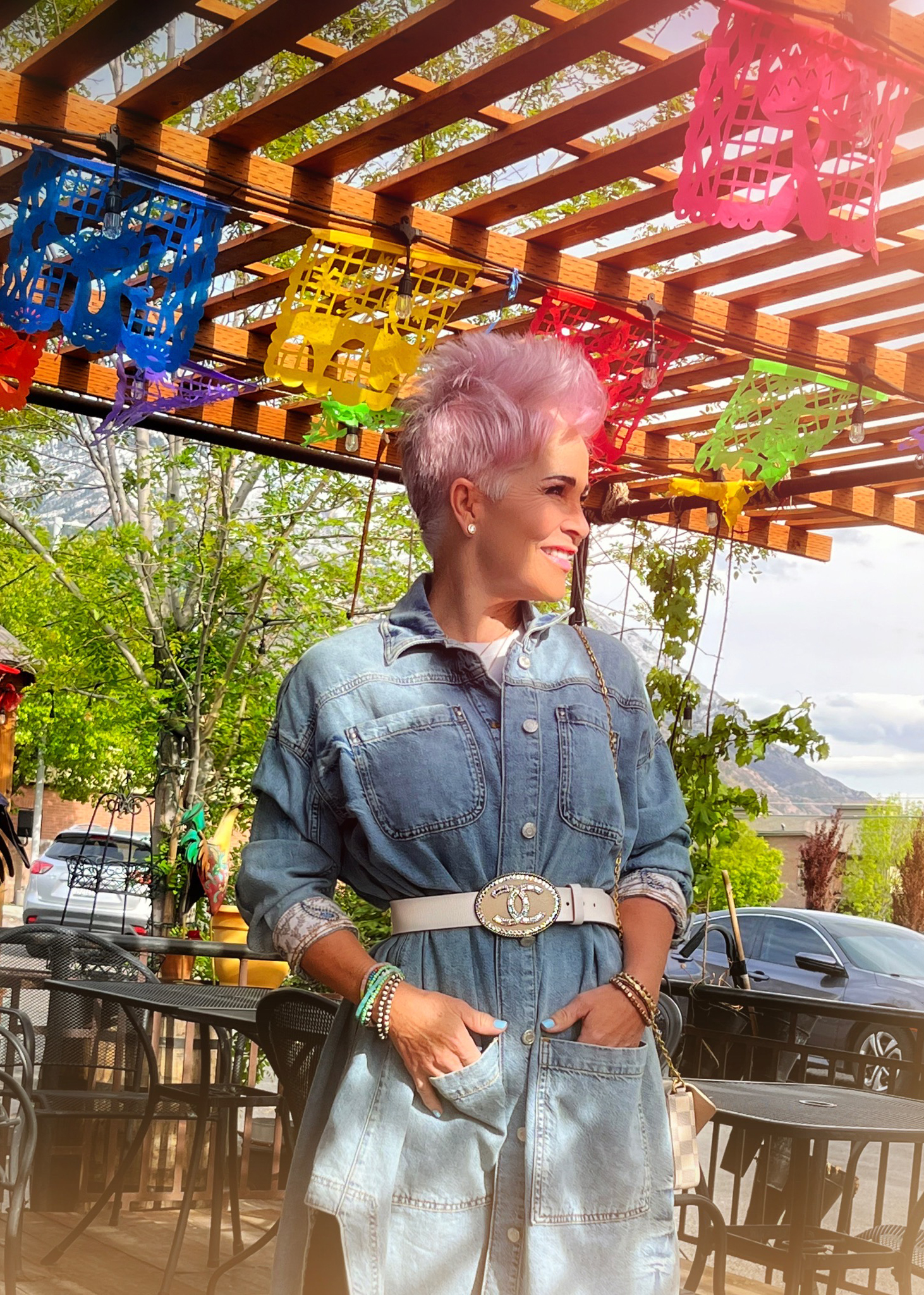 WHAT TO WEAR WITH A DENIM SKIRT
You can see here in this blog that COLORFUL tops are really really cute styled with a denim skirt. Although color is great, neutrals are beautiful too. Your denim skirt will probably go with more tops in your closet than you can imagine! And as far as that goes, it can be dressed up with heels and dressed down with flip-flops…. this is why they are perfect to travel with!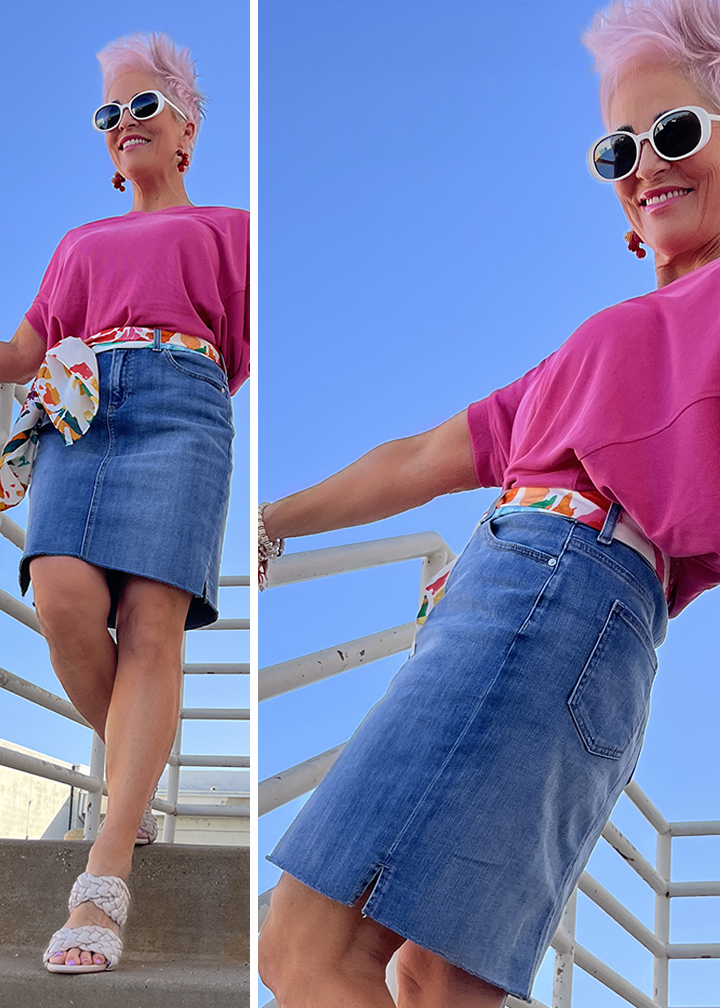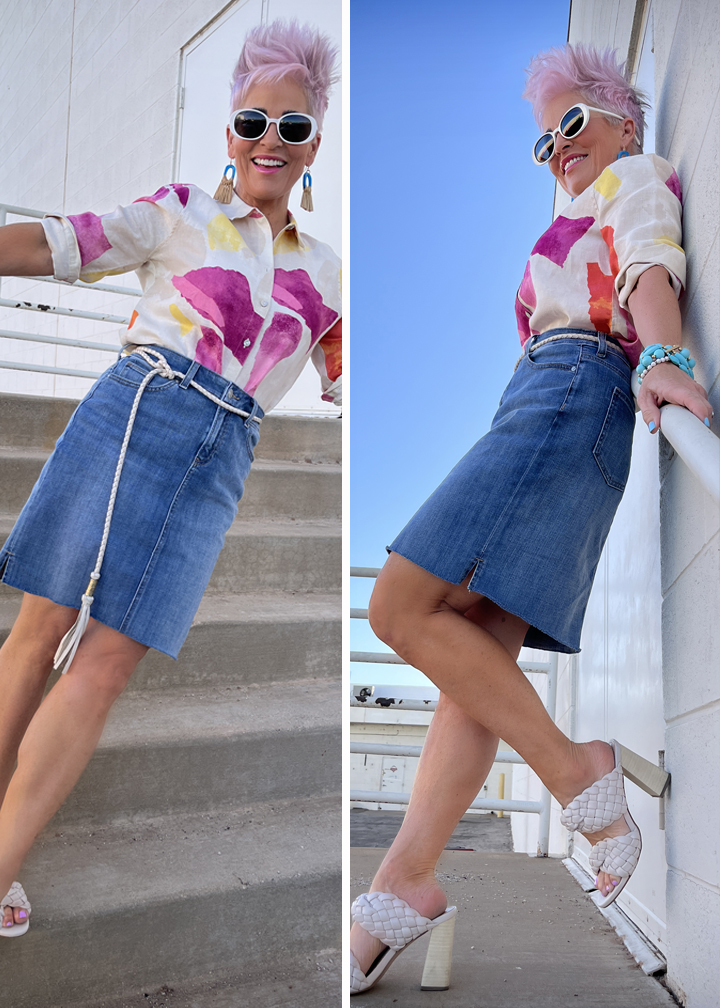 When it comes to accessorizing your denim skirt…. you can do anything that suits you. Stack up your bracelets, pull out your fun sunnies, statement earrings, have fun with your belts (and scarves) and wear all your colors! Shoes are included in your accessories. The beauty of a denim skirt is that you can set the mood of your whole look depending on how you accessorize!
DENIM SKIRTS FOR ANY AGE work!!! A closet staple and necessity in my opinion. I've linked up some different styles and washes below. If you don't have one, it's worth the investment. You'll find that with the right style for your body, you'll wear it FOREVER!!!

Shauna XO
WATCH MY DENIM SKIRT REEL HERE!