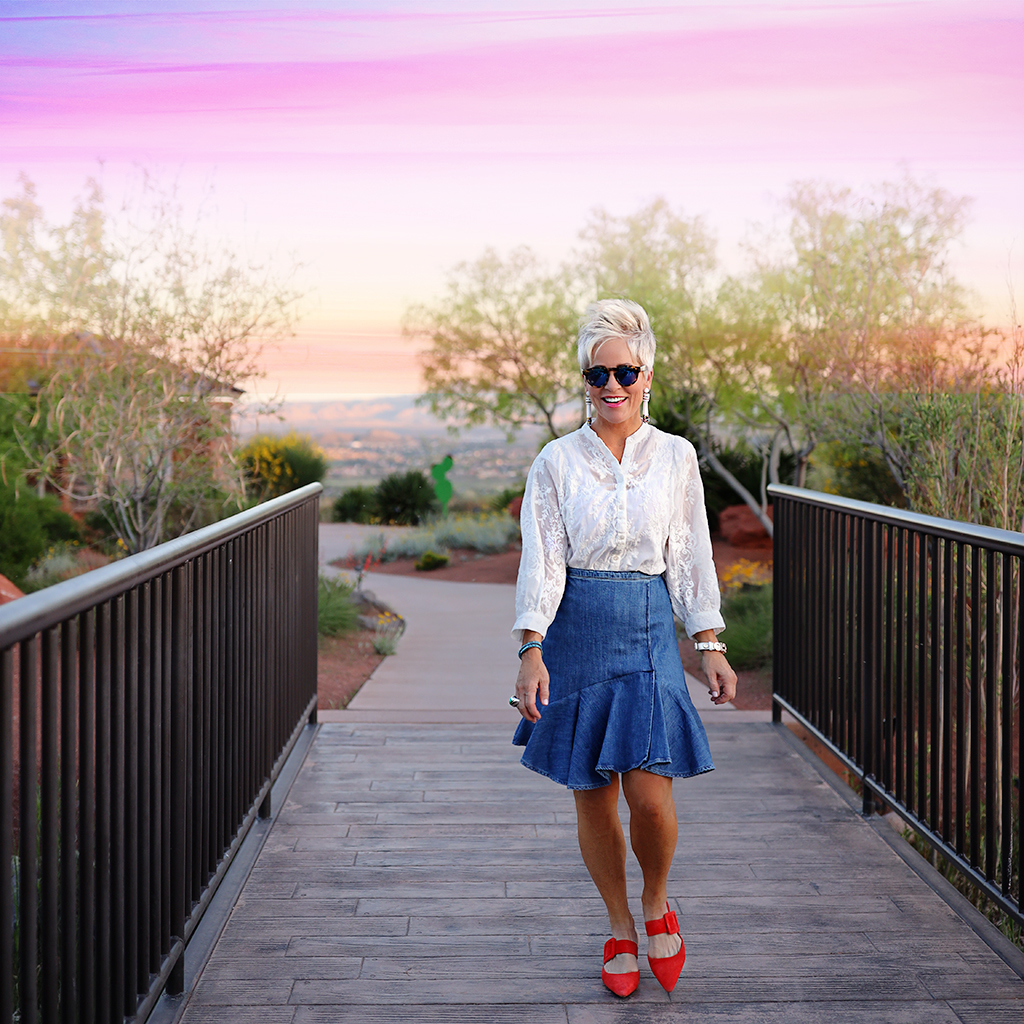 Do you have a denim skirt? I think I've always had at least one in my closet. Denim skirts are an essential wardrobe item. And it seems that they get better with age….. just like your favorite pair of jeans! And just like jeans, they are easy to style a myriad of ways!
I bought this jean skirt at Anthropologie a couple of months ago. I liked the a-line style and flirty ruffled edge. It was different than ones I've had in the past that are more of a pencil skirt style. When it came it was way too long, hitting me at the worst part of my legs. It also had a high-low hem on it which was too extreme for my little body!
I took it to the seamstress and had her rework it. The first time I picked it up it was a mess!! It was not at all what I had asked for, and really done sloppily! I took it back and had them rework it a second time. It was one of those things I should have returned when I first got it, and didn't because I wanted it to work.
I'm glad I hung in there with it, because I think it turned out great! The hem is more even and the length is the most flattering on me. It's made of a softer lighter-weight denim which is really better for the climate I live in. It's obviously sold-out, because it was a while ago that I purchased it. I can put pretty much anything with it…. a tee, a jacket, or a fun silky top. This top was adorable with it!
The length of your denim skirt is personal. At my age (and I wouldn't anyway) I'm not going to wear a MINI denim style. I actually take that back, because I WOULD wear one over my swim suit! I thought these two examples below looked really classy and suitable for someone my age! I LOVE the idea of the blazer with the cute a-line, ruffled style on the right! It's similar to the style of mine above!
I've linked up TWELVE different denim skirts here. It's the perfect time to have one…. through the warmer spring and summer months. Nothing looks cuter with a denim skirt than sneakers! But then you can pair it with some classic pumps as pictured above! It might be one of the most versatile things in your closet!

And don't forget how just a pair of SHOES can change up a denim skirt in a heartbeat!

Do you feel like denim skirts are an essential? I sure do, and extremely versatile! You can take the denim skirt through EVERY season! I've got big plans for mine all season long!!!
Shauna XO
I've linked similar items to my look!