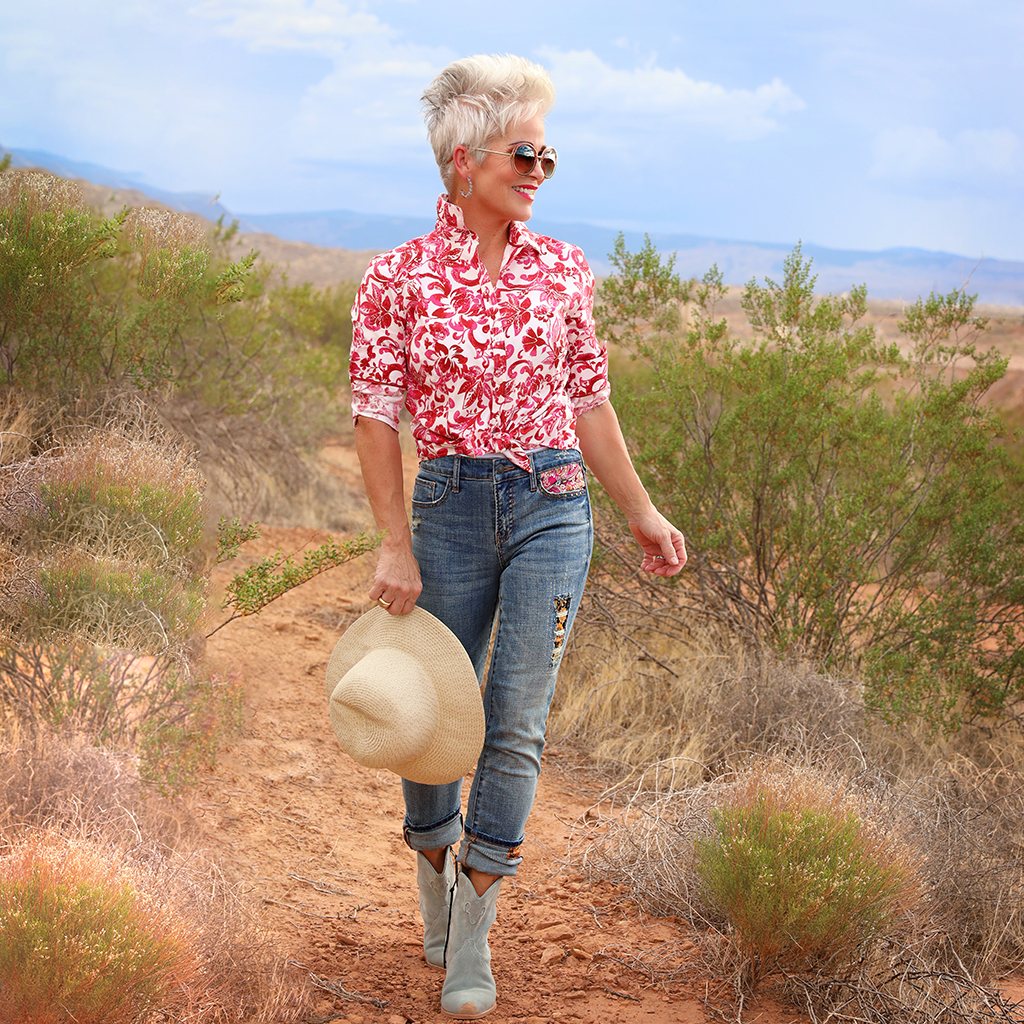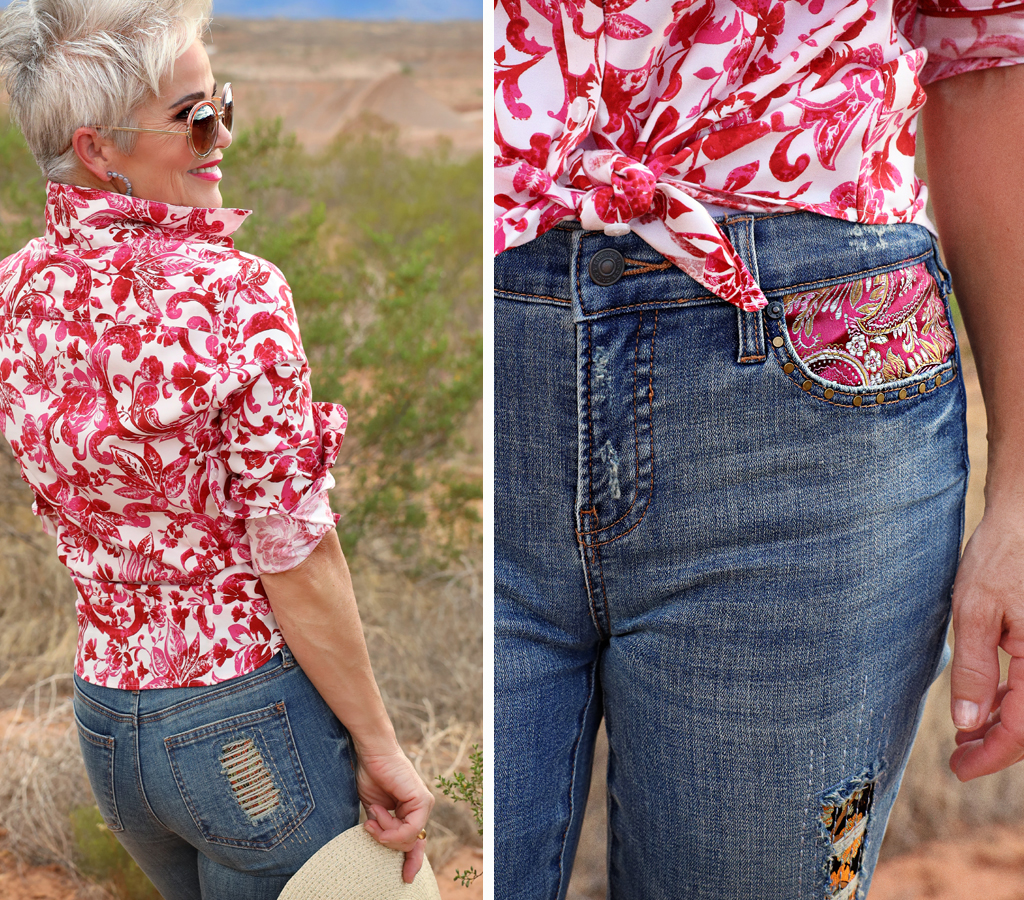 New fall arrivals at Chicos and CHICOS DOES FALL SO WELL! All the fall colors and textures and layers are all so beautiful! I wanted to share just a few looks with you today, giving you a peak in to their new lineup. Each of these pieces will take you well through fall and then in to your winter fashion! This time of year it's important to see the potential of layering! It's the best way to dress as temps get cooler!
This first look and in particular, these jeans are really fun. A bit more pizazz on these than Chicos usually gives us. The cute details and grungy-type look are so me! I LOVE them. I will wear them with sweatshirts, sweaters, leather jackets, and tee shirts! I would for sure style them with heels or sneakers, maybe even putting a blazer with them, if you are the blazer type. That's the beauty of jeans, is that you can style them so many different ways up or down!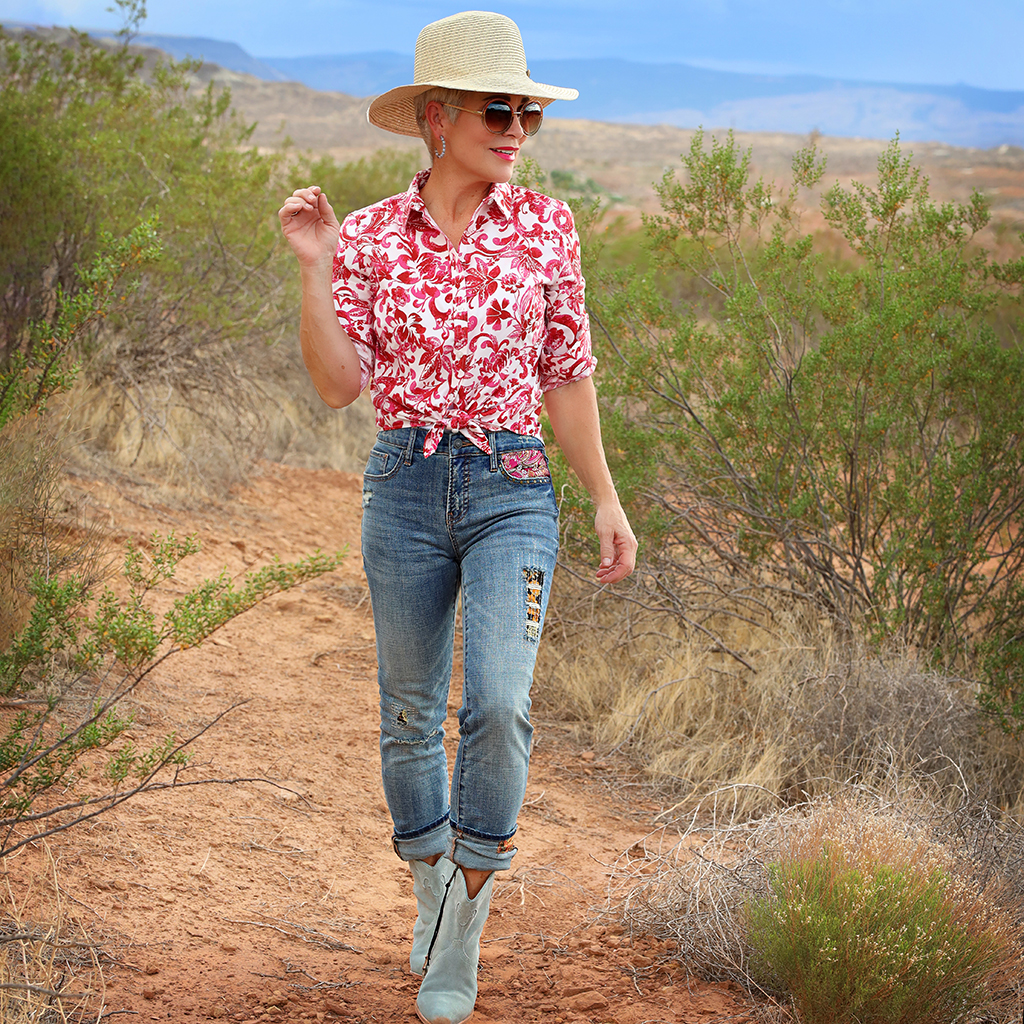 The cute red and pink print shirt is adorable and sassy. I would wear it ALL YEAR LONG! Summer and spring with bright white, and winter with jeans and a sweater….. what about a sweater vest even? It's a great layering shirt for sure! I've styled this look with a pair of pale blue suede, western style booties! You can find them here.

This olive colored shirt is a simple little basic, especially for fall! It can work with pretty much ALL colors and ALL neutrals! I would pair it with hot pink, cobalt blue, yellow, orange, purples and blues…. can you see this too? It's a beautiful fabric, as Chicos fabrics are always luxurious! I styled it with Chicos jeans and one of their GORGEOUS scarves. But…… instead of wearing the scarf like everyone else, I've tied it around my waist and it made this outfit unique and MY OWN! The scarf is absolutely gorgeous! The colors are stunning and it's made of the softest material!
Chicos accessories don't disappoint either! The earrings here and bracelet are just right to finish off a fall look! I LOVE this belt too…. it's reversible, one side brown and the other kaki green! What a great one to have for all the versatility you could ask for in a belt! My sunglasses are sold out, but similar ones are here.
Lastly I wanted to show you some CHICOS ZENERGY. This athleisure line is getting better and better! I've loved so many pieces in this line. This blue is absolutely beautiful in color and softness! You see I've pulled the top up and tied it up. For all of you longer and taller girls, wearing it down is probably what you'd want to do! The sweater can be worn separately with your jeans, and the joggers with a tee!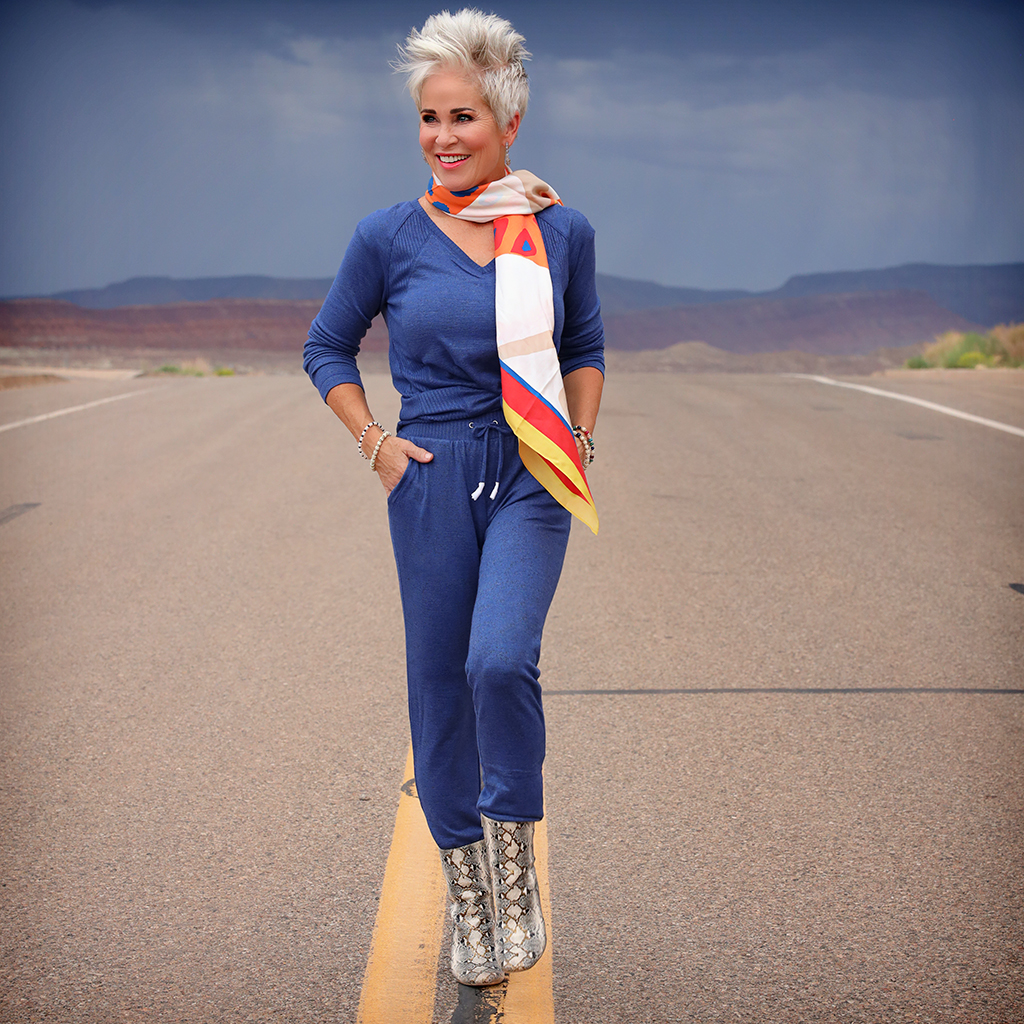 And let's talk about this scarf. This is so dang cute! It has giraffes all over it, you can see it here. There isn't anything I don't LOVE about this one. Again, I've shown you a couple of ways to wear it. There all all kinds of ways to wear it around your neck, underneath a blazer or jacket, or just over your shoulders and tied in the front!
So……. there you have it for September. Chicos does fall SO WELL, don't you think? Take care friends!
Shauna XO
REMEMBER….. when looking for a link to something, CLICK on the picture of it in the carousel below my picture that shows all the pieces in the outfit! By clicking, you will be led straight to the website to shop!