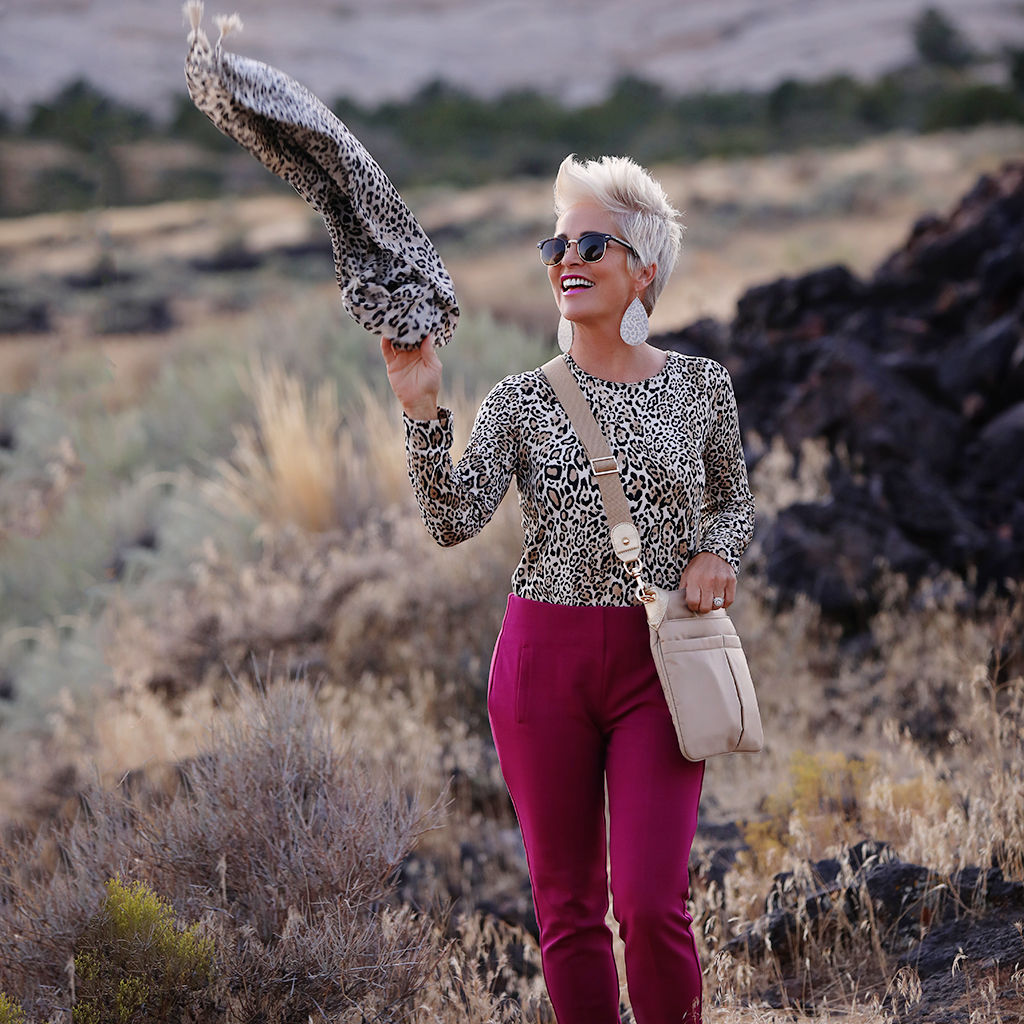 When it comes to CHICOS and ANIMAL PRINTS……well they just go hand in hand. No doubt. They always have the best in terms of the ANIMAL VIBE!

THIS outfit is just one of those that first…..you can travel with, with no upkeep! It's all wrinkle-less, easy to pack AND comfortable. The tee is made from the softest fabric and is one of those essentials you can add to your fall wardrobe! Wear it with black jeans, wear it with a skirt, underneath any kind of a jacket or kimono or sweater jacket. Versatile!
These cute pink pants have a pull-on style but NOT frumpy! They are sleek and classy! I'm taking them with me in a few days on a SPECTACULAR HONEYMOON! I will wear them with a tee shirt and sneakers as well as dressed up with a very nice pair of heels! They are really, really good!
And then there's the scarf! This is sadly sold out, but CHICOS always has a great selection of scarves. They make for such a great gift too….I can't believe how close the holidays are getting!
CHICOS LEOPARD GOODS ARE EVERYWHERE!
Look at all these fantastic fun pieces! I mean there's tops and jackets and all kinds of accessories! THIS is one of MY FAVORITES! I can't wait to wear this out and about! It's made from the sleekest cool fabric with such a classic cut! I LOVE THIS!
I've put together some really fun looks for you to shop. Many of these pieces I have myself, and some I'm looking forward to adding to my closet!

This could possibly be my FAVORITE. Sleek black pants and top paired with this FABULOUS jacket…..and then pink suede booties!!! Seriously CUTE!

This top is so gorgeous I think! It would look SO CLASSY with some skinny jeans and black heels! A beautiful basic for sure!

Isn't this moto jacket awesome??? This is perfect for travel too! I think it would look cute over the top of a this jumpsuit. A super fun outfit too!
So you see that CHICOS and ANIMAL PRINTS definitely go together!!! Mix in all your favorite colors for some really cute FALL FASHION looks! So ladies…..get your animal game goin!
Shauna XO
P.S. CHICOS now has an amazing line of reading glasses AND sunglasses called PEEPERS!!!! And……they are so stinking GOOD! Take a look at them here! I have these and these, both readers and LOVE them. They too, are such great quality….just like all of Chicos clothing!