If you don't know anything about CHICOS, you should get to know them. I have always been impressed by their generosity and listening ear, but I really had no idea of ALL that went in to each creation and piece of clothing! Their story is right here. What an education I had, as I was there last week with them in Fort Myers, Florida CELEBRATING their 35 years in business! It was IN-CRED-I-BLE to say the least!
When I arrived, in my room, I had a bag all full of treats…even pj's and chocolate! And these chocolates were not only all custom, but DELICIOUS too! This note was tucked inside from the lovely Diane Ellis, Brand President of Chicos…
Over the past year, we've been asking our customers (and ourselves) HOW BOLD ARE YOU?
It's a question our founders might have asked in 1983, when they opened their first Chico's boutique in nearby Sanibel Island. It's been almost 35 years since then, but we still believe that women should embrace their individual style…no matter their age.
Over the  next few days, as we get ready to celebrate our 35th Anniversary, we'll show you all that makes us Chico's. We have a lot of BOLD activities planned, including a tour of our headquarters, shopping at our original Sanibel boutique and plenty of Florida-style fun!
Boldly Yours……Diane Ellis
I was SO EXCITED to see who would all be there celebrating too! I knew of a couple, but didn't know the others! I met up with some old friends, along with some new! It's always such fun to meet new bloggers and influencers! There were eleven of us from the west coast to the east coast, women in their 40's, 50's, and 60's. The first night we all gathered at the beach for a welcome reception! It was so exciting to see everyone!!!! It was beautiful weather….in fact I heard some say very unusual that we didn't get rained out of anything! It was such a fun and relaxed way to start off this GRAND BIRTHDAY PARTY! This is what I wore…
From left to right: @moreturquoise, @tanyafosterblog, @shesheshow, @romyraves, @chicover50, @therealchiclife, @wardrobe_oxygen, @iamnikkifree, @southernblondechic, @thesilverstylist, @bayareafashionista
These lovely girls above are ALL  the Chicos, Soma Intimates, and White House Black Market girls! LOVE them all so much! They are SO GREAT to work with!
The next day we gathered on a huge bus, our chariot, and went and visited the Chicos Headquarters. This was absolutely amazing as we learned EXACTLY how things go behind the scenes! They actually sketch their fabric designs…..this was absolutely amazing to me. It was very interesting and educational to see how something goes from an inspiration to a finished product! Everyone was SO KIND and SO LOVELY to us, as we went from room to room learning how CHICOS is CHICOS! They even have a mock store and plan how everything is laid out and organized within a store. Who knew….it was SO FUN to learn all about this fabulous company! We had a delicious lunch and LOTS and LOTS of great discussions!!! We were then off to the very first Chicos on Sanibel Island for some SHOPPING!!!
I wore a CHICOS jumpsuit this day, and IT WAS SO COMFORTABLE! It's so easy to pack and take care of. This jumpsuit is just like it, but in a different color, and is ON SALE too!
Chicos original store was so charming! The staff was right there to greet us and at at our fingertips while we shopped! I picked up the cutest little jacket, scarf, and linen button-down…..I'll be posting them soon! They are actually right here below. The jacket is so adorable and would be so stylish out on the golf course! The linen shirt I can see with some distressed denim, and the colors in the scarf are perfect for fall!

We then went back to our beautiful hotel for a quick rest before a gorgeous and delicious dinner. We all dressed up in to our "BEACHY STYLES", and I thought it was amazing how we all chose bold colors and prints, which just happened to all go together! We obviously think alike when it comes to BEING BOLD!!! After dinner we had a boat waiting for us that took us on such a lovely sunset cruise ride! One of the highlights was the dolphins that were surfing along with us right at the bow of the boat! They were jumping up and giving us quite the show! It was SO COOL! If you follow me on Instagram, under my HIGHLIGHTS in Stories named "CHICOS", you can see a great selection of all the details….dolphins included!!! It was such a fun evening! We even had our own live music on the boat!!! Chicos doesn't miss a beat, EVER!!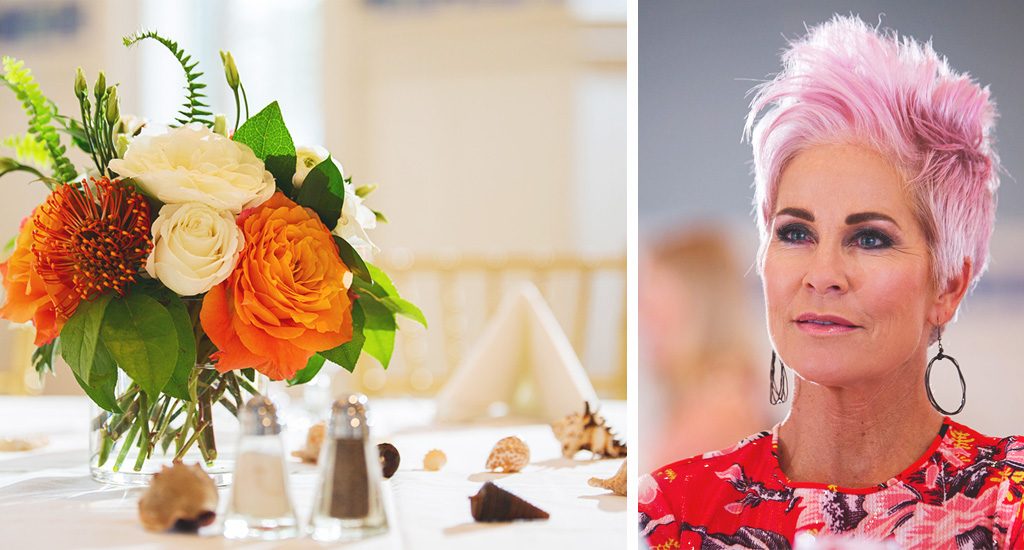 The next morning, our last time together, we gathered at the beautiful beach and had a yoga session! There were CHICOS yoga mats all laid out on the sand, with water, towels, and fruit. I'm telling you….they treated us like QUEENS! Our yoga practice was so peaceful and relaxing! The photographer was there too, documenting it all! This is the photographer's site, she did a beautiful job for us! We enjoyed another yummy breakfast and then said our goodbyes!
What an EMPOWERING, UPLIFTING, ENERGIZING, and FABULOUS trip this was! All I can say is THANK YOU once again CHICOS, for your support, and HAPPY BIRTHDAY! I'm so grateful to be able to work with you and be a part of your tribe! I had the time of my life, and seriously can't believe how you managed to cover every single detail imaginable! I miss you ALL already, and can't wait for more FUN! Bye-bye for now…….
Shauna…XO