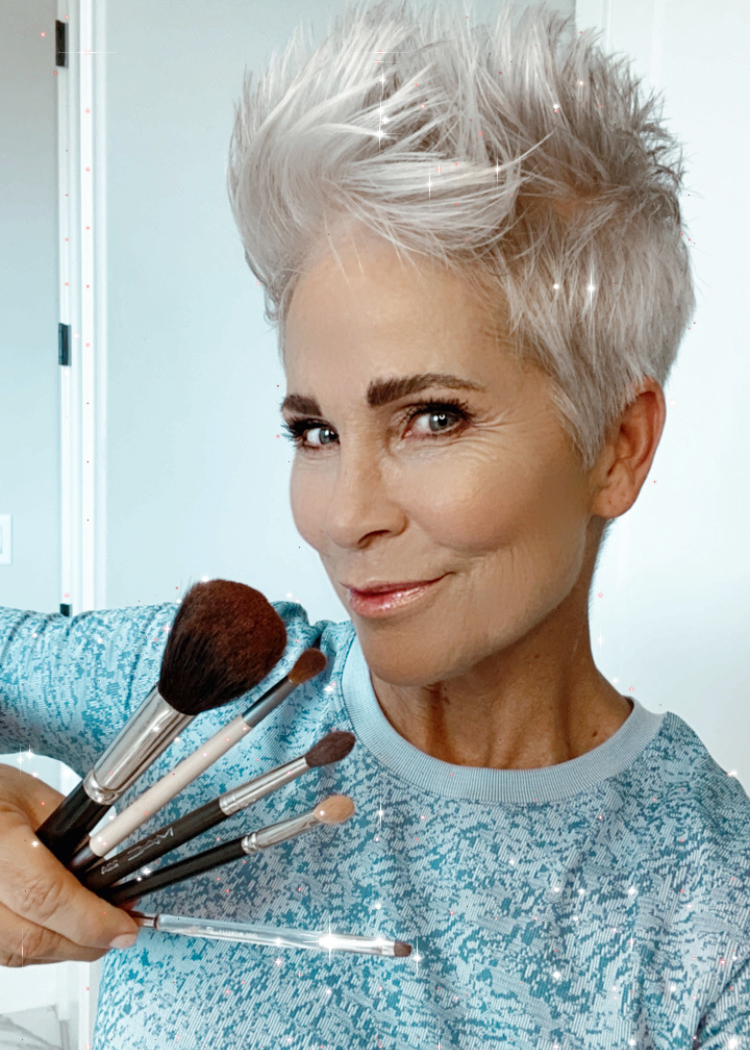 Time for an update to my MAKEUP REGIMEN today. I get asked all the time, how I apply my makeup. I've blogged about this before, and there's really not much that has changed, but always good to go through it again for those who are new!
I am a pretty simple person when it comes to "getting ready". I DON'T like to spend more than an hour, and it's closer to 45 minutes each day putting myself together. Even though I love to be ready and look decent, I still don't want to spend a lot of time doing it! It seriously makes me crazy to be hung up in this department!
I've always loved makeup. I probably started wearing it in 8th or 9th grade. I remember getting my first pack of eye shadow! It was so much fun and I felt so girly! I only wore eyeshadow and mascara. NOTHING ELSE. I didn't wear anything on my lips other than carmex until after high school. And then when I discovered how much fun lipstick was….. that was that. Since then, I've always worn something on my lips and it's probably my favorite makeup product. I've said before that if I was stuck on a deserted island, and could have only one thing, it would be my lipgloss!
I've just posted a reel on my Instagram that you can see here. This shows exactly how I apply my makeup, and in what order, which I will outline here as well……
EYE SHADOW~
On a clean and moisturized face, I first apply and blend in really well, THIS EYESHADOW BASE on my lids. Next is THIS EYESHADOW called Naked Lunch. I've used this for a long time, and sometimes will vary, but MOST of the time it's this. I put it all over, clear to my brow. Next, I bought THIS from Ulta to travel with about six months ago and have used it since. It has a great variety of pretty much anything you would need for any kind of look. I usually use the clay color and put it in the outer corner and blend in to my brow bone. BLENDING your colors is SO KEY! I use the dark brown shade with a TINY BRUSH LIKE THIS, and wet it and line my eye along with the lower corner.
MASCARA~
After I've done my eyes, and before I put on my foundation, I curl my eyelashes and apply THIS MASCARA. It's the one I've been using and really like it. It's not clumpy and doesn't smudge, and is VERY budget-friendly too!
FOUNDATION~
I then apply THIS FOUNDATION BASE. I like THIS one the best. It REALLY does prep your foundation nicely and will make your foundation look better….. I promise! I then put my FOUNDATION right on my finger and apply it like moisturizer. I rarely use a brush. This is a little pricey and the most expensive part about my makeup routine, but I swear by it. I've used it for so many years and I feel the best in it. It's hydrating and not too heavy!
EYEBROWS~
Then time for my eyebrows. They are micro-bladed and so all I need to do is brush on some gel. I get my brows laminated and tinted. I LOVE LOVE this procedure. It straightens the eyebrow hairs so they lay perfectly straight as well as add shine. I do this every six weeks. All I do is add THIS EYEBROW GEL to comb them. I use the CHOCOLATE shade.
BLUSH~
Then I add my blush. I've used NARS forever. The shade is called ORGASM. I just add this to the apples of my cheeks. I'm not super precise. I don't do any contouring at all.
HIGHLIGHTER~
And lastly I use THIS SHIMMERY HIGHLIGHTER in PEARL, on the temples and cheekbones and slightly on the bridge of my nose and cupids bow. I also blend a tiny bit in to the corners of my eyes. This opens them up and adds the best little sparkle.
LIPGLOSS~
These are my FAVORITE GLOSSES along with MY OWN HERE that you can purchase on my website. I have PINK, RED, and PURPLE all my favorite colors! It's glossy and STAYS on!
FAVORITE LIPGLOSSES~ Lychee Luxe, Rose, Oyster Girl, and Bitter Orange, and Rags To Riches

FAVORITE LIPSTICKS~ Saint Germain, Lady Danger, Ruby Woo, Candy Yum-Yum, and Blankety

THAT'S IT! Done. It takes ten minutes maybe? So you see that my MAKEUP REGIMEN is really quite simple. I don't contour, I don't use concealer, and hope I never need to. I've just never found the need to do either. This update to my makeup routine is shown on my Instagram Reels and right here. You can refer to it to see the order in which I apply it.
Let me know if you have any questions! Everything is linked up. HOVER over the highlighted item and click, and it will take you right to the item to SHOP.
Shauna XO