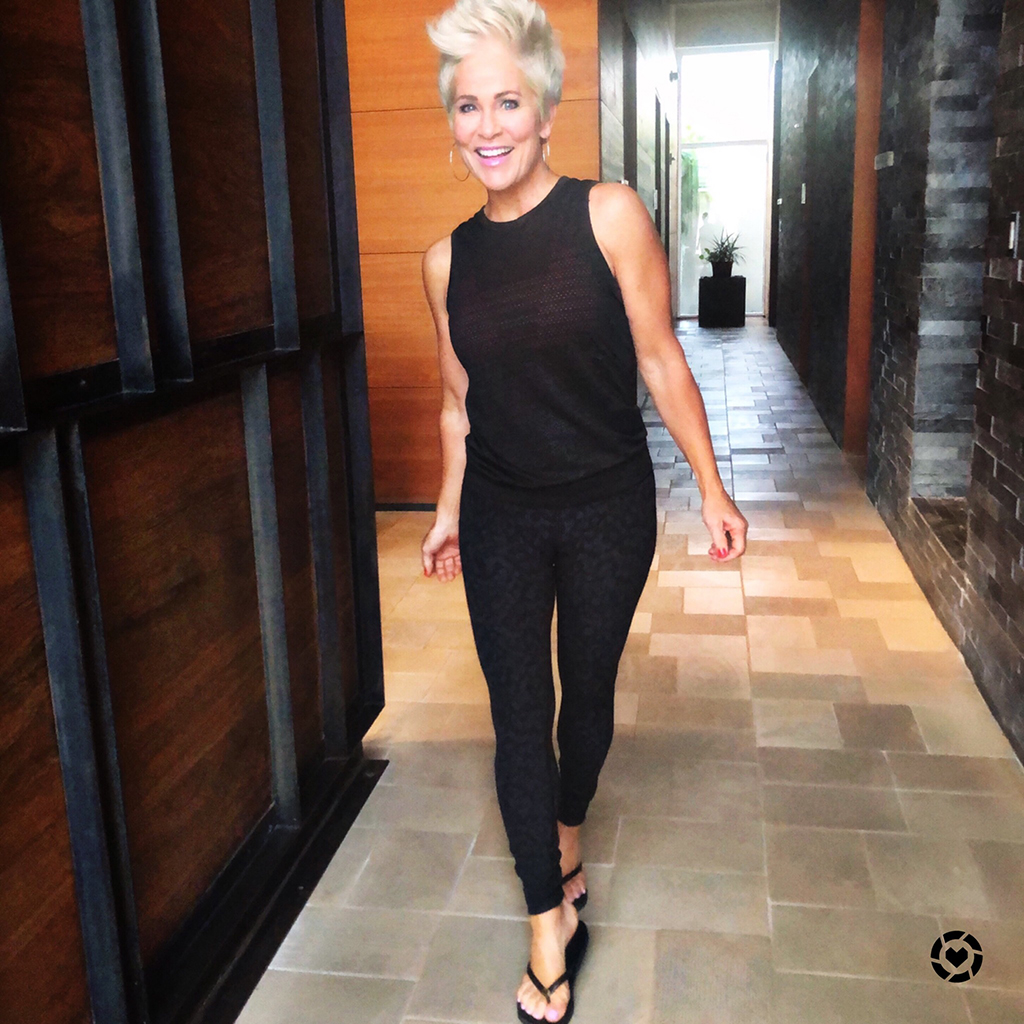 I get asked all the time, what MY WORKOUT ROUTINE consists of. It seems I talk about it all the time, or at least enough, but still people are asking. So…I thought it would be a good time to update it all for those who are new or who are interested or who just might need some motivation.
First I have to start off by saying that the "experts" might say that I'm doing it all wrong, or could do more of this or more of that, or even less of this and less of that! But….I'm such a creature of habit, that I've found that for all of my 59 years, I know what works for me. If I feel I need to adjust, I can usually figure out what to do. I've been able to maintain my weight pretty much my whole entire life.
I'm far from perfect….too much cellulite at least for me, getting saggy and soft, and you know all the rest IF you're in your midlife years. It happens. There is a lot out there you can do to nip and tuck and improve, but I'm pretty conservative and would rather take care of things through my diet and exercise.
Did you know, and I can't really tell you my source because I can't remember, but MOST of ALL illnesses and ailments that are associated with midlife and older, are do to TOO MUCH SUGAR……which causes inflammation! Yep, it's true. And if there's anything wrong with my diet it would be that! Too much sugar! This is an interesting article.
This is how I justify it though……I eat healthy 80% of the time and exercise 6 days a week, and so I can have sugar! My sugar is probably mostly in the dark chocolate I eat. I have dark chocolate every single day pretty much! Dark is healthier and almonds are healthy and so I consider it a healthy treat. I do eat frozen yogurt from time to time, as well as a cookie, but rarely.
I went to Canyon Ranch a couple of years ago and had a private fitness consultation. The expert told me to "RELAX, HAVE YOUR DARK CHOCOLATE, YOU'RE FINE!" And….so I do! SHE said….it's not a big deal, you are so healthy, it's not going to hurt you. And my fitness advisor said she loved my workout routine as well!

MY DIET~
So what I think of in terms of my diet, is to cut back on breads and pastas and think more fruits and veggies and protein. My diet is very simple. Now that I'm married and have my own chef (him and he's an excellent cook), I'm getting much more variety which is super good for me! I had a list of about 5-8 things that I would eat BEFORE I got married, so the variety has been awesome!

MY EXERCISE REGIME~
I workout six days a week. On Sundays I rest. My workout consists of mostly gym time….an hour of cardio and 30 minutes with weights three days a week. My cardio is mostly the elliptical trainer, or the treadmill either walking on the highest incline or running. I vary my cardio because of the issues with my feet. I try to keep most of it low-impact.
My weight routine is always balanced; biceps-triceps, quads-hamstrings, chest-back, etc. I usually do 4 sets of each exercise with a routine of ab work like crunches or plank. I ALWAYS make sure I stretch for at least 10 minutes after I'm done. Stretching I've learned is JUST AS IMPORTANT as the exercise. I've wanted to add yoga in but have the hardest time giving up my cardio for yoga. I know…….I hear you all now. IT'S GOOD FOR YOU! I'm just a cardio-JUNKIE I guess!
So…..there you have it. It's pretty simple. But I'm extremely consistent and committed and self-driven. EVERY day I go to the gym is hard. My health does NOT come for free. I work my butt off for it! The results I get at the gym are my motivation for the next day! BELIEVE ME!
AND THIS IS HOW TO LOOK CUTE AT THE GYM~



Here is another blog written on my workout and health routine. I haven't read it for a while, so it probably will be very similar!
I hope this is enough to answer all of your questions about my workout routine! Let me know otherwise and I'll try and answer better. Now…..go and get YOUR WORKOUT done!!!!! 🙂
Shauna XO