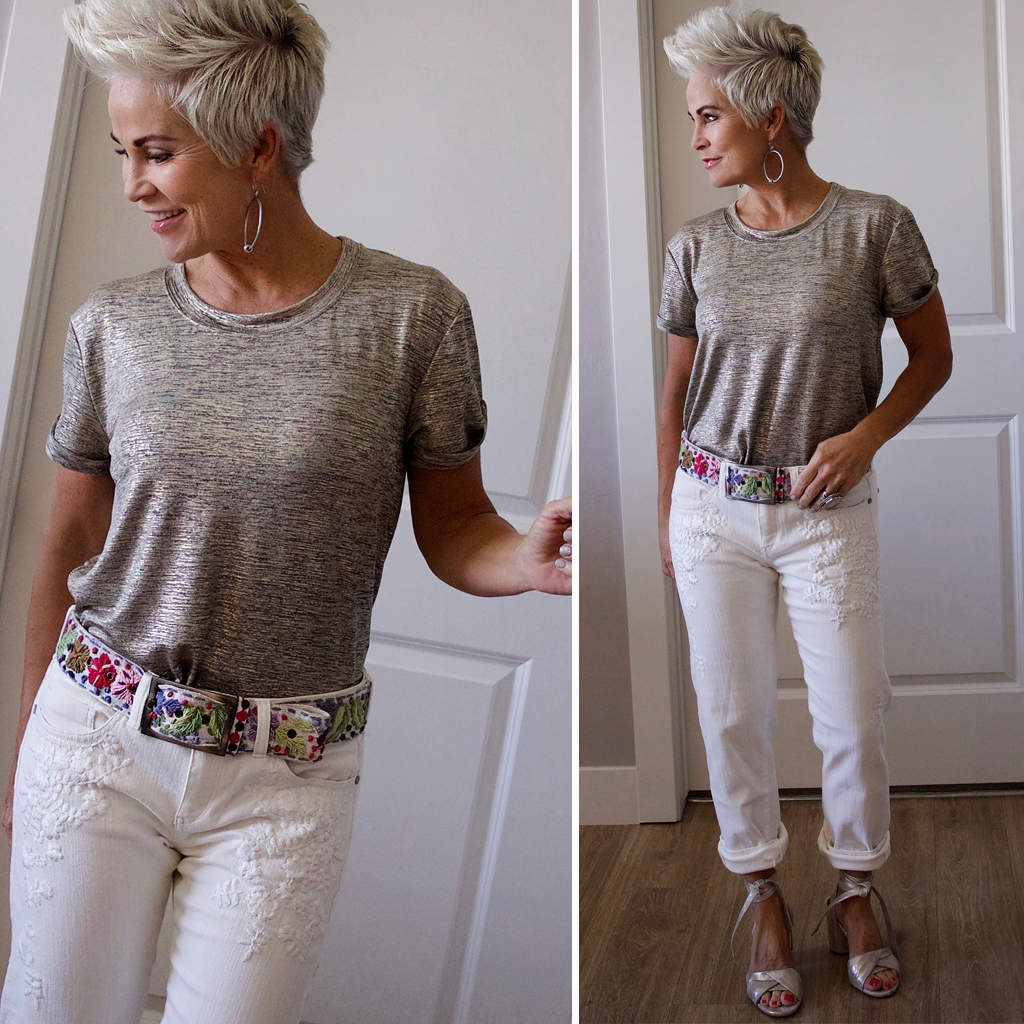 Are you getting ready to put your white jeans away??? Heck no! Don't you dare! There's always a discussion this time of year on whether or not you should wear white after Labor Day! And more and more I say, "What difference does it make if it's before or after Labor Day, if you LOVE white jeans, and know how to style them in the cooler months!" Right? And more and more, women and men, are feeling comfortable wearing what they want anywhere, any time!!! I found these white jeans and had that very thought! Should I or shouldn't I? And here you go again with the metallic lace-up sandals! Everyone should really have a metallic pair of shoes….they literally go with everything! Oh, and the metallic tee as well! It's becoming my tee that I go to several times a week to wear! I pulled the whole look together with this belt I got in Cambria, California while I was there on vacation a couple of months ago. It's from this cutest little shop called GOWA, Gallery of Wearable Art. I actually bought the cutest necklace there, and have never been able to find it!!! Ugh! Anyway, I thought the belt was such a fun touch to my outfit with the bright pops of color!!!! You can get the same effect of the belt with a colorful narrow scarf!
These jeans and tee are sold out, I'm so sorry! I'm just sayin, that when you see something cute, you better nab it at Anthro because it will be gone FAST! I've linked options below, and the fringed jeans are on SALE at a price that's unbelievable!!!!!!
White Fringed Jeans  |  Crop Step Fray Hem  |  Ruffled Metallic Top  |  Tee
Lace-Up Block Heel  |  Flat Sandals  |  Tied Heels  |  Narrow Scarf
Talk to you soon friends!
Shauna…XO