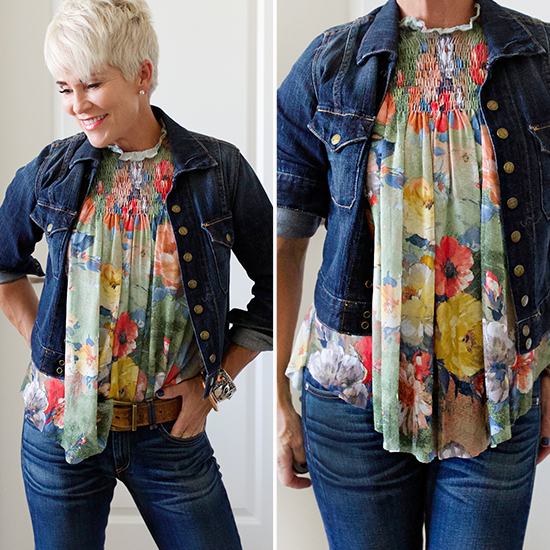 Tucked or untucked, or my fave…….half-tucked!
And you can shop this beauty right here.
I love this sleeveless top to go under jackets and cardigans!
It's so comfortable and girly looking and all the right punchy colors!
But what I wanted to talk about was this…
To tuck or un-tuck?
This can REALLY make a difference ladies!
You have to know what looks best on your body-type, and I believe this is what makes the difference!
If you're tall and lean then most definitely UNTUCKED!
But when you're short and built like I am, wearing it untucked is just too much!
You can see in the picture, it's not the best look!
MAYBE with some really high-heels and flared jeans it would work.
But all this fabric on a short-waisted, short legged girl is OVERWHELMING!
I say this over and over, and I'll say it again…
try things on and let the sales people help you to see what you may not see yourself!
Wearing it the right way can make all the difference!
For me, I like it half-tucked to bring in the fullness of the top,
but still be able to see the flow and movement!
It's here!
xo