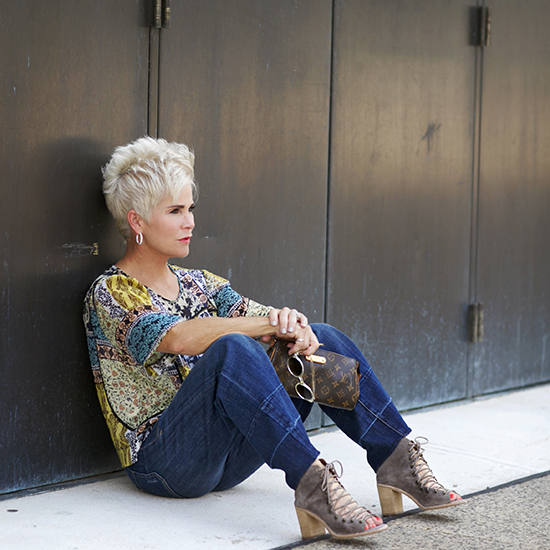 That silky little top again, with a cropped frayed flare!
I love this top!
And I love this new cropped flare jean!
Not super cropped on me because of my height, but I still like where they hit on my leg.
They are really fitted through the hip, and start to feel roomier from the hip on down.
I always need to put a little more thought in to how I wear this style.
I love it most with heels but I would wear it with flats as well,
but then would have something very fitted on top or even tucked in.
They are here.
And this top I'm so in love with right now!
I wear SO many T-shirts, probably too many.
This is such a cute and comfortable option to wear dressed up or down.
It's here.
There are so many silhouettes when it comes to jeans.
Skinny, skinny crop flare, high-waist, boyfriend, girlfriend, and a cropped flare.
The key I believe to any of these is to know HOW to wear them.
You can't just buy the style and then not wear them correctly, or it could totally ruin your look.
If you're looking for something different,
go to a store and try on everything, WITH the help of a salesperson.
They will be able to bring you things that work with a particular style.
Listen to their input and ask more than just one person if you're unsure.
Remember that dressing is FUN….try something new!
xo