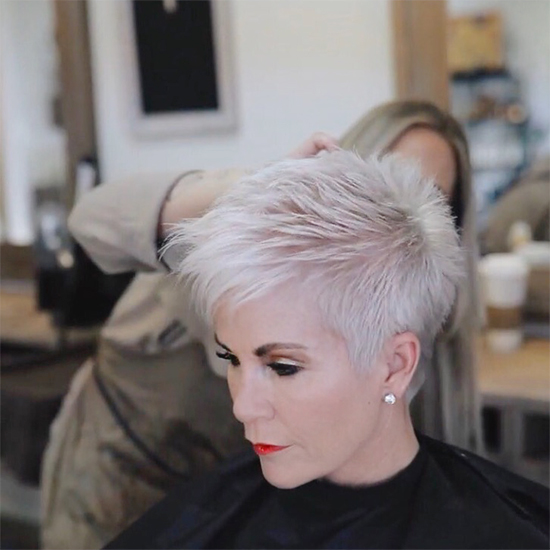 Hey! I've had a lot of questions about this process and my plan was always to share….
so here you go, from my stylist @lindseybenitez
FIRST PLEASE GO TO MY INSTAGRAM PAGE AND SEE THIS CUTE VIDEO!
A little over a year ago I took Shauna from an all over level 4,
and it was the best thing she ever did…..she ROCKS this color!
It can be deceiving from her "before" from the video
because Shauna actually has a birthmark giving her a white spot,
2 inches in diameter in her very front hairline.
But from there her hair is salt and pepper gradually getting to the back
where it is predominately still her natural level 4/5 hair color.
Because of this, even though I bleach and touch up all of her roots,
I actually use 2 different toners.
@matrixusa 10P in the front and from crown back I use equal parts
@schwarzkopfusa 7-1 and 10P with 10 volume being as careful as possible to apply to lightened roots only.
I love the two toners because it creates a natural regrowth look.
I do her hair every 4 weeks by lightening and tone,
then next 4 weeks it's just a haircut and next 4 it's a toner and haircut only,
and after another 4 we lighten and tone again.
To style I use all @kincosmetics products (which are AMAZING)!
When her hair is wet I use a small amount of Gellin and the Liss serum.
After blow drying back and forth to bring up volume and texture, I add a little more of the Liss serum
to add shine, and to finish I use the Fiber paste with a little water added to it,
and then the Dynamic hairspray.
*NOTE* if you're working towards platinum,
make sure to grab yourself @schwarzkopfusa color correction Spray Conditioner.
It's a great leave in with an anti-yellow effect.
Love this style and love my sweet client/friend @chicover50!
This girl Linds……is seriously PERFECT in her job and everything related to it!!!
Love you girl!
xo