Are you a boutique shopper? I love shopping boutiques! The charm they have is unlike anything else. This boutique CHIC STYLE, just outside my town, is owned by D'Arcy, who I met through blogging and Instagram. She is genuine and so lovely, and such a wonderful support to others!!!! In fact at Christmas time, she collects and organizes bags for the homeless. Her goal this year is 300. Family, friends, customers, and people in her community of Eden, help provide. This will be her 3rd year with this project!!!
Her boutique CHIC STYLE is located in South Ogden. She carries such fun and unique things from clothing to jewelry and accessories, and gifts of all kinds….and even treats! I think boutiques are the ABSOLUTE BEST place to shop for gifts! She takes such great pride in every display and how everything is run. Each person that walks in is greeted with a happy "hello"! Her customers are loyal to her, and I was amazed at how she knew each one! She's so good at knowing what they like, their particular body types, and what looks best on them! She's also a personal stylist, and can pretty much fulfill any request!
I've had such fun getting to know her. She loves what she does and that's very clear! She pointed out to me, that when you boutique shop, you're pretty much getting one-of-kind pieces that you won't see on anybody else! You also get personal styling for FREE, good quality, unique brands, new clothing in DAILY, and it's always such a great idea to support local shops! Many reasons to boutique shop! The jeans I have on in this picture, I got at CHIC STYLE. They are by STS Blue and are hands down MY FAVORITE pair of black jeans I've ever had! They fit me like a glove, and if you're petite, you won't have to hem them!!!! I love this brand that D'Arcy carries! My next FAVORITE Chic Style goodie was this amazing cuff. I am so in LOVE with this amazing piece of jewelry! Unique….yes! Beautiful….yes! Stunning….yes! It's made from cowhide with an open faced Brazilian stone…..one of a kind! You should see all of the fabulous jewelry pieces at Chic Style!!!!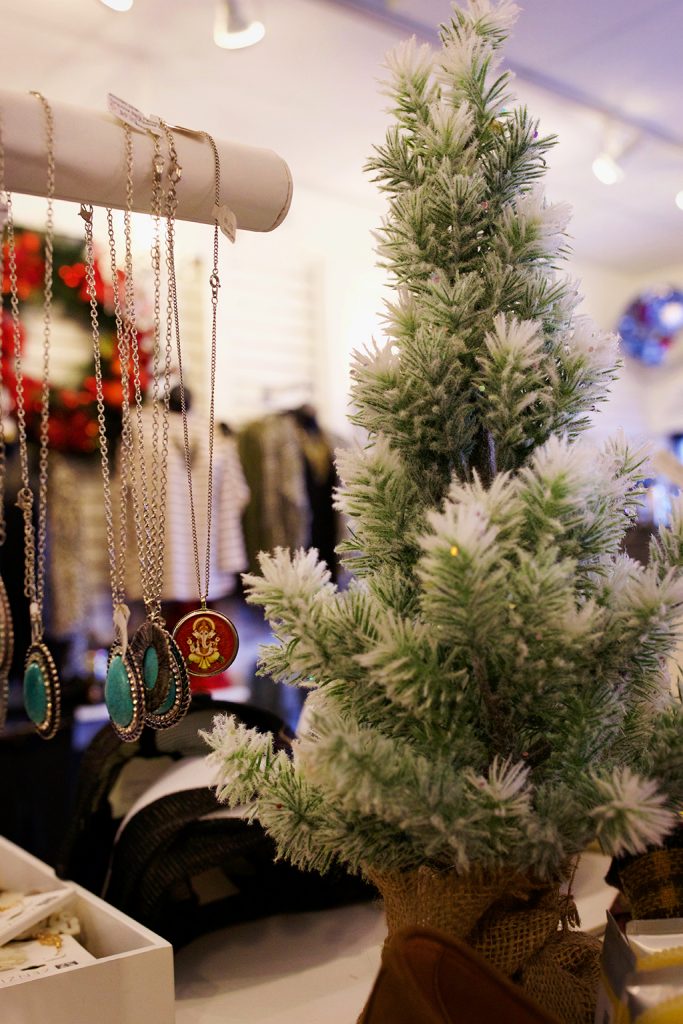 So get out and support your local boutiques! With all of the on-line competition, I'm sure they would LOVE your support! They each work hard to bring you fun and unique items! And not only that, but they are such fun to browse around in too!
At Chic Style you can expect FREE gift wrapping, personal shopping, call in orders for easy and convenient wrapped pick-up gifts! WoW!!!
Thank you D'Arcy for such a lovely afternoon!!!
Remember if you're needing help with Christmas shopping, I'll be posting lots of gift guides and links! My stocking stuffer guide is here, and Black Friday shopping details are here. Ho-ho-ho sweet friends!
Shauna…XO