The color combination of blue and white is a summer classic, and evokes a sense of timelessness and classic appeal for lots of reasons. It's definitely a summer classic.
When it comes to fashion, blue and white pants can be a versatile and stylish choice for summer outfits. The combination of these two colors creates a crisp and clean aesthetic that has a timeless appeal. Whether it's a pair of STRIPED BLUE and white pants or SOLID COLOR bottom, or a FUN PRINT they can effortlessly elevate your look and give it a touch of sophistication.
Blue and white floral prints can be a stunning choice for adding a touch of femininity and freshness to your outfit. However, for some, styling this particular pattern can be a challenge. It might seem overwhelming when it comes to coordinating with other pieces. To make it easier, consider opting for solid-colored separates in complementary shades. Wear a lightweight denim top or your neutral basics. Or my favorite would be punchy coordinating colors such as red, pink, green, orange and yellow.
STYLING OPTIONS TO CONSIDER
Let me show you how I chose to style these darling blue and white floral print PANTS from Anthropologie. Not only did I find three ways to STYLE them, but I also thought about three PLACES to wear them! Can you wear them casually, dressy, a date night, or to the office? Make sure you know how to STYLE and WEAR them THREE WAYS!

Wear them on a casual outing with your family to the park, a movie, or a barbecue. I've styled them with a pink BUCKET HAT (comes in four colors), but think ANY PRIMARY COLOR…. green, yellow, orange, or red. I have LOVED these BIRKENSTOCKS too. They go with everything from house to running errands and all in comfort!!!!

I'm absolutely loving the oversized button-down shirt right now. I've had this fun striped paint-spattered shirt for at least as long as I've been blogging. Wearing it open is really on trend, but I prefer it all brought in and tied! Either way though looks great…. it's all a matter of preference! THIS SHIRT or THIS ONE (less expensive) are great alternatives. This could be worn to lunch with friends or shopping. Always fun to pattern mix!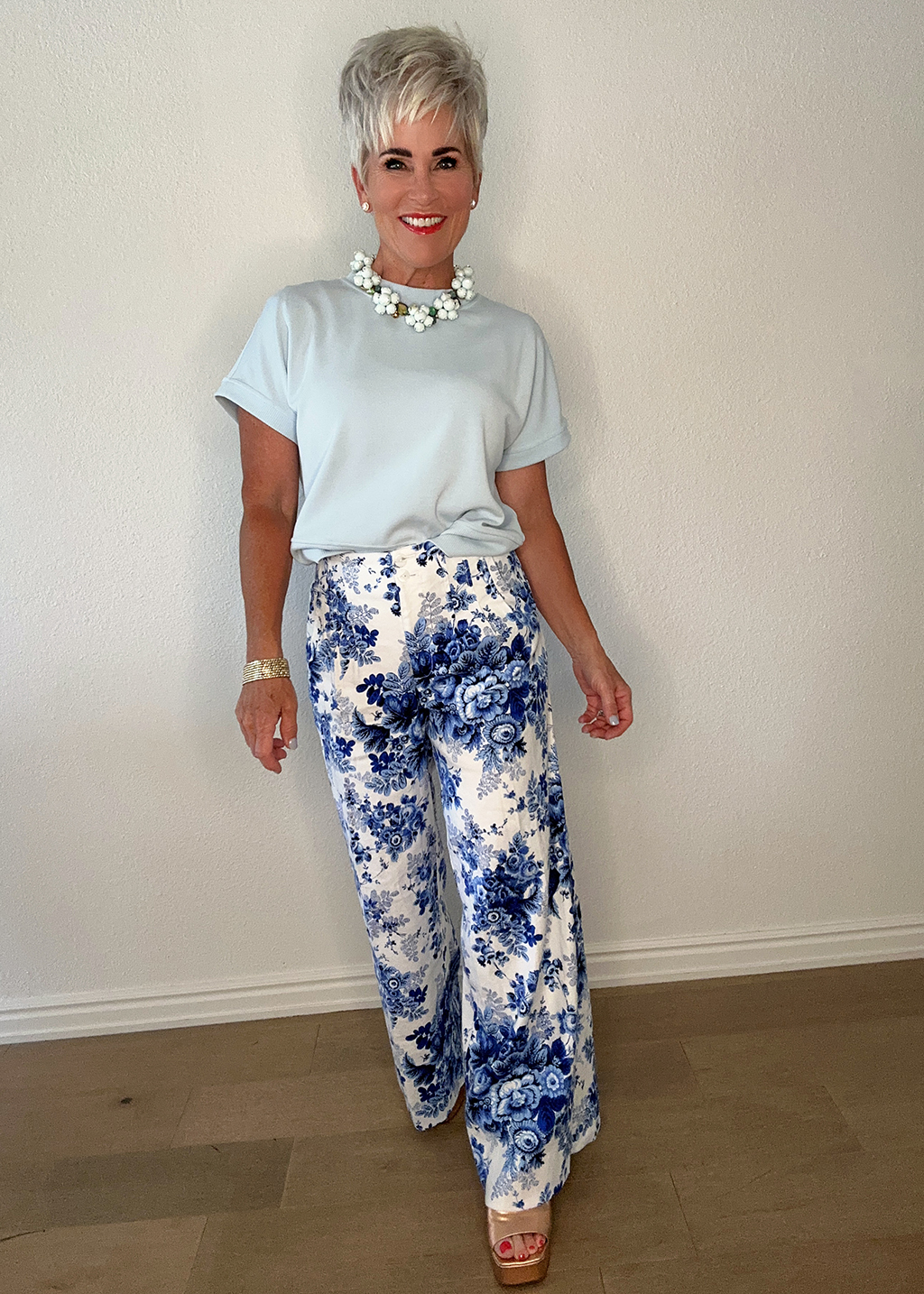 This last look I chose to pair it with a light blue top from ATHLETA. Adding a statement necklace really takes the whole look up. My necklace and top are from my closet and not available anymore, so I've linked similar here, with several tops that would work beautifully. This would be a great date night outfit or again, an outing with your girlfriends! Pair it with SNEAKERS and without the necklace, for a completely different look.
____________
Whether you let the pattern take center stage, or amp up the tops you style with them, you can effortlessly style blue and white floral prints and embrace their beauty with confidence. This print is so beautiful and girly and you've seen here that they can be very versatile too. Elevate your summer with some blue and white floral…. a summer classic for sure!
CLICK HERE TO FOLLOW ME ON THE @SHOPLTK APP FOR ALL MY INSTAGRAM LOOKS