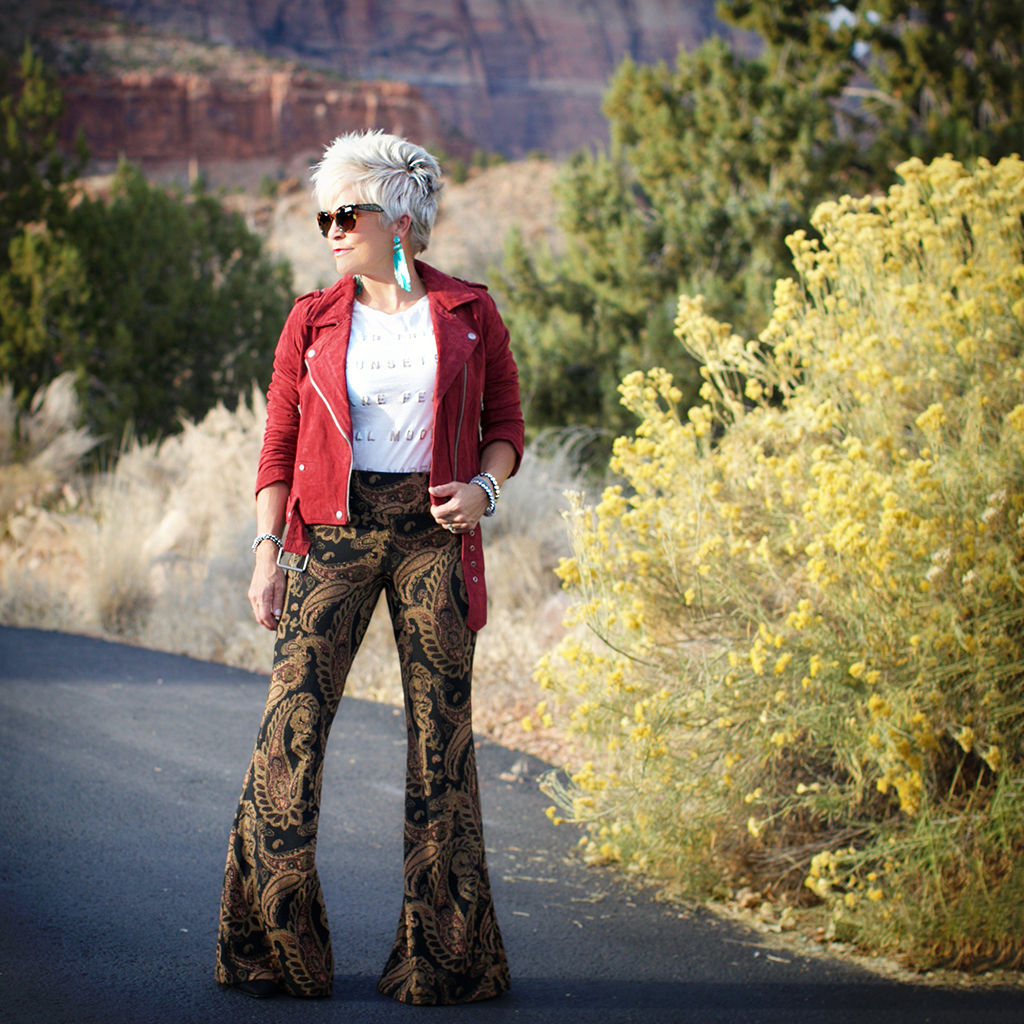 Friends…..I believe that bell bottoms are all the rage! I mean they're so sassy and funky and fun…among other things. Being petite 5'1″ people often say to me things like, "How do you dare wear that, you're so short." Or they say, "You are so brave to wear that!" I've never really thought of NOT wearing something because I was short. I wear maxi dresses, I wear shorts, and I wear bell bottoms!
I recently found these and loved everything about them. The soft fabric, the fit, the flare, and they even have a slight shimmer. They make such a statement no matter how you style them. They have a flat front with a side zipper that makes them super flattering. Someone on Instagram commented and said they make my legs look super long, which is ALWAYS a good thing for me to hear!!!!
I actually wore these in Memphis just recently. I'll be posting a blog on that trip really soon. There I wore them more dressed up. But here, I added this beautiful berry suede moto jacket and graphic tee. The pants have a wine color in them, so the jacket looks really pretty with them.
The beauty of this outfit is that you can break it apart and create a bunch of different looks for the fall and winter season AND for the holidays. With the shimmer in these pants, they would be gorgeous styled for some sort of party or celebration!! Having pieces in your wardrobe that can work multiple ways is so important in being able to get the most wear. The jacket, pants, and tee will all be able to go on and on for me!
Here are some of my favorite BELL BOTTOMS right now. There isn't anything that makes a statement more….at least when it comes to pants…than BELL BOTTOMS!

Here is another way I would STYLE them….very festive like!

Isn't this faux fur jacket AWESOME??? It would look really stunning with the pants. I've added a simple blouse and earrings. This would be a great look for a holiday gathering!
A little more laid-back with the denim jacket…

I LOVE this denim jacket with the embellished collar. If you're in need of a new denim jacket……you should consider this one. SO CUTE!
So these are my ideas of how to style these bells! Bell bottoms are all the rage…..they sure are!!!
Shauna XO